Online casino players value the importance of a high-quality online casino with generous welcome bonuses and top-of-the-line security. Better yet, some online casinos like Cafe Casino offer incentives to reward their devoted players and keep them coming back. Let's take a closer look at Cafe Casino's VIP program, Perk Points.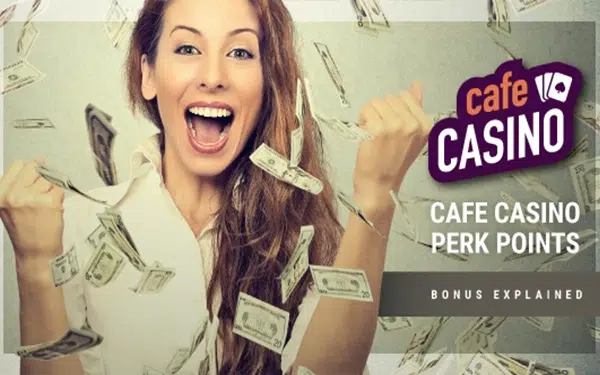 What are Cafe Casino Perk Points?
Perk Points is Cafe Casino's VIP program that allows loyal and frequent players a chance at receiving cash bonuses anytime they play a game at the online casino. Whether you love playing slots or prefer to spend your time playing Video Poker, all games qualify you for the Perks Points program.
Here are just a few highlights of Perk Points:
Players can receive a cashback bonus of up to 18 percent
$100 bonus if you refer a friend to Cafe Casino Perk Points program
Perk Points are good for one year
Frequent players can receive a cashback bonus every day they play
No waiting period
All you need to do is play games to earn points
Tier Points and Perk Points
Every time you play a game at Cafe Casino, you automatically earn Tier Points and Perk Points.
The main difference between the two is that Tier points are cumulative, tracks your play progress, and allows you to move to a higher Perk level. The more Tier Points you cumulate, and you become eligible for top bonuses.
Perk Points are automatically deposited into your Perk Points balance each time you play. While you can't convert your Tier Points into extra cash bonuses, you can "cash in" your Perk Points at any time. Don't want to use them right away? They are good for a year, and you won't lose your Tier level status or point balance during that period.
Perk Levels
Cafe Casino offers generous bonuses just for playing your favorite game. Here are the Perks Program's Perks Levels. Keep in mind that some bonus rates are subject to change.
Level 1: Cashback bonus is 10% and Redemption Rate is 2500 = $1
Level 2: Cashback bonus is 11% and Redemption Rate is 2250 = $1
Level 3: Cashback bonus is 12% and Redemption Rate is 2000 = $1
Level 4: Cashback bonus is 13% and Redemption Rate is 1750 = $1
Level 5: Cashback bonus is 14% and Redemption Rate is 1500 = $1
Level 6: Cashback bonus is 15% and Redemption Rate is 1250 = $1
Level 7: Cashback bonus is 16% and Redemption Rate is 1000 = $1
Level 8: Cashback bonus is 18% and Redemption Rate is 1000 = $1
How To Earn More Perk Points
While you can earn Perk Points with every game you play, you will gain more points with some games than others.
For example, a $1 wager with table games and video poker will give you 1 Perk Point, a $1 bet in a specialty game will give you 15 Perk Points.
Another way to earn more bonuses is to refer a friend. While some online casinos limit the amount of friend referral bonuses (or don't have any at all), Cafe Casino gives you a $100 bonus each time your friend completes a deposit.
The best way to earn Perk Points is to visit the site, become a frequent player of a variety of online games, and climb up the Tier levels to unlock higher cashback bonuses.
Click here to visit Cafe Casino and Receive 10 Free Chips + 500% Match Deposit Bonus
FAQ
Are these points ok to use?  It seems like I am cheating the casino.
Yes they are real, and no you are not cheating the casinos. Many online casinos offer bonus, promotions and loyalty rewards. It's how they can retain good customers. Trust us, they have actual online casino cheating to worry about and people using perk points or loyalty points are definitely not one of them.
Now that I have perk points, how can I make the best of them and win some money?
Well the best way is to perfect your gambling strategies. Numerous professional gamblers share their tips, tricks, strategies and thoughts often with us. You can read some of them here.
Conversation with Amanda Botfeld
Conversation with Tricia Cardner