VR Casino Guide – Gambling in Virtual Reality
The Future of Gambling
Virtual reality technology and VR casino gambling is becoming more widespread and accepted by the masses all over the world. In addition to becoming more affordable in reguards to all budgets, the Oculus Rift Goggles and Samsung Gear have made virtual reality technology accessible to almost everyone and the equipment required is minimal. The rise in popularity of virtual reality shows no signs of slowing. Being able to be fully immersed in VR technology is the future, and the future is now. Computer-generated virtual casinos create a new, and different, stimulating experience that enhances the entertaining, life-like game play.
Developers of virtual reality casinos, or vr casinos create an experience that closely mimics a real land-based casino. In these virtual reality casinos, players will find all of the same things seen in a land-based casino. Slots, blackjack, roulette, and other specialty games are built into VR casinos and their platform. Specifically, the idea is to give players a more realistic feeling of stepping onto an actual casino floor. This includes all the action, sound, music, and lights. With the recent developments in VR, players can enjoy hyper-realistic versions of their favorite casino games. As a matter of fact, players never have to leave the house. We have compiled this guide with everything about virtual reality casinos. Enjoy!
An Online Casino Innovation
Some players may prefer land-based casinos over playing online. They may enjoy taking a stroll around a casino and picking their lucky slot machine or table and find playing online to be a little bit static. Well, times are changing and so is the normal casino environment! Now players will experience something brand new with VR casinos thanks to a vr headset like the oculus rift. VR casino games are specifically designed to have a much more real-life feel to them. Almost as if you are actually walking through your favorite classy land-based casino. The environment is fully interactive and feels as close to the real thing as possible. The best part…you don't even have to leave the couch!
Why VR Casinos are Awesome:
A visually stunning casino experience where players can win real money
Multiplayer games can be against real opponents
The ability to interact with other VR players and dealers
Live chat and live voice chat
New game titles released frequently
The opportunity to play your favorite slots, table games and more combined with VR
Deposit funds in your account the same way as any online casino

How VR and Casinos Evolved
VR gaming is more than just a fad, and it's here to stay. Virtual reality is in a stage of a renaissance at this time. Adorning a headset and being transported into an exotic world is now a possibility. At home, VR technology is no longer a sci-fantasy, but a reality for people to enjoy all around the world. The first stirrings in the history of VR creation are not precisely known, but there is a timeline on how the technology came to fruition.
Top Cashback Casinos for USA
★

9.4 Rating

---

$7,777 Bonus

★

9.3 Rating

---

$2,500 Bonus

★

8.9 Rating

---

$2,500 Bonus
The 1800's
Sir Charles Wheatstone, was a professor of experimental philosophy. He contributed to the history of virtual reality. Wheatstone is the godfather of 3D and virtual reality. He developed the stereoscope. This device created three-dimensional images by tricking the mind into seeing 3D with specific angles. The first stirrings of VR technology can be traced all the way back to the 1800s. It was at this time in history when Antonin Artaud, a forward-thinking playwright spoke about the possibilities of virtual reality. This is obvious in his work on theater stages and in his writings as well.
The 1960's
By the 1960's the concept of virtual reality came to life. Morton Heilig was a true visionary in the timeline of virtual reality. He was a talented cinematographer who created the Sensorama. The Sensorama machine Morton built was designed to give viewers a multi-sensory cinema experience. The apparatus included such groundbreaking features such as 3-D vision, wide-vision, stereo-sound, aromas, wind, and vibrations.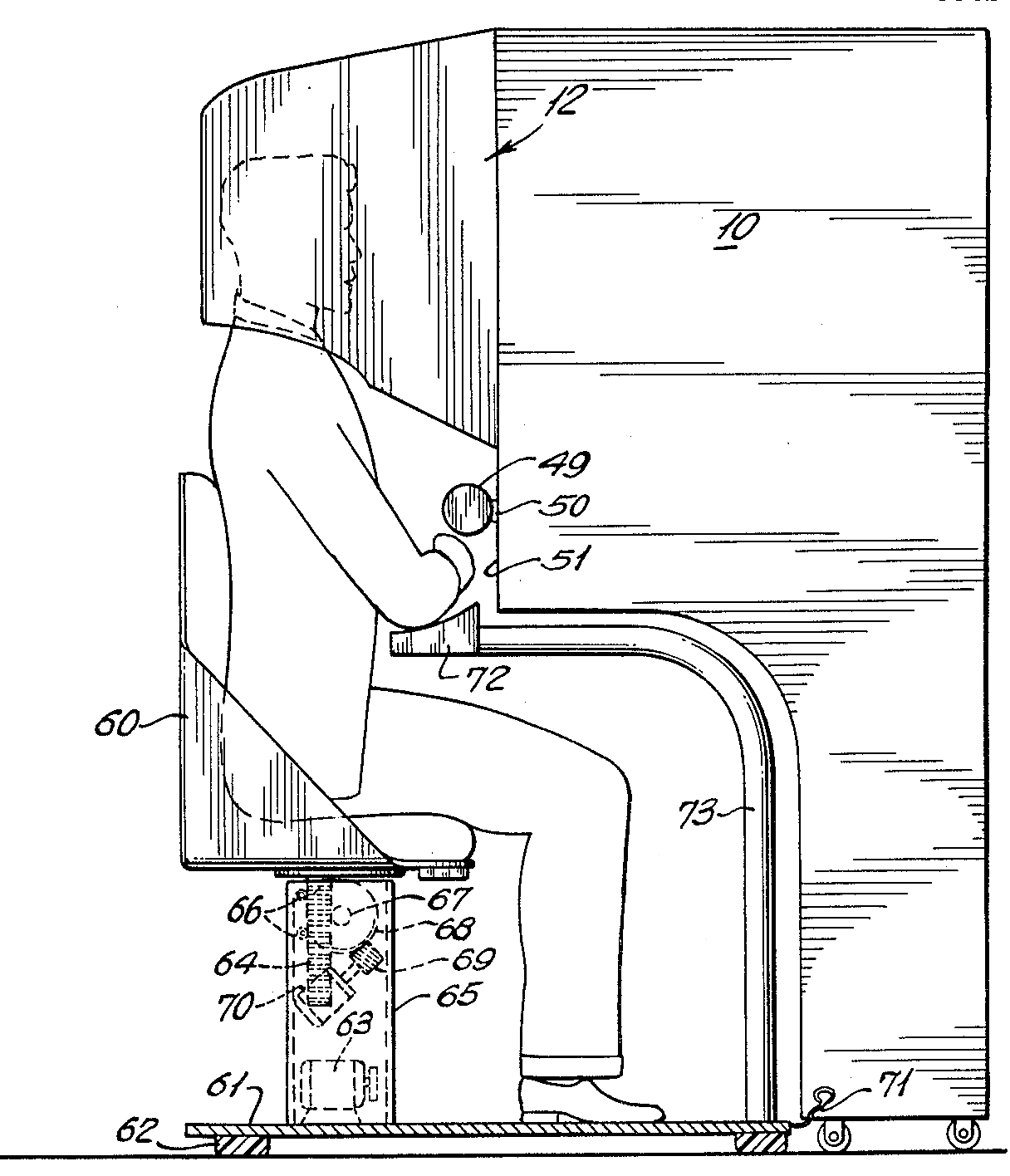 Ivan Sutherland is another noteworthy pioneer of VR. He created the first-ever head-mounted video display. The device, also known as the HMD and Sword of Damocles was built in 1968 in Ivan's lab. Ivan was a bright mind. He was considered a computer genius and truly pushed boundaries. Without a doubt, his contributions to modern-day VR are significant.
The 80's
The '80s saw incredible VR technology advancements. Most significantly, the United States Government was responsible for many vehicle, flight, and spacecraft simulators. These simulators were used for military training purposes. As technology advanced with powerful computers, so did the concept of VR as well. In 1985 NASA made an incredible advancement with the Virtual Environment Workstation. The NASA headset and gloves were a first in the history of VR. The team who worked on the Virtual Environment Workstation was also the first to coin the term, "Virtual Reality."
Another pioneer, Randy Pausch was an integral part in the history of virtual reality. To many, he was a creative genius and gifted motivator. Randy was a teacher and figurehead of the Disney Imagineering team. During his tenure at Disney, he helped to create the Aladdin VR experience. This virtual reality experience took visitors on a thrilling magic carpet ride. The Aladdin VR experience had a headset that fit all users. In the following years, this was a massive innovation in technology and development for Disney.
The 90's to Now
During the '90s, VR video games became more common. Furthermore, they were only found in arcades and select venues. In 1991 Sega developed a VR system. Sadly, it was never released to the public. The Sega VR debuted at CES in the mid-'90s and was an add-on to the Sega Mega Drive. Players were left in the dark about the release date, and it never hit the market.
After the Sega VR failure, Nintendo stepped in with the utterly disappointing Virtual Boy. The Virtual Boy featured a VR goggle system that was attached to a stand. The poor design of the headset and gaming controls set the console up for failure. Beyond the uncomfortable gaming experience, the system only displayed a VR experience in red and black. There were even reports of the Nintendo Virtual boy causing severe headaches and damaging the gamer's vision. For many years, developments were being made with VR technology. Other VR headsets like the Forte VFX1 and Victormaxx Stuntmaster made waves in gaming history. However, never reached the mainstream.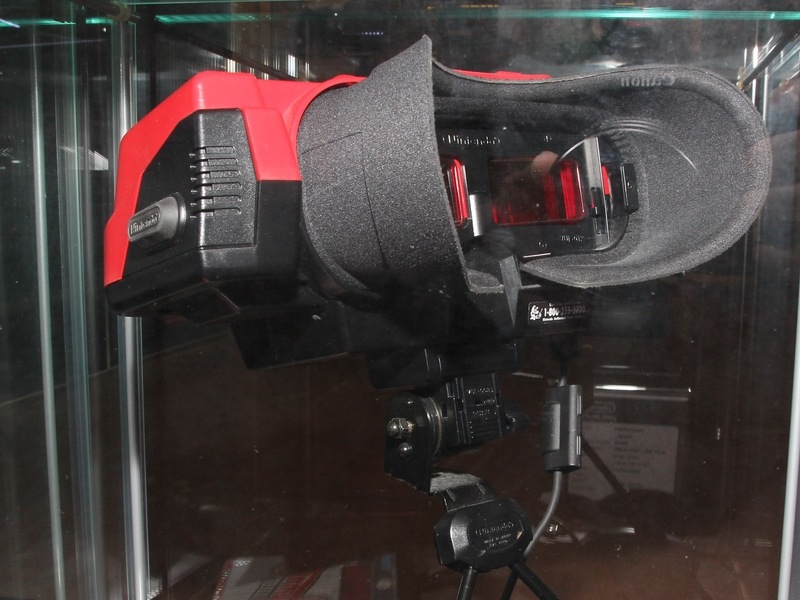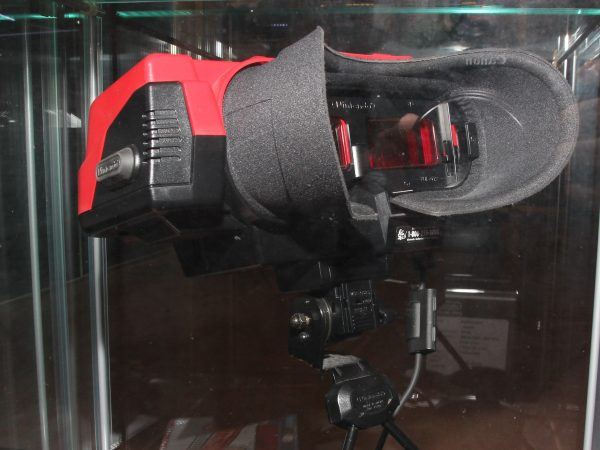 It wasn't until August 2012 that a Kickstarter appeared for the Oculus Rift. Only 100 headsets were to be manufactured from this Kickstarter. The company received a tremendous amount of hype, and eventually, Facebook acquired the company. Currently, the Oculus Rift is the most popular and most accessible VR headset on the market.
Timeline
It was in the '90s that gambling hit the internet. The very first online casino launched in the summer of 1994. The software company Microgaming created powerful and secure software. This enabled players to gamble online for the very first time. The growth and popularity of the internet exploded overnight. It was only a matter of time before casinos got in on the action. What also helped to launch the first online casinos was the 1994 Free Trade and Processing Act. It opened the doors to new gambling possibilities on the internet.
As time progressed, other online casino companies sprung up. Companies like Cryptologic entered the scene. Games like poker, blackjack, and other card games were added to online casinos. Slots have always been a favorite at casinos. But, at this point, a more extensive variety of games were being developed and added to these very first casinos. By the summer of 1996 real bets were being wagered at the online casino, namely Intercasino.
Mobile Casinos
Next up was the mobile boom. Mobile devices ended up in everyone's pockets and purses. Players wanted the accessibility of gambling on the go and online casinos made it happen. It must be remembered that nowadays nearly every online casino is playable on mobile devices. Players can play anytime, anywhere, and enjoy themselves no matter where they may be.
The Oculus Rift & HTC Vive
The future of online casinos is virtual reality. Just a few years ago, VR technology was costly and not very affordable to the average consumer. These times are changing. Specifically, devices like the Oculus Rift, HTC Vive, and Samsung Gear are becoming more affordable. To point out the obvious, virtual reality is here to stay, and the technology is continuously improving every day. So, it only makes sense that virtual reality technology pairs perfectly with online gambling. As history has shown, casinos keep up with the trends of technology and advances in Gaming.
★

9.4 Rating

---

$7,777 Bonus

★

9.3 Rating

---

$2,500 Bonus

★

8.9 Rating

---

$2,500 Bonus
SlotsMillion Casino
The very first operational VR casino is SlotsMillion Casino. Players can strap on their VR goggles and step into a genuinely realistic casino. All with a simple download to their computer. Other iGaming companies have created VR casino games and concepts in the past. However, SlotsMillion was the first to offer real money gambling. Gone are the basic casino graphics. When you step into the new VR casinos it makes you feel like you are actually in a real casino. Obviously, VR casinos will have it all. Players' favorite games like slots, poker, blackjack, and other casino specialties are there to enjoy. Our Slotsmillion review has all the details you need before playing this unique VR casino.
The Pioneers of Modern Virtual Reality Casinos
SlotsMillion Casino is the first-ever VR casino where players can bet and win real money. While there are other VR casinos like The Oculus VR Poker game. SlotsMillion is the only casino where players can make deposits and win actual real money at this time. SlotsMillion features some of the most popular gaming titles from these entertainment companies. These companies are true visionaries. They are helping the phenomenon of virtual reality gambling come true. NetEnt and Microgaming are also currently employing the most innovative technology when it comes to VR casino gaming.
NetEnt
This digital entertainment company is responsible for the favorite VR slot game, Jack's World and Jack and the Beanstalk. The company was established in 1996. NetEnt pushes the boundaries in VR and entertainment. Furthermore, NetEnt specializes in developing the most exciting casino virtual reality experiences found anywhere on the planet.
Microgaming
Microgaming provides titles for SlotsMillion Casino as well. Beyond being front-runners in the world of virtual reality, Microgaming is responsible for developing other exciting new casino technology. Microgaming has developed augmented reality for its games. They continually push forward to give players new and unique gambling experiences.
VR Casinos vs. Online Casinos & Land Casinos
The very first land-based casino opened in 1638 in Italy. It was named Casino di Venezia. In effect, it set the standard on how all other casinos were constructed. The basic layout of this first casino shaped the future for all land-based casinos, online casinos, and even VR casinos. When online casinos hit the scene, players jumped on board because of the fantastic benefits of being able to play from home. Then, the availability of online gambling became even more convenient with mobile gaming. Players can now play anywhere and anytime. The most significant movement forward in VR gaming. Players can have a truly immersive experience without ever leaving the couch.
Land-based casinos, like The Orleans and MGM Grand in Las Vegas, see the awesome possibilities virtual reality games have to offer. Therefore, these casinos released a VR experience for gamers inside the casinos. The Orleans Virtual Zone is a VR experience inside their land-based casino. Basically, players can battle each other for prizes. Of course, land-based casino owners are embracing VR technology to entertain and wow guests. The MGM Grand has Zero Latency, which is a full-motion VR gaming experience set up in a large 450 square foot space.
Mobile/Desktop/VR Casino Advantages & Disadvantages
There are some essential differences between land-based casinos, online casinos, and VR casinos. Surely, those who play online may miss the social interaction they receive at land-based casinos. But, they may enjoy the privacy and comfort of playing at home. The crisp graphics in the new VR casino platforms have taken the online casino games up a notch. Players will enjoy the newly updated VR casino games. They are flashy, realistic, and just plain fun!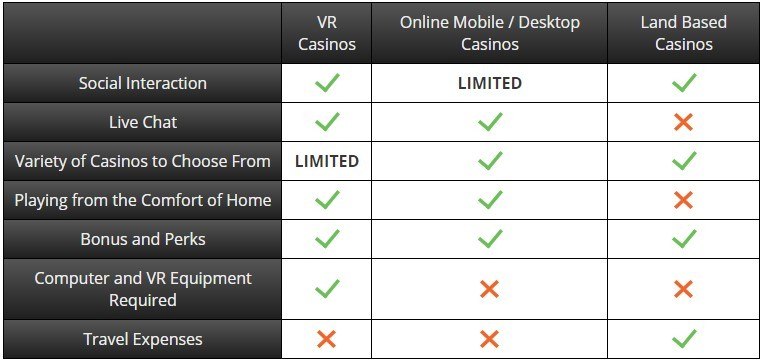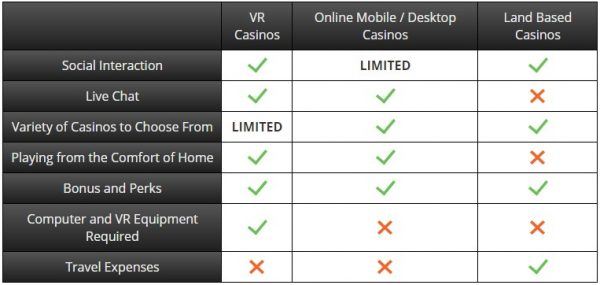 What you Need to Play
The key to making sure the computer you will be using has the right specs in order to play and enjoy a virtual reality casino. It is important to realize there are specific requirements a computer or laptop needs to be able to run VR properly. So, investing in a proper computer setup will help players avoid compatibility issues with virtual reality casinos.
What specs do you need for Virtual Reality Casino Gaming?
NVIDIA GTX 970 / AMD 290 or higher
Intel i5-4590 or higher
Windows 7 SP1 or above
At least 8GB+ RAM
HDMI 1.3 video output – Compatible
2 USB 3.0 ports
VR Headsets for Virtual Reality Gaming
To enjoy VR gaming, VR headsets are required in addition to having a powerful computer or laptop. There are a handful of excellent VR headsets on the market. It is essential to research and review all of the headsets which are on the market before buying any of them. Virtual reality headsets are not cheap, so be wise with the investment you make. Consider which types of games you plan to play. Most importantly review the headset specs, to make sure your computer is compatible. Players who want to play at VR casinos must also have a keyboard or controller to enable them to enjoy the casino games.
With the current advances in technology, the future is bright for VR. The technology will become more available and affordable in the future. Soon, VR will be as standard as any PlayStation, Nintendo, or Xbox in techie's homes. Here are some of the top VR headsets on the market today…
Oculus Rift
The Oculus Rift + Touch Virtual Reality System is perhaps the most popular VR headset. It has a solid 4-star review on Amazon. The Rift comes with six games including Robo Recall, Lucky's Tale, Quill, Medium, Dead and Buried, and Toybox. The headset comes with touch controllers. The price is around $399. Presently, it offers a tethered gaming experience, meaning players must be plugged into a PC. Reviewers have said the headset is lightweight and comfortable, even for those wearing glasses.
HTC Vive
The HTC Vive is another excellent VR headset. Moreover, it is perhaps the closest competition to the Oculus Rift. And can be a bit more pricey. You can purchase it at the starting price of around $499 and it has a 4-star Editor's rating on PCMag. Players can also expect a tethered experience on the Vive. The headset comes with motion controllers. When the Vive first hit the market, it was priced at $799. The setup process can be tricky, so be sure to follow the setup instructions carefully.

All of your questions answered…
How do I play casino games?
Although there are not many current options in regards to playing at virtual reality casinos, this will soon change. Currently, only SlotsMillion offers real money play at their casino. There are many other virtual reality casino games on offer from other developers. However, none of these games give players the option or chance to win real money when you place a bet.
Do I have to download the casino?
To enjoy a truly immersive VR experience, players must download the casino software. Indeed, a day in the future will come where players can enjoy a VR experience via an internet browser. However, at this time it is only available to play for those who have downloaded the VR casino software.
Can I play  games without VR goggles?
Yes! You can enjoy the same games on your mobile phone or desktop computer. However, it is recommended that you play all VR games with VR goggles to maximize the experience. Additionally, the games will be in 3D without the goggles, but coupled with using the VR goggles gives you a completely immersive experience.
Can I play with my friends?
One of the most exciting features of VR casino gaming is that you can play with your friends. In addition, VR casinos give players the ability to interact with other players, live and direct at the casino.
Am I able to see other players?
Yes, you will be able to see other players on the casino floor. So, for protection and security, you will not be able to see the personal or financial information of these players.
What else should I buy to play?
Presently, no other hardware is necessary. Even more so, it's easy to play with only your VR joystick or keyboard if you are playing on a mobile device or desktop computer.
Are players worldwide playing at these kinds of casinos?
At this time, only specific regions allow VR casino gambling. Before playing, be sure to do your research and find out if playing at these casinos is legal in the country you are in.
Conclusion
Unquestionably, not long from now virtual reality casinos will be the norm. Almost everyone will have VR setup in their homes. They will have the ability to play exciting games and VR casino games. In brief, the VR gaming experience will become much more realistic. Technology advancements will push VR into the future. Playing in VR casinos is a rush and incredibly fun. In no time we will see more casinos offering VR casino games, and the technology will spread.
So, to end off, do please try out VR gaming if you have the opportunity. If you love it, invest in that great VR setup! VR casinos will have an even more extensive range of titles to play in the future. Playing fantastic casino games like slots, or table games on VR is unlike anything gamers have experienced before. The future looks good and undeniably holds big promises for the advancement of virtual reality. Players will have the ability to enjoy VR gaming worldwide with other players who are just as passionate about playing them as they are!