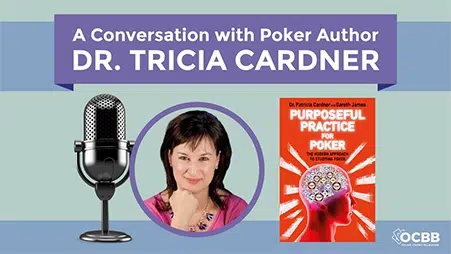 We here at Online Casino Bluebook were given the opportunity to sit down with the wildly talented poker coach and writer, Dr. Tricia Cardner. She has an impressive two doctorates. One in psychology, the other in criminology. Even more, she's a licensed counselor. What's more, is she knows how to completely dominate the poker tables! She's published many books and numerous articles on the topic of poker, she knows her stuff! Her most recent book is Purposeful Practice for Poker. Where she dives deep into learning the skill of poker in a purposeful way. So, let's get into the conversation!
First, we would love to know how got you into poker?
I was already a licensed psychotherapist and tenured psychology professor when I was introduced to poker by way of a home game. This was in 2007 and poker was booming! From the first minute I sat down at the table, I could see that poker is a great blend of math and psychology. I was smitten from the start! I played a bit live and as often as I could online in those days. Full Tilt was my platform of choice until Black Friday. I started playing a lot more live after that.
What is your inspiration for writing about poker?
I was well down the path of trying to perfect my own poker game when I made a significant final table at the River Series at the Winstar in Oklahoma. I had been working a lot with athletes and business people on peak performance issues for a while, so I wanted to bring that into the poker world. I asked Jonathan Little, who is a well-known coach and author if he wanted to team up with me to write Positive Poker. I had interviewed a handful of elite poker players on the topic of peak performance for my doctoral dissertation and that provided the basis of Positive Poker. Luckily he said yes!
We went on to write Peak Poker Performance together which further developed the topics. The focus of it was on how players can translate performance psychology and personal development principles to their lives & games.
For my third book, Purposeful Practice for Poker, I teamed up with my podcast partner (Poker on the Mind Podcast) Gareth James. He is a qualified teacher in the UK and has taught music for a number of years. Plus, he is a fantastic poker coach. Our goal in writing it was to help players understand the learning principles that they can use to accelerate their poker study. To that end, we outline how to set good learning goals (in the form of learning projects) and we teach the reader how to achieve their goals using sound learning principles.
What skills do you think are important for new players?
I'd say the most valuable skill for a new player to master is a solid understanding of preflop fundamentals. If you make a mistake preflop, that will compound all the way through the hand and can end up costing you tons of money by the river. Be willing to learn and study and of course, use Purposeful Practice for Poker to design good learning projects!
How can players increase their confidence at the tables
The best way to increase confidence is to have sound fundamentals. Confidence comes from self-efficacy which is your belief in your ability to execute the behaviors needed to achieve your goals. If you don't have the skills necessary to compete, it is going to be difficult to have true confidence. When you're new to poker, spend more time studying than you do playing. Then when you get to the tables, you won't be surprised by anything that happens!
What other tools can players use to get an advantage over other players?
When players are of similar skill level, the mental game usually makes all the difference. Even if you are highly skilled, if you can't stay focused and manage your emotions, you are not going to be as profitable as you otherwise would be. Also, other players will notice that you are off your A-game and they will take advantage. If you want to be a complete player, you must devote time to developing your mental game.
What are your thoughts about women in poker?
I love being a woman in the game! There are so many times where I've used my opponent's judgments about me and my play to my advantage. If they put off the vibe that they think I'm weak and can be bullied, I let them think that. Then I flip the script at the opportune time and get all of their chips!
I have to acknowledge that it can be difficult to get into the game in the first place as a woman. Unless you have the time available and someone to take you under their wing, it can be challenging. Luckily, more women are coming into the game all the time and we can help each other out!
Do you think men and women have differences at the poker table?
That's a tough question. I think the average woman who shows up to a poker table is better than the average man who shows up. This is a generalization, of course, but in my experience, most women like to prepare before they sit down and risk their money. It's so variable because a lot of the differences are due to socialization and it is hard to say how someone has been socialized. I've seen plenty of tough, aggressive female players and I've seen some weak, passive male players. The best thing about poker is that anyone who has the will to learn to play poker at a high level can do it. It's a game of wits and those are not gender-specific.
How about playing poker online? Does playing online change your strategy?
I used to play quite a bit online before Black Friday. I played on Full Tilt the most and on Stars occasionally. Currently, I play on Global or ACR sometimes and on WSOP.com when I'm in Nevada. I've gotten to where I like live games better than online and believe me, I never thought I would say that 🙂
This is a broad generalization, so take that under consideration, but I think the average online player is tougher than the average live player. Playing online helps you get in so much volume and you can extract a lot of data from all those hand histories which can be invaluable to the learning process.
Of course, I've played in live settings with players who are very capable of reading the situation and extracting maximum value, so there is that!
My advice would be to select your preferred format and do all you can to excel at it! Just be advised that you can learn a lot faster in the online environment if you structure your learning the right way.
What has been the highlight of your career?
I have had so many highlights, but the best thing about poker is the people you meet. Yes, it's fun to win cash money, but the friends you make and the camaraderie you can have in the poker world is amazing. I never would have thought that I would've written 3 books or recorded almost 200 podcast episodes devoted to the game of poker, but here I am!
How about your future plans? Anything exciting coming down the pipeline?
I've got all kinds of plans! We'll have to wait & see how much I can get done – LOL. Gareth and I are considering a companion book to Purposeful Practice for Poker and I'm working on a YouTube channel right now. My main goal is to continue teaching people how they can use psychological principles to learn and excel in life and in poker.
Anything else you would like to share?
It's been fun answering all your questions! I hope everyone who reads this is inspired to work on their games and learn as much as they can about poker – the world's greatest game!
You can find more about Dr. Trish by following her on YouTube. She also has a fantastic free online course called Rev Up your Poker Success.
We want to give a special thank you to Dr. Trish for taking the time to talk to us about all things poker! We hope you enjoy this interview with her fantastic tips as much as we do!