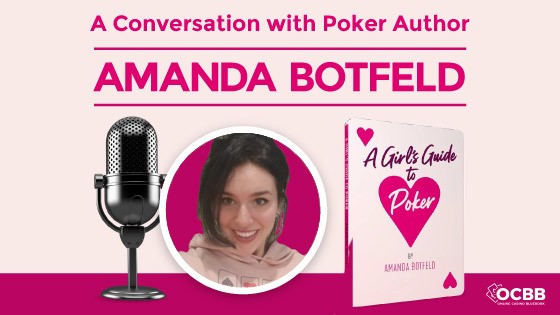 We are thrilled to have had the opportunity to interview the talented Amanda Botfeld, author of A Girl's Guide to Poker. She's also been published in the Wall Street Journal, Huffington Post, and Los Angeles Times. Amanda has a fresh take on dominating the poker tables. Her book is geared towards women poker players of all skill levels, even those just getting into the game. We hope you enjoy our interview with this poker queen!
Amanda, what got you into poker and sharing your expertise with the world?
Sure — my background might not be what you expect. When I discovered poker, I was living in Washington D.C. working as a political writer with a specialty in Middle Eastern foreign policy — particularly events pertaining to Israel. I've been published in the Wall Street Journal, Huffington Post, and the Los Angeles Times.
My main job back then was to write a daily newsletter about what was going on in Israel and the Mideast for 30,000 subscribers. I liked to view myself as a translator, someone who could make the hard stuff simple. Breaking down the most complex conflicts in the world into a few punchy paragraphs.
That's what drew me to poker: there's a lot of thinking.
What inspired you to write your book, "A Girl's Guide to Poker"?
When I first started playing poker, I was awful! I had no idea what I was doing or the strategy behind the game. So I tried getting how-to-play poker books, but they were far too difficult for me to understand. Most read like a math textbook. (I'm not very good at math, and flunked eighth-grade algebra.)
I went on a mission: learn how to play Poker, and then write a book on it so no one would have to go through the same struggle as me! My original vision was a 30-minute how-to guide. Little did I know how long a journey it would be…
I viewed it as a challenge and direct use of my skillset: simplifying complex concepts. Instead of politics made simple, poker made simple.
What is the most valuable skill to refine for a new player?
One word: FOLD! The easiest, fastest, most surefire way to get better at poker as a beginner is to fold more hands preflop. Profitable poker players usually only play around 20% of hands; you should be folding 80% of the time.
Any tips on how to increase confidence at the poker tables?
There's no shame in being a rookie. We all have to start somewhere! There are advantages too — some of my most fearless plays were executed when I had little idea what I was doing. I would embrace beginner status and all the blissful ignorance that comes with it. (And, hey, beginner's luck)
That said, I write in my book that poker is not like running. If you run every day, you'll get better at running. But you can play poker every day and still be a losing player.
I'm all about training smarter, not harder. Quality over quantity. You can learn a great deal in a very short amount of time — I went from hardly knowing anything about the game to winning the first poker tournament I ever entered three months later. Three months after that, I was the #7-highest ranked tournament player at the MGM National Harbor casino.
Rookie status is temporary. Very temporary.
I wouldn't get stuck thinking about years of inexperience compared to the other players. With all of the books, youtube videos, technology, and resources, you're probably better off starting now than having to fix habits learned 10 years ago.
Finally, as for developing confidence, knowledge is power. I mentioned running before; used to run track and cross-country in high school. I started as a huge underdog having grown up a chubby kid compared to all the girls who had been playing soccer since they were 8-years-old. But I figured what I lacked in experience, I could make up for in other ways. I read every runner's magazine back-to-back, interviewed coaches, and had a notebook full of highlighted notes on everything ranging from race visualization strategies to the angle at which you should pump your arms for perfect running form.
Two years later, I was MVP and broke two cross-country course school records. The key was my vast knowledge arsenal. Every part of a race had been studied and mentally prepared for to the extent that when it happened, it was as though I'd already done it before. Same with poker. When you've practiced being in certain situations, you can replicate the experience. Nothing can make you feel more comfortable — and confident — than being prepared.
My advice on building confidence? Do your homework. 🙂
When all experience is similar, what factor can gain the advantage outside of luck?
Being able to go with your instincts.
There are so many times in poker when we know better, but don't follow through — whether it's making a big bluff or a big fold. It takes a lot of courage to listen to oneself.
Those who truly "go with their gut" have a huge advantage in my opinion.
There's a difference between knowing what to do and actually doing it.
Also remember that the game isn't only about logical reasoning plays, it's about mastering your emotions.
Do you play poker online? Also, does playing online change your strategy?
I do play poker online but want to keep where I play privately. 😉 Absolutely it changes my strategy! Playing online is much more aggressive. I'm much more likely to make light reraises — and expect my opponents to do the same.
What are your general thoughts on being a woman in poker?
I get asked all the time what it's like being a woman playing poker, when the truth is, I've never played as anything else! I suppose I can't really speak with expertise on the subject since I've never played as a man. What I can say is that the spotlight is always on you. Win or lose, people are paying attention.
I wrote my book to try and make poker more approachable and accessible to all newcomers — men and women alike. I would hope it could serve as a starting point.
Currently, I'm working with a nonprofit organization called Poker PowHER, dedicated to teaching 1 million women the game of poker. Right now I teach classes with them several days per week. We are always looking for new students!
I think a proper poker foundation is crucial to getting more women into the game. It's no fun to show up at a table and lose! As I said before, knowledge breeds confidence — if more women felt a genuine sense of know-how and belief in their decisions, then I think they'd be first in line to sit down at the table.
Do you think men and women play differently?
Yes, but I think the differences are even more expressed with age than with gender. When I teach my classes through Poker PowHER, the high school students are drastically more aggressive than the adult moms. I'd say there are more similarities between a 21-year-old male and a 21-year-old female than there are between a 21-year-old female and a 65-year-old woman.
Yes, I do find some truth in stereotypes with female players being more passive and risk-averse. But having taught very young girls poker myself, I think that is largely learned behavior. You'd be surprised how maniacal some sixteen-year-old girls can be!
Training women to be fearless goes against the curve in some ways, but less than you'd think. Not to mention that the best poker players truly listen to their instincts. It's a great advantage to have female intuition guiding your decisions.
What was the highlight of your career so far?
In the very first poker tournament I entered, I busted in the first 20 minutes. While debating whether or not to re-enter, one guy turns to look me straight in the eye and says, "You're bad at tournaments."
I re-entered. Seven hours later, he and I were the final remaining two players. He kept trying to make these chop deals largely in his favor. I told him it was my first tournament, and I refused to chop. I bluffed him in a huge pot and won first place.
The second highlight would be the first time my dad came to see me play a poker tournament. I was at the final table and called a guy's all-in bluff with king-high. Correctly. Won that one too — with my dad watching right next to me. It was like a high school track meet all over again.
How about your future plans? Anything exciting coming down the pipeline?
At the end of the day, I identify myself as a writer first and poker player second.
My dream would be to write more reference books like "A GIRL'S GUIDE TO POKER" in the same funny, easy-to-read, female-driven voice. Like the "For Dummies" series or Sparknotes across a wide variety of subjects. And doing so with a sense of humor.
Any other comments, tips, etc you would like to share?
What is great about poker is that it taps into everything that makes us human. All of our survival skills, the way we navigate life. Are you a math person and good at calculating pot odds? Are you a psychology expert with a gift for reading people? Aggressive and like to apply pressure, or patient and like to trap? Whatever it is that makes you "YOU" will lead you to win and succeed in the game of poker. It is a mirror into life.
We want to thank Amanda for sharing some excellent advice for all the poker players out there, go check out her book:
A Girl's Guide to Poker!