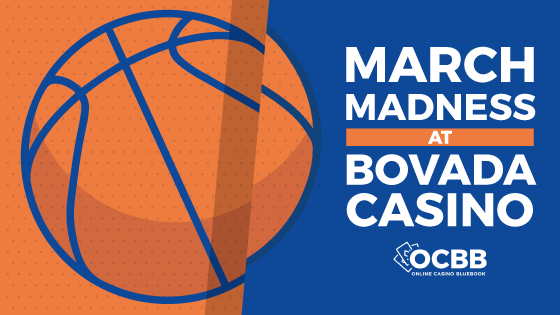 Now that we're in the month of March, you can feel the buzz around you. March Madness is coming. Upsets, underdog stories, exciting basketball and all the highs and lows of the sport and betting on it. There's an energy when you're watching the game, and the energy only gets more electric when you've got money on the game. You can win big if you have the right bet, and Bovada is an online site that allows you to do just that.
With over 15 years in the business, Bovada is a trusted online casino that allows people to go through the thrills of online betting and potentially winning big. See how Bovada Sportsbook can help you with your NCAA basketball March Madness bracket.
★

8.8 Rating

---

$3,750 Bonus

★

8.6 Rating

---

$3,000 Bonus
How to use Bovada Casino for Sports betting?
It's easy to sign up and make an account with Bovada if you don't already have one. Head over to Bovada to start the betting. To create an account, you'll need an email address, billing information, and an initial deposit to start betting. The user interface is clean and easy to use, with helpful buttons and how-to posts on their site to answer all your questions.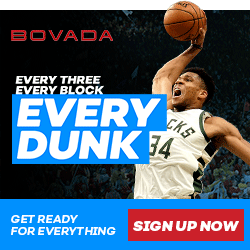 NCAA March Madness Schedule
As you know, you can't start making money until the series starts. On March 15th, the list of teams participating in the tournament will be released, at which point you can build your bracket. The NCAA First Four will play March 17th until March 18th. The first and second rounds will play from March 19th until the 22nd. Next are the Midwest and West regional games, which are played March 26th and 28th. Then come the South, and East regionals played March 27th and 29th. Finally, we get the 2020 Final Four games, which are played on April 4th and 6th. Bovada's schedule keeps pace with these games.
Bovada's March Madness Schedule
The casinos point spreads are posted on Tuesdays at 6:00 pm EST. The day before each basketball game at 6:00 pm EST, a lot of other betting odds are released: money lines, totals, first half lines, team props, and player props. For select games, the quarter lines are released the day before the game at 12:00 pm. This opens a ton of different doors to start betting on teams and potentially win big.
Bracket Bets
On Bovada, you can either bet a standard sports bet or, you can bet a bracket bet. The difference is the standard sports bet is just betting on the outcome of the game, tournament, or individual player. The bracket bet is made in a pool with other players. You bet which team will win each game, and you do so throughout the bracket until you bet on an ultimate winner. The potential payout from a bracket bet is substantially higher than a standard bet.
Current March Madness Implied Odds
The most recent implied odds, posted on March 2nd, has Kansas Jayhawks as the clear favorite. They are predicted to win it all at 9-2, with only two other teams under 10-1 behind them. The Wildcats sit at 20-1, and they're looking good. Of course, these are going to change before we officially kick off NCAA March Madness, but it doesn't hurt to keep tabs on the trends and keep an eye on the teams.