[toc]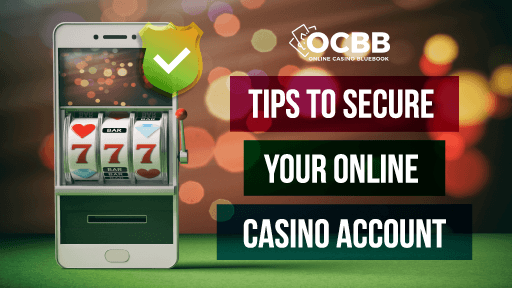 All of us here at OCBB know how enjoyable it is to relax at our favorite online casino after a long day. But, we are fully aware there can be some people lurking on the net with bad intentions. It may not be the same as back in the day with the mob being involved in Vegas, but it can still be nerve wrecking. So, we want to share our top tips for securing your online casino account. With just a little bit of prevention, you will have no worries and be able to enjoy all the casino has to offer fully.
Choose a Regularly Audited Online Casino
Always make sure the casino you choose reputable and is audited frequently for fairness. Regular auditing is proof of how a casino treats both players and player funds with respect and safety. The audit is always carried out by a third party who looks carefully at the casino's behavior. These audits also include data protection and fraud prevention. Casino audits are most often performed by the companies iTech Labs and Total Gaming Science.
Audit regulations from eCOGRA are stringent. These tests focus on whether games are truly random and look at payment processes, money storage protocols, and the company itself. Auditors who perform audits on games ensure that each game is truly random by evaluating the random number generator's effectiveness, which uses the SHA-3 hash algorithm to prevent tampering and encrypts data before sending it off for safe transmission.
Trust & SSL Encryption
We say this over and over, but researching any casino you choose is extremely important. Don't get burned by online casinos that are not trustworthy. Every legitimate casino will protect players' personal information at the highest level. Choose a casino that offers the latest SSL encryption protection. SSL encryption is a way to prevent data theft, making it difficult for cyber-criminals to access your data. Encryption scrambles the information only to be read by those with permission to decrypt and access the information.
Importance of Password Strength
Hackers work day and night cracking passwords and creating absolute havoc on bank accounts. Please don't make it easy for them! A solid password can protect your financial and personal information. Strong passwords may not always be the easiest to remember, but be clever, and you will be completely safe while playing your favorite casino games online.
The professionals agree that your password's length is more important than the actual letters used in it. A common technique is to use a phrase or sentence and capitalize some of the words, add numbers, use symbols, or even include website names. We suggest that your passwords should be at least 12 characters long and include uppercase and lowercase letters, numbers, and special characters. Some websites only allow 8-12 character passwords, but others allow passwords up to 100 characters long. So, look for these options when choosing how to secure your account. Please don't write your passwords down or share them with others.
Log off Casino When Done Playing
We all get a little lazy sometimes, and that's ok! But, you can't cut corners when protecting your identity online. From our experience, the best tip we can offer is to make sure you log off and sign out of any casino when you are finished playing. Let's say your laptop, phone or computer gets stolen, and you are still logged into your favorite casino. A petty theft could most certainly take advantage of you and your personal information. With just a simple click, you can log out of the casino and protect yourself!
At the end of the day, it is VERY safe to play at online casinos. All of our trusted casinos offer the highest level of player security online. However, it's always smart to stay protected. Play smart with these simple tips, and enjoy your time at the casino! Make sure to check out our most underrated online casinos, all of which also have the highest level of security!