How to Identify Reputable Online Casinos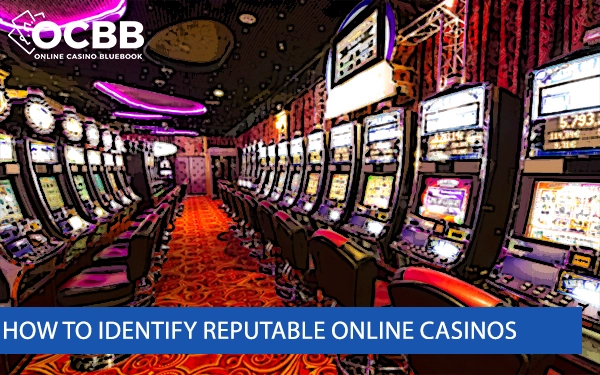 Are you relatively new to the online gambling scene and want to find a reliable online casino that you can trust? With so many online casinos available today, it can be hard to tell which ones are safe and secure and which ones should be avoided at all costs. No need to worry because in this guide, we'll walk you through the recommendations you must consider before signing up for an account at any number of casino sites. We'll explain the tricks for spotting reputable online casinos and highlight some features that reputable sites typically have.
Check the Casino's Reputation
Checking the reputation of an online casino is one of the most important steps in determining if it is reputable. Players should research the casino carefully and ensure it is licensed and regulated before engaging in real money gaming.
Players should read customer feedback and reviews, both positive and negative, to get a broad sense of the overall reputation of a casino. Through these reviews, players can see how the casino handles customer issues and how customer service responds to complaints or problems. It is also wise to look at player complaints filed against an individual casino, as this could point to deeper problems with its reliability or fairness.
Another important step for evaluating the reputation of an online casino is to assess the industry reputation of its parent company or other associated companies. A strong presence in other gaming markets can indicate that the company has sufficient experience and industry skills in providing reliable services, as well as offering high-quality games, like poker, keno, bingo, craps or slot machines. Additionally, understanding the track record of a company's past performance serves as another key indicator of whether or not they are considered reputable by other professional players, sites, and gaming regulatory experts.
Players should also be aware of any warning signs that may indicate a less-than-reputable gambling site. This includes advertisements that make impossible promises, like "guaranteed winnings" or promotions that appear too good to be true. Players should avoid any site that appears to be running fraudulent activities or managing customer funds inappropriately.
By assessing a casino's reputation through reviews, warnings, and parent company credentials, players can develop a better understanding of the reliability of their choice of gambling destination.
Review the Variety and Quality of Games Offered
One of the first things to consider when evaluating reputable online casinos is the variety and quality of their games. There are many different types of casino games available, ranging from classic table activities such as roulette, blackjack or baccarat to modern video slots, live dealer tables, horse and greyhound races, sports betting and more. The best platforms will offer a wide selection of these games, providing players with plenty of choices and enough options to keep them engaged.
When reviewing the quality of the games offered by an online casino, it is important to look at the software providers behind them. Leading software providers such as NetEnt, Play n'GO and Microgaming have built a reputation for creating high-quality slots and other games, so finding online casinos that work with these developers is usually indicative of its trustworthiness. Most of these casinos also tend to be licensed with reliable gambling authorities such as the Malta Gaming Authority (MGA), UK Gambling Commission (UKGC) or Spel Inspektionen (SI).
The end-user experience should be another factor when deciding if a casino can be trusted or not. Reputable operators ensure that their websites are up-to-date, well-designed and aesthetically pleasing while also making sure their gaming suites run smoothly on both desktop PCs and mobile devices and some even offer an app. Security protocols such as SSL should also be in place to guarantee that customer data is protected against potential cyber threats.
It is important for beginner players to check the variety and quality of games offered by online casinos before signing up. Doing so will provide peace of mind knowing that they have chosen a reliable platform where they can enjoy their favorite games safely and securely.
Check the Website's Performance
When it comes to evaluating an online casino's performance, the first step is to consider the website's overall navigation. Is it easy to navigate and understand? Are you able to find the game sections easily and quickly? Does the performance of the website generally feel smooth and lag-free? If not, this might indicate that the online casino is running on outdated software or improperly maintained.
Visually, it is also important to evaluate how high-quality the graphics are. Does the online casino look professional and polished? Are the visuals crisp, attractive, and modern? While, of course, you should never judge a book by its cover, higher-quality visuals could suggest that more effort went into designing the website and creating a professional experience for players.
If an online casino offers video games or slots then it is recommended to first try out a demo version before playing for real money. It is important to assess whether the games are laggy or often freeze up when playing. If so, this could indicate issues with their servers or software incompatibility.
Checking for customer reviews can also help assess an online casino's performance. While there may be some fake or biased reviews out there, based on a win or a lose, it is often beneficial to rely on multiple sources to get a better sense of an online casino's performance.
When checking an online casino's performance it is important to consider both visual aspects — such as graphics — as well as technical aspects like navigation and game playability. Taking these points into account can provide a reliable indication of how reputable an online casino may be and if they are likely to offer consistent experiences for players.
Quality of the Graphics
When it comes to judging the quality of the graphics of an online casino, there is no one-size-fits-all answer. Graphics are a personal preference and can vary from person to person. While some might prefer sleek and modern graphics, others may favor more traditional or classic styles. The visuals of an online casino can also give a good indication of its overall quality and design. If the graphics look outdated or low-quality, it could indicate that not much attention has been given to other areas of the casino as well.
Investing too much in high-end visuals can distract from other less flashy aspects of the gambling experience, such as a secure payment system, customer support, and reliable game selections. It is important to remember that when looking at an online casino's graphics, it should be thought of as a complement to all the other elements that make a casino run effectively.
Overall, it can be difficult to definitively judge the quality of any online casino's graphics based solely on appearances. Researching what other customers have said about the gaming experience can give you a good idea of whether or not their aesthetic preferences measure up with their own.
Check the Casino's Payment Options
Payment options are one of the most important signs that an online casino is reputable and secure. When it comes to depositing money into your casino account, you should make sure that the site you are playing at offers a variety of payment options that best suit your needs. It's important to look for payment methods such as eWallets, bank cards, direct transfers and cryptocurrency and credit cards like MasterCard, visa, etc., as most reputable online casinos accept these. You should also make sure that whichever payment method you use is reliable, secure and free from any transaction fees.
When it comes to withdrawing funds from your account, look for casinos that offer multiple withdrawal options and fast payments with no additional fees or commissions. If a casino imposes extra fees on withdrawals or takes too long to process payments, this could be a sign the online casino is not trustworthy. Double check which currencies the casino accepts to ensure that the funds will be transferred quickly and easily without any currency conversion fees.
Although it's essential to take care when deciding which payment option to use, security should always come first, so make sure all payment processes are encrypted with a high level of security features. To determine if a casino is secure when processing payments, research their customer support team and read reviews from other players.
Any reputable online casino should have clear terms and conditions regarding deposits and withdrawals written, so it's easy to understand what's involved – like fee structures or maximum daily withdrawal limits.
Security and Encryption Methods
Security and Encryption Methods are essential factors to consider in spotting reputable online casinos. Nowadays, gaming platforms are legally obliged to use the highest level of data security protocols or risk facing severe fines and revoking of their license. The most common encryption methods used by online casinos are:
SSL Encryption(Secure Socket Layer): This is a very secure method that encrypts information sent between computers so that it cannot be accessed by malicious third parties. SSL certificates protect personal data and financial transactions and can be verified by checking the 'https' symbol at the beginning of Web addresses.
Encrypted Servers : This method encrypts data as soon as it is saved on the server, making it unreadable even to those with access to the server, such as employees or system administrators. As a result, the player's private information is kept perfectly safe.
Multi-level Firewalls: Multi-level firewalls encrypt data passed between the casino website and user's devices. In addition, they act as a barrier against malware infections from illegal sources.
It should also be considered that all reputable online casinos will display their security protocols clearly for players to verify. It is important that players are aware of these security measures, but even more vital that they understand how to make use of them.
When choosing an online casino, players should carefully look at the site's security features; otherwise, they could be exposing themselves to potential risks like personal data theft or fraud.
Legality and Licensing of the Casino
The first step for identifying reputable online casinos is to ensure their legal status. All reliable online casinos are legally licensed with a gambling commission, and provide stipulations in their terms and conditions which protect the rights of players. Some jurisdictions require that an online casino has both a local license as well as international accreditation. It's important to make sure that the particular casino you're looking at is licensed by a gambling commission in good standing. Ensure it is clearly displayed on the website, a certificate or any other valid proof must be available.
When deciding if a casino is trustworthy, also consider its license issuer. A respected domestic license shows the company meets certain criteria for operating an online establishment, but holding an international license provides your extra confidence that it adheres to high standards. An international e-gaming license from Costa Rica or Antigua & Barbuda are considered prestigious licenses among many of the reputable casinos. Many well-known gaming jurisdictions offer licenses and gambling commissions in countries such as Malta, Curacao, Gibraltar, United Kingdom, Isle of Man and Kahnawake Cluster.
Although there are many factors when deciding on which online casino is reliable and suitable for you, this guide provides an approach to help make informed decisions when selecting where to play your favorite game or bet on sports events. By following these instructions about the legality and licensing checks precisely, you can feel confident when choosing an online casino that offers fair games and honest payouts without worrying about security risks behind suspect operations.
Final Verdict on Identifying the Reputable Online Casinos
When deciding whether or not to trust an online casino, there are a few factors that should be taken into consideration. First, look for unbiased reviews and ratings from other players and experts in the field of online gambling. These can be invaluable resources in helping to determine the legitimacy and trustworthiness of any given online casino. Additionally, make sure to thoroughly check out the casino's terms of service and withdrawal policy to ensure that you are getting a fair deal for your hard-earned money.
The best way to indicate a reputable online casino is by looking for industry seals from respected organizations such as eCOGRA, which help certify casinos as secure and safe gaming environments. eCOGRA provides comprehensive solutions that include gaming integrity checks, research, fraud protection services and technical solutions for game security and fairness. Other seals with similar assessments include TST Global, iTech Labs, GAMCARE and more.
That being said, not all reputable online casinos have been certified with these specific seals of approval. Therefore, it is important to look into the reputation of any online casino before signing up — take the time to read customer reviews online or talk with experienced players offline to get first-hand opinions about their experiences with a certain site. With due diligence and thorough research, one can find a reputable online casino that will provide hours of safe entertainment with no hidden surprises. Overlooking potential red flags could lead to a much less enjoyable gaming experience.
Ultimately, it pays to do your homework when finding the right online casino for you. Spend some time researching different sites before signing up and make sure they offer what you're looking for in terms of game selection, customer service, payment options and more — if everything checks out then you can feel confident in engaging in enjoyable experiences without worry or concern about scamming or fraudster activity.
Frequently Asked Questions and Responses
How can I verify the safety and security of an online casino?
To assure the safety and security of an online casino, there are several steps that need to be taken. Firstly, it is always important to make sure the casino holds a license from a reputable regulatory body, such as the UK Gambling Commission or the Malta Gaming Authority. These ensure that the casino operates according to standards set by national gambling licenses and regulations.
The next step is to check the casino's encryption protocols. The best online casinos will provide strong encryption technology (such as SSL) to protect your data and transactions. Look for the padlock icon in the URL bar indicating your connection is secure. You should also seek additional certifications from organizations like eCOGRA (eCommerce and Online Gaming Regulation and Assurance), who certify that the casino games have been tested independently and fairly. This provides players with peace of mind that they have a fair chance at winning in any game they are playing.
Finally, customer service is incredibly important when it comes to verifying the safety and security of an online casino. Reputable casinos will have 24/7 support on different platforms such as email, live chat and telephone, so you can have your queries answered quickly and efficiently.
What factors should I consider when choosing an online casino?
When choosing an online casino, there are a few factors to consider. The first is the safety and security of the casino. Doing some research on any potential casino is key. Make sure it has the necessary regulations and licensing secure payment options, and has up-to-date encryption technology to protect your data and financial information.
The second factor to consider is the games offered. Check to see if the online casino offers your favorite game, as well as others you may be interested in trying out. It's also important to see if they offer a variety of bets suitable for your budget. Finally, look into the casino bonuses and promotions offered at the casino. Many casinos offer sign-up or deposit bonuses and ongoing promotions like free spins, so you can get more gaming time out of your deposits. Check to see if there are any loyalty programs or VIP clubs you can join for extra rewards. By looking into these three factors when choosing an online casino, you can rest assured of having a safe and rewarding gaming experience.
Do any reputable gambling sites offer sports betting?
Yes, there are many reputable gambling sites that offer sports betting. Sportsbooks are the go-to for bettors looking to make wagers on sports, such as the NFL or NBA. These sportsbooks offer competitive odds and payouts for bettors. When choosing a sportsbook, it's important to consider the site's reputation, payouts, and cashier options. It's also important to look for sites that have a long track record of providing reliable and secure services. Be sure to research several sportsbooks before making a decision.
For example, Bovada is a trusted online sportsbook and casino. It offers a wide range of sports betting options, including NFL, NBA, college football and more. The site also offers competitive odds, a user-friendly interface, and secure cashier options.
Many reputable gambling sites offer sports betting. Betting on sports can be a fun and exciting way to make some extra cash, but it's important to do your research before you make a decision. Be sure to consider the site's reputation, payouts, and cashier options before committing to a sportsbook.
What are reputable banking options?
When it comes to reputable banking options at online casinos, it is important to consider both the features offered by the site and the banking methods available. E-wallets, for example, are the most popular banking option for gamblers due to their convenience, fast payout times, and anonymity. When it comes to choosing a banking option, it is important to consider the features and security offered. Most sites offer a variety of banking methods, and it is important to consider which method is best for someone's individual needs. Some banking methods may require a person to provide identity verification, while others may not. It is important to consider the security offered by each banking option when deciding.
When selecting a banking option, it is also important to consider the payout times. Some banking options may take longer to process than others, and it is important to understand the payout times associated with each banking option. This can be important, as gamblers want to make sure they get their money as quickly as possible. It is also important to consider the features, security, and payout times when selecting a banking option at an online casino. Doing so will ensure that gamblers have access to reputable banking options and can ensure their money is safe and secure.