Understanding the Legalities of Online Gambling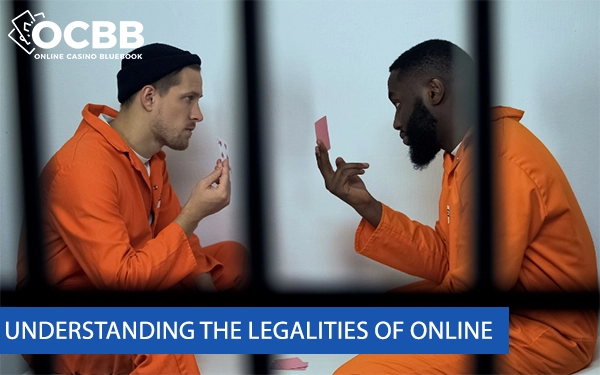 Gambling has become increasingly accessible to those around the world thanks to the internet, but with increasing convenience comes legal and financial responsibilities. The history of gambling is riddled with constant changes and updates as to its legal status and laws applying to gambling. If you've considered trying your luck at online gambling and hopefully becoming one of the many winners, it's essential to understand the legal landscape before you dive in or you could end up losing. Without researching ahead of time, you could lose more than just your bet and you could wind up on the wrong side of the law. To make sure your online gambling experience is informed and responsible, here's everything you need to know about the legalities of online gambling to make an informed decision and not leave it to chance.
Gambling Law and Regulation in Different Countries
Gambling law and regulation varies from country to country, with some nations having much stricter regulations than others. It is important for potential online gamblers to understand the regulations in each country to ensure that they are not breaking any laws by participating (or attempting to participate).
In the United States, each state's individual laws determine whether online gambling is legal or not. Some states like Nevada, Delaware, and New Jersey have all legalized some form of online gambling and offer fully regulated sites, while other states simply prohibit all forms of gambling. There is also a federal ban on the transmission of wagers across state lines and banking restrictions that prevent money laundering.
European countries such as the UK, Germany and France have varying levels of regulations in place regarding online gambling. The UK Gambling Commission was established to regulate remote gambling in the country, ensuring that websites adhere to responsible gaming practices and offshore operators are not allowed to advertise unless they are licensed by the Commission. Meanwhile, Germany's regulations are more restrictive with laws dictating who can and cannot offer online gaming services through German-facing websites.
It is important for players to know the specific laws regarding online gambling in their respective countries before attempting to partake (or even be tempted) as participating in illegal activities could lead to severe consequences.
Where it is Legal and Where it is Not
When it comes to online gambling, one of the most significant considerations is where it is legal or not. In the United States, as of 2021, online gaming regulations vary drastically from state to state. Depending on where an individual lives in the US, they could be able to participate in activities such as playing at an online casino, sports betting, or participating in horse racing.
At this time, online betting is allowed in most states. Some states, such as Utah and Hawaii, are opposed to this type of gaming due to concerns due to religious and moral beliefs. It is very important for players to make sure that their specific state does not prohibit internet gambling before participating in any wager.
It is clear there is a divide over the legality of online gaming in the United States. However, most states are recognizing the potential economic benefits associated with allowing legal forms of online gambling while still enacting legislation that regulates it responsibly and prevents any potential crime associated with it.
Different Ways to Play
Online gambling is widely available in a variety of forms and there are numerous ways to participate. Browser-based casinos or gaming sites with mobile apps tend to offer the most popular types of online gambling. These sites often feature slots and other games that are suitable for playing on computer or mobile devices, as well as virtual versions of traditional casino table games like blackjack, craps, baccarat and roulette. There are also platforms where players can wager on real money games such as poker, bingo, and sports betting.
These different methods of online gambling have their own respective pros and cons. One should take time to fully understand the basics of the casino game they are interested in playing. Reputable Online casinos typically have more options when it comes to game selection because they are not restricted by device compatibility or floor space. However, these sites typically don't provide the same immersive experience that an app or software download may offer. With mobile apps, users have access to social experiences such as leaderboards, chat rooms, and in-app competitions. Downloading an app does require additional storage space on your device which could be a concern for some users who prefer to conserve as much memory as possible.
In addition to online casinos and mobile gaming platforms, there are also specialized sites dedicated solely to sports betting or a sportsbook. These usually offer comprehensive bet types from major leagues around the world, along with detailed statistics about each player or team that can be used to help inform decision-making. Sports betting sites often require players to register for an account with the site itself before being able to place any wager, be it on a sport or a race.
No matter what kind of online gambling you choose, understanding the advantages and disadvantages associated with each method will help you make sure you find something that fits your individual preferences and needs. As always, it is important to remember that online gambling should be done responsibly while adhering to all applicable gambling laws and regulations in your jurisdiction.
Casino Games and Sports Betting
Casino games and sports betting are two of the most popular forms of online gambling. Both activities involve placing a bet on the outcome of an event in exchange for money or other goods and services.
Casino gambling games, such as blackjack, roulette, online poker, keno and slots, involve betting on the outcome of a game against a computer algorithm. Players typically have to make deposits to play these types of casino games. Many argue that playing casino games carries too much risk as there is no reliable way to predict the outcome.
Sports gambling is different from casino games as it involves betting on real-world events with predetermined odds and outcomes. In addition to having to make deposits like casinos do, sports bettors must also research the players or teams in the NBA, NFL, or MLB they want to bet on before placing a wager. Sports bettors can win or lose depending on how well their picks perform. The advantage of sportbetting is that it involves skill and knowledge on the team or player that you betting on. Features like over-under, spreads, and parlees all add to the value of betting on sports.
The debate about whether online gambling should be legal has been ongoing for many years. Proponents argue that it provides a form of entertainment for people who may otherwise not have access to traditional gaming centers, while opponents feel that it encourages irresponsible behavior and leads to fraud and money laundering.
Regardless of what your opinion is, the reality is that online gambling continues to grow in popularity around the world. As such, it's important to understand the ins-and-outs of legislation related to licensing and operating online gambling before participating in any activity.
Licensing and Operating Casinos
Online gambling requires a license or permission from the relevant authorities in order to operate legally. Licensing and operating online gambling involves taking several steps, including registering the business with appropriate government entities, ensuring compliance with relevant laws, and obtaining valid gaming licenses depending on the jurisdiction. Sites must also pass any safety checks related to Prohibited Acts set by a court or congress in individual states or countries, such as technical and security requirements.
Some individuals can support having gambling sites that are properly licensed and regulated as this provides gamers assurance when participating in online activities, reduces scams and encourages responsible gaming. There can be individuals opposed to licensing and operating online gambling sites as some may view it as encouraging negative behaviors in gambling such as addiction or loss of control.
Online Gambling sites must remain aware of legal developments in different jurisdictions, especially if new rules are implemented that change their operations. To maintain a legitimate site, operators should continuously work to stay up-to-date with legislation around their area of operation and should regularly monitor fraudulent activities that may occur on their site by using industry-leading anti-fraud techniques. Internet gambling laws vary by country, state, and providence, so always verify the internet casino you use follows all local online gambling laws.
Processing Winnings and the Site's Legal Status
When it comes to online gambling, processing winnings and understanding a site's legal status are essential elements to be aware of. The good news is that most online gaming sites follow established protocols concerning withdrawals, processing winnings quickly and securely, and if you take the time to do a little research, finding a reputable operator should not be too difficult.
In most cases, sites have certain rules and processes in place that must be followed before you can withdraw money from your account. Generally speaking, users will have to provide certain personal information and verify their identity. This is typically done by submitting a valid form of ID such as a driver's license or passport. In addition, you may also need to provide documentation related to your banking institution to clarify the withdrawal method, such as providing a bank statement. Overall, the actual process for collecting your winnings varies from site to site but these are some of the things you'll want to look out for when attempting a withdrawal.
Due to the gray area surrounding state and federal laws regulating online gambling in the US, it can sometimes be difficult to determine whether or not an online gaming site is fully legal or not. For this reason, it's always recommended that any users considering playing at an online gambling establishment understand exactly what they may be getting into before they join or make any kind of wager. That said, there are plenty of legitimate operators available who offer players a safe and secure environment for gaming. It's just important to remember to use caution before making any final decisions and be sure that an operator abides by local laws in your jurisdiction before you commit.
Due to the ever-changing political landscape surrounding the legality of online gambling in different parts of the US – understanding the different rules of gambling in different states can help users make more informed decisions about where and how often they choose to play.
The Different Rules of Gambling in Different States
The rules of gambling vary widely from state to state, with some states being more lenient than others. For example, some states allow online gambling for residents and visitors alike, while others have strict laws in place that prohibit online gambling altogether. In fact, there are several states where online gambling is currently illegal, including Utah, Hawaii, and Texas. These states have made it clear that they are not interested in allowing online gambling within their borders, and anyone caught participating in online gambling in these states could face significant penalties.
Other states, however, have taken a more open-minded approach to online gambling. New Jersey and Pennsylvania, for example, are two states that have legalized online gambling and offer a range of options for residents and visitors. In these states, online casinos and sportsbooks are licensed and regulated by state authorities, ensuring that players have a safe and fair experience when gambling online. Other states, such as Nevada and Delaware, have also legalized online gambling in some form, although the rules and regulations in these states may differ slightly from those in New Jersey and Pennsylvania.
The rules of gambling vary significantly from state to state. While some states have embraced online gambling and offer a range of options for players, others have taken a more restrictive approach, making it illegal to participate in online gambling within their borders. For anyone interested in gambling online, it's important to research the laws in your state before placing any bets to ensure that you are not breaking any laws and risking potential legal trouble.
Understanding Internet Gambling
Understanding internet gambling involves grasping the nuances of the legislative environment in which it operates and the games themselves. There are two sides to this debate: those who advocate for regulated online gambling, as well as those who are against it. Proponents argue that by allowing for legislation around internet gambling, responsible gaming can be enforced through age restrictions, fair play measures and other predetermined limits. They believe it can be a form of entertainment while boosting local and national economies. On the other hand, some opponents emphasize that regulating online gambling could lead to catastrophic implications such as encouraging further problem gambling and potential corruption.
Considering these different points of view, it's important for governments to take note of their own policies surrounding online gambling before issuing regulations related to it. The global landscape surrounding the legislative movement towards the regulation of internet gambling is constantly changing, so its essential for legislators and policymakers alike to stay abreast of any relevant new developments or trends in the industry.
How Governments Regulate Gambling
Online gambling is a popular form of entertainment, but it is also subject to complex laws and regulations. Governments worldwide regulate the activity differently, from allowing a full range of gaming opportunities within their borders to banning it entirely. Regulating online gambling can be tricky for many governments as it involves balancing the rights of players with the need to protect citizens from harm.
Some feel that rigid regulations will stifle innovation and discourage investments in the new industry. Proponents claim that regulating online gambling would ensure its safety by creating an environment of legal oversight. Opponents argue that online gambling should remain illegal because it encourages addiction and presents potential risks of money laundering activities.
Ultimately, there is no definitive answer as to how governments should regulate online gambling, as opinions vary based on specific circumstances and individual beliefs. Nevertheless, it is clear that there are benefits and drawbacks associated with each approach and striking a balance between enforcement and freedom should be considered when forming policy around this issue.
Advice for Players when Gambling Online
There are some important considerations to take into account when gambling online. The first is that a player must have legal rights in their jurisdiction to participate in online gambling. This means that the site must be licensed to accept players from that particular country or region. It is also important for players to understand the complex rules and regulations surrounding online gambling within their jurisdictions, which vary greatly across countries and regions.
When selecting an online gambling platform, there are also some important factors to consider. Players should research the reputation of the platform and make sure to stick with well-known brands that are established in the industry. Additionally, all transactions should be secure, encrypted and reviewed by third-party services, such as those offered by payment processing companies. It is essential that players only use sites that use rigorous encryption standards and reliable payment methods.
Players should exercise extreme caution when engaging with real money wagering on any platform. While there can be huge rewards available, there can also be significant financial risks associated with every bet placed. It is recommended that betting limits are established and adhered to as a means of ensuring responsible gambling behavior is always presented.
It is never advisable to gamble more than a player can afford to lose when engaging with online gambling websites. Players should ensure that they have clear legal rights when participating in online gambling activities in their region and always engage responsibly by understanding the complexities of the process before committing funds of any kind. By following these guidelines, a player can ensure a safe and enjoyable online gambling experience free from unnecessary risks or potential conflicts.
Responses to Common Questions with Explanations
How do casinos verify age and location of players?
Online casinos use a variety of methods to verify the age and location of players. This includes requiring players to submit documentation such as a government-issued photo ID to confirm their identity, and often also requires players to provide their address and/or phone number. Additionally, certain payment methods may be limited to specific countries or regions. Finally, many online casinos use geolocation software that tracks IP addresses and cross-references them against databases to ensure that players are located in jurisdictions where online gambling is allowed.
Is it legal to gamble online in the United States?
Yes, it is legal to gamble online in the United States. Most states, like Connecticut, Indiana, West Virginia and Michigan, have legalized some form of online gambling, including casinos, sportsbooks, and poker rooms. These forms of online gambling are regulated by state governments and often require players to be over 21 years old. Additionally, the federal government enforces certain laws that protect consumers regarding online gambling. For example, the Unlawful Internet Gambling Enforcement Act (UIGEA) prohibits companies from knowingly accepting payments from customers for illegal internet wagers. While these laws provide a layer of protection for consumers in relation to online gambling, it is important to familiarize yourself with all relevant state level laws before engaging in any online gambling activities.
Are there any restrictions on the types of gambling?
Yes, there are restrictions on the types of online gambling that can be offered and played in certain countries and jurisdictions. Generally, online gambling is only allowed to take place if it is done within a regulated environment, with laws and regulations put in place to protect players and to ensure the integrity of the game. Some countries have outlawed all forms of online gambling, while other countries might limit it to only certain types like sports betting, lottery or card games. Additionally, some jurisdictions may even require a license for individuals or entities who offer online gambling services or products. Therefore, it is important for players to check the legal status of online gambling in their jurisdiction before playing.
Are there any regulations for online casino sites?
Yes, there are a number of regulations in place for online gambling sites. All gambling operators must adhere to licensing and compliance laws in order to operate legally, and jurisdiction-specific requirements may also apply. When selecting an online gambling site, players should always ensure that it is adequately regulated within the market where they live.
Regulatory bodies such as the United Kingdom Gambling Commission (UKGC) and the Malta Gaming Authority (MGA) are well known for their strict guidelines and stringent regulatory oversight. Some jurisdictions may also have additional restrictions concerning online gambling.
What countries have legalized online casinos?
Online gambling is legal in many countries around the world, such as the United Kingdom, France, Italy, Spain, Portugal, Germany, Sweden, Finland and Denmark. In addition, most US states have legalized online gambling for residents within their state boundaries, including Delaware, New Jersey, Michigan, Indiana and Pennsylvania. Canada also has legal online gambling sites.
The legality of online gambling varies from country to country. Each country has its own laws regarding online gaming so it is important for players to familiarize themselves with the regulations that apply in their region before engaging in online gambling activities. Some countries may allow players to register at offshore sites while prohibiting domestic operators from offering services. In most parts of the world where online gambling is legal, reputable and well-established regulatory systems exist. These bodies ensure that all fair play practices are followed and enforced by operators who hold licenses within their respective jurisdictions. This ensures a safe and secure environment for players to bet in confidence.