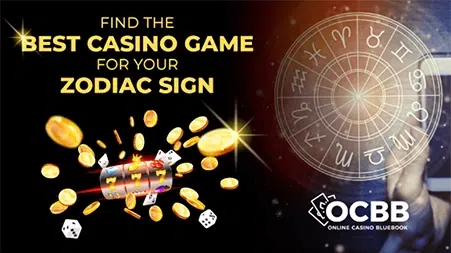 Have you ever spent an afternoon at the casino, either in-house or at online casino or just wasn't feeling the games? Maybe you blamed your luck or your lack of mojo. There's a good chance that you decided that gambling isn't for you.
An unlucky and lackluster day is likely not due to the casino but rather the game you chose to play. Many astrological followers believe that your zodiac sign may be the secret to your success and enjoyment. Let's take a closer look at some of the best casino games for you based on your zodiac sign.
The Competitive Aries
March 21-April 19
As an Aries, you've most likely lived your whole life with eagerness and thriving as someone who is naturally competitive. You might even think that gambling was made for you considering the competitive nature. You enjoy fast-paced games that compete against other players, and you aren't afraid to place a bet. Your best match is a game like poker or sports betting that relies on intuition and risk. Betting on March Madness is highly likely.
The Strong-Willed Taurus
April 20-May 20
Sometimes you're accused of being stubborn, but you're also creative and don't embrace chaos. You're a patient player, so you're likely to stick out any card or table game longer than other players. You're definitely more comfortable playing online, so it's good there are plenty of games like craps and baccarat to satisfy your need for fixed odds.
The Gemini Looking For Fun
May 21-June 20
Gemini are versatile and ready to try anything once. While you're probably not interested in settling in for a night of poker, you like fast-paced games and enjoy everything from unique slots and live dealer games to a boisterous round of Bingo.
The Introspective Cancer
June 21-July 22
As someone who's more or less the opposite of a Gemini, you like to take it easy, and it might take you a while to find the best game for you. You aren't necessarily picky about the game, but it has to feel right. Since you aren't all about the party scene, you're perfectly happy playing online in a quiet and controlled space—many Cancer signs like live dealer games.
The Confident Leo
July 23-August 22
As a Leo, you are probably a casino's favorite type of player. Not only do you make gambling look like a blast, but you also make it fun. You are confident, dramatic, and don't mind showing off when you win. Leos are likely to try any game, but you love the ones that have big wins. Progressive jackpots, Bingo, and Poker are just a few to consider.
The Careful and Practical Virgo
August 23-September 22
If you're a Virgo, there's a good chance you've never played, or it is your first time in a casino. As someone who's more practical than spontaneous and prefers control over betting it all, you might not feel that gambling is for you. Try sports betting or strategic games like blackjack.
The Smart and Creative Libra
September 23-October 22
As a Libra, you like things that are creative and even whimsical, but you like the mental stimulation. You're likely to hop around from slots with enticing graphics to games that force you to think, like poker.
The Mysterious Scorpio
October 23-November 21
You are used to people trying to figure you out to no avail. While you're willing to give any game a try, you're drawn to games that have big wins. You are likely to do well at poker due to your mysterious nature and being a pro at bluffing.
Looking for Variety
Sagittarius: November 22-December
Much like Geminis, you're looking for fun, and you probably won't spend hours at the same game. You like to keep it simple and exciting, so you're a great candidate for slot machines. The good news is that online casinos are constantly updating their collections.
The Thoughtful Capricorn
December 22-January 19
Like Virgos, gambling may not be your go-to activity. You probably don't believe in luck, and if you're going to gamble, you're happiest with strategic games like blackjack or sports betting.
Quick Changing Aquarius
January 20-February 18
Like your fellow Geminis and Libras, you might have an "anything goes" attitude when it comes to gambling, but you might change your mind more quickly. Your best game will match what you're feeling. Fortunately, online casinos have a plethora of options.
The Live in the Moment Pisces
February 19-March 20
As a Pisces, you're sensitive and often lack confidence even though you're completely capable of figuring out the game. Because of this, you're likely to play it safe and play classic casino games like blackjack or roulette. While poker is a classic game, you might not do well, considering that you aren't great at bluffing.