This Pokerstars VR review will cover the different aspects of playing virtual poker games and the other casino games offered. The featured game is poker based on the popular Texas Hold'em format. You can choose from different tables and stakes before starting your game. They also offer other table games and slots to choose from, which expands its gameplay.
PokerStars VR is a virtual reality poker experience that allows you to play VR poker games against other players/opponents in a realistic environment.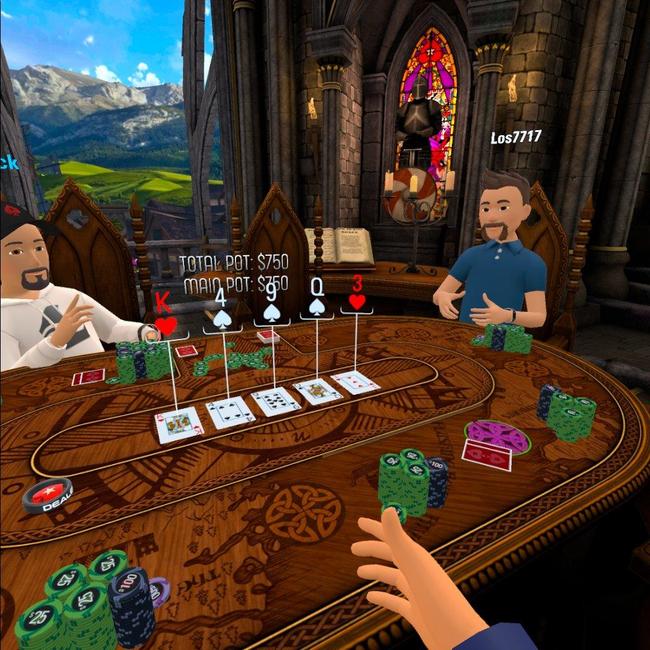 Let's get this PokerStars Review started.
Jump Menu:
Pokerstars VR Review – How Does Pokerstars VR Work? – Enter The Pokerstars VR World – Social Aspects of VR Poker – Pokerstars VR Control and How To Go All In – Is Pokerstars VR Worth Playing? – Other Casino Games in Pokerstars VR – Is Pokerstars VR the Future?
How Does PokerStars VR Work?
PokerStars VR requires virtual reality headset technology such as the Oculus Rift, Meta Quest 2, or the HTC Vive. Once you've got your gear set up, all you need to do is download the PokerStars VR game from the Oculus store, and your VR Poker journey begins.
The experience and gameplay are incredibly realistic, and you can interact with the other players as if you were in the same room. You can even watch live streams of real poker games to glimpse what the poker players and pros are doing.

Enter The PokerStars VR World
PokerStars VR is a card game played in VR (virtual reality). Once the game starts, you are transported to a lobby that allows you to meet other players, find various buy-in tables to grab a seat at, or start a private poker game for you and your friends.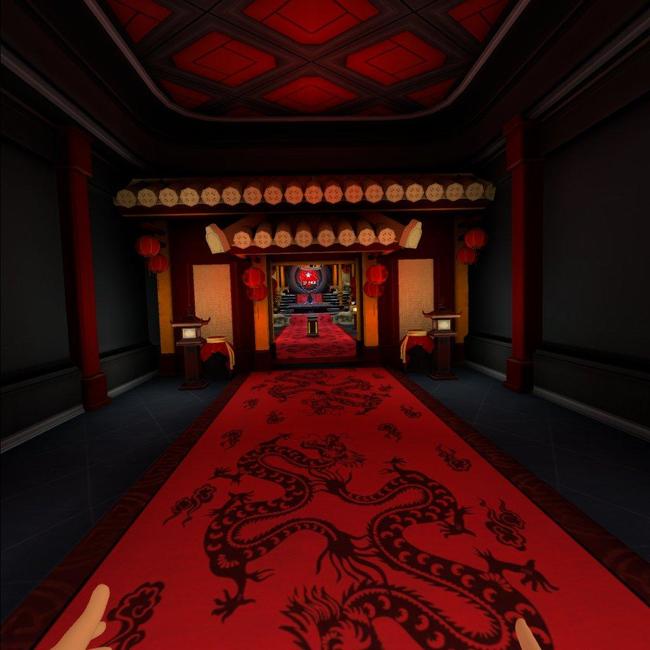 The current update even includes multi-table tournaments. You will also find slot machines to play and other table games like Blackjack and Roulette.
Be sure and visit the bonus wheel to spin for daily bonus opportunities to win things like virtual money to spend in-game or on props and accessories.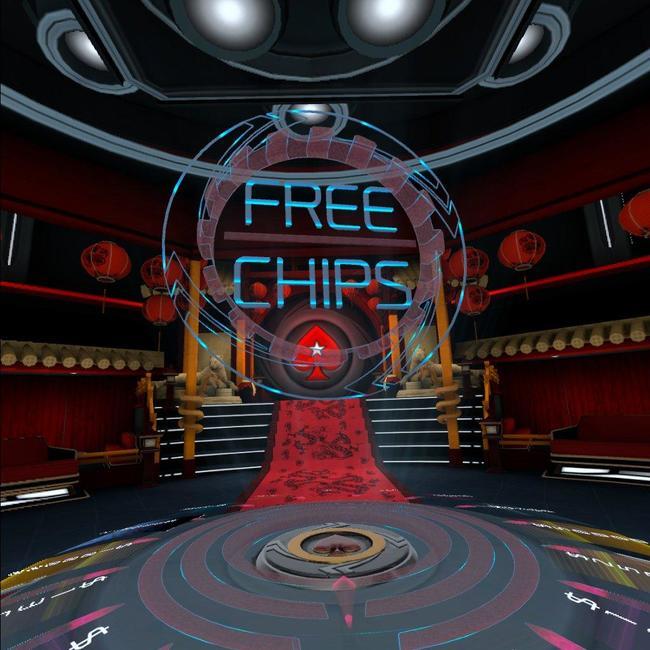 Examples of avatar accessories you can purchase include: a virtual cigar that smokes, beer, drinks, balloons, and even items you would never find at a traditional poker table like fireworks.
Social Aspects Of VR Poker
The social aspects and interaction with other avatars ( opponents ) are a big part of the VR poker experience. You can chat with the other players at your table and even gesture or emote to show how you feel about the hand. It's a great way to make friends, and you can even challenge other players to poker games or tournaments.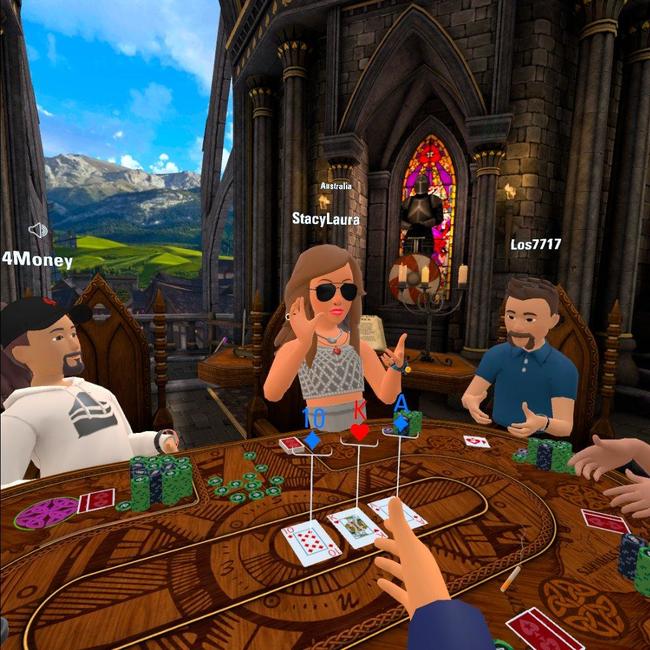 You should be cautious that your microphone, by default, is on, and everyone around you can hear what you are saying. My buddy once played and didn't realize this and had farted louder than he expected, which the lobby heard and started heckling him like: "You stink at poker". You can change this in the settings, but it is something to be aware of.
The graphics and audio offer some of the best detail and features that I have seen in VR. The graphics are very realistic, and the sound effects help to immerse you in the experience.
You can even change your avatar's outfit and hairstyle to show your personalization.
The only thing that I could find wrong with the graphics was that they could be too realistic. For example, you can see the other players celebrating when you lose a hand, which can be a bit much.
Overall, I enjoyed the social aspects of talking to people while waiting for their hands to complete, and while looking for digital tells of bluffing can be more difficult than in real-life table games, it was fun trying to watch their avatar movement for bluff giveaways.

PokerStars VR Controls & How To Go All-In
The controls in PokerStars VR are fairly straightforward. You use the left analog stick to move around the table, and the right stick is used for actions such as folding, calling, and raising. You can also use the triggers to interact with other players.
The movements in the lobby are "point and teleport", where you point to the area you would like to move to, and it teleports you to that one point.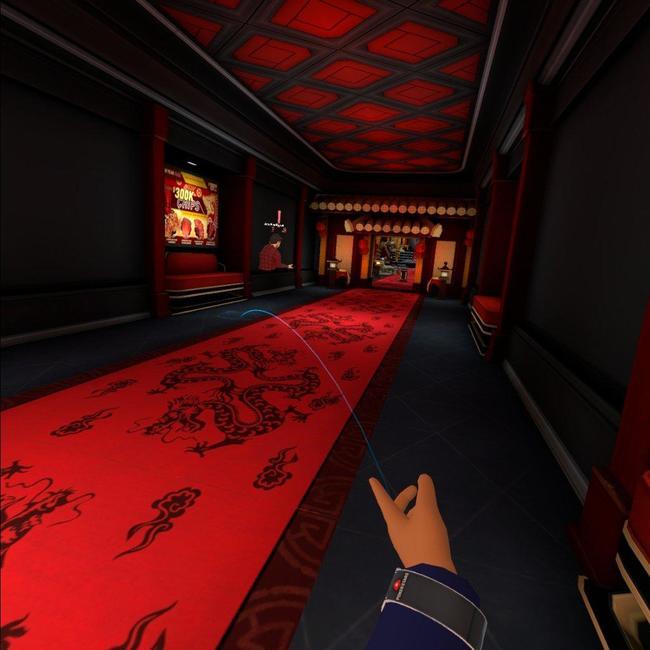 I loved the aspect of tossing your chips or folding your cards on the virtual table. The physics of the gameplay is very satisfying and realistic.
If you want to go all-in on a hand, you just need to press the X button. This will force the other players to decide whether or not they want to take you on.
The watch on your wrist is where you can see a list of all the games available and get to the store to buy accessories.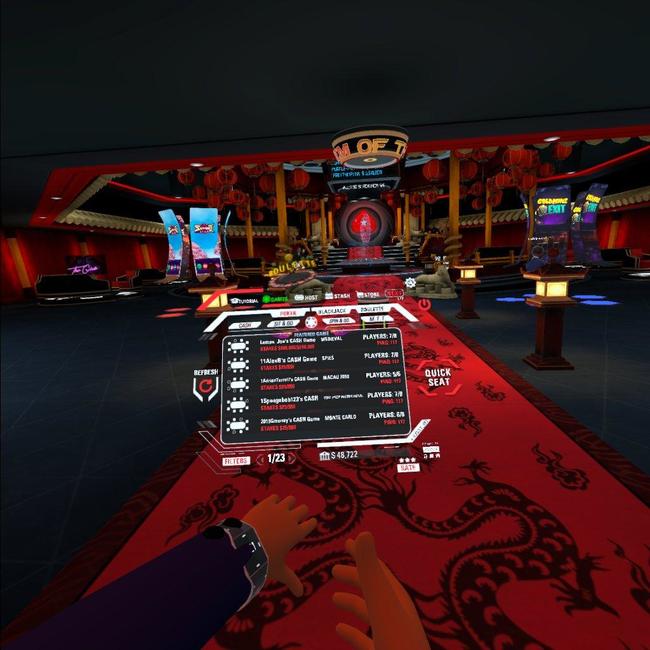 Is PokerStars VR Worth Playing?
PokerStars VR is a virtual reality experience that allows you to play real poker in an immersive environment. You can meet other players in the lobby and start a poker game with up to eight people, and the experience is incredibly realistic.
You can even change the room you play in from saloons to Las Vegas-style rooms. Table style and theme designs include Macau 2050, Macau Suite, Monte-Carlo Yacht, Showdown Saloon, Medieval, Void, Galaxy Space Station, Spies, and Cyber. This was one of my favorite parts of the game. Each environment has its own unique set of chips, cards, and tables.
An example of the Poker Rooms available: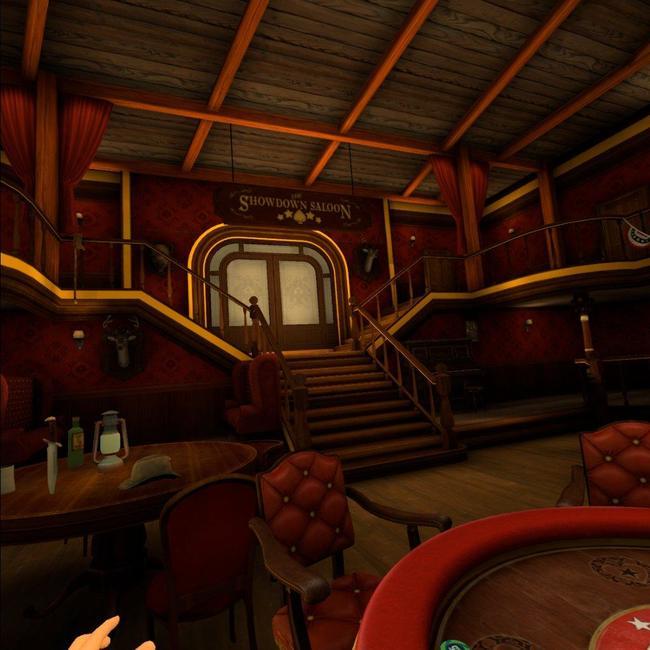 PokerStars VR is worth playing if you are a casual or serious poker fan. The experience is realistic and fun, and it's a great way to meet other players and improve your poker skills.

Other Casino Games in Pokerstars VR
PokerStars VR is a great way to learn how to play poker in virtual reality, and it's a great way to get some practice before you compete in real money cash games. However, the experience is not limited to VR poker games. You can also play casino games like Blackjack, Roulette, and Slots.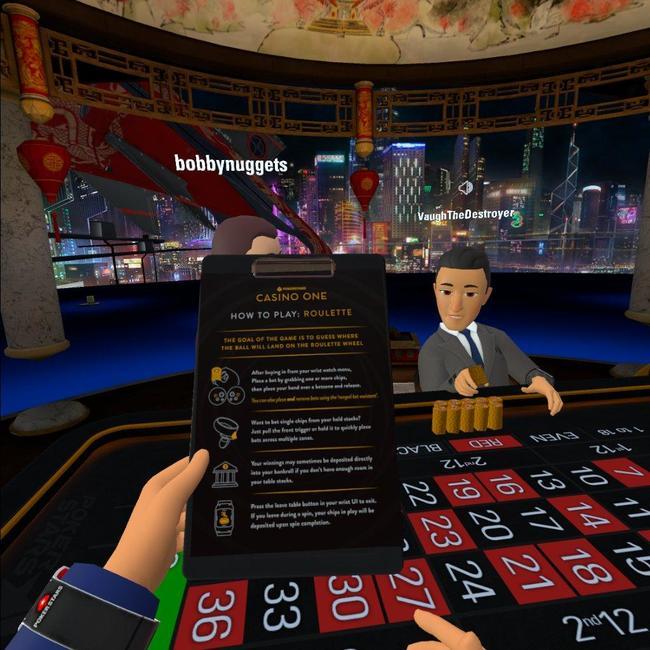 Slots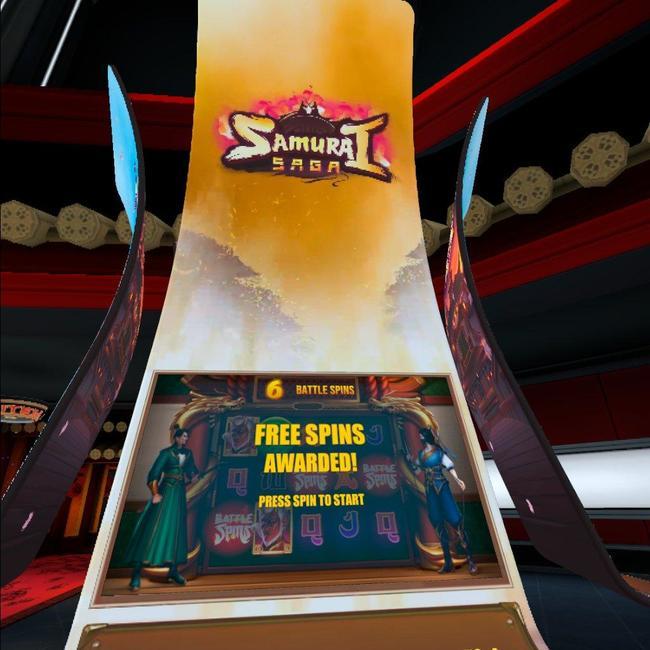 If you love slots, then PokerStars VR is the perfect experience. You can choose from various slots games, and you can even play progressive jackpot slots. The most recent update includes Samurai Slots.
Blackjack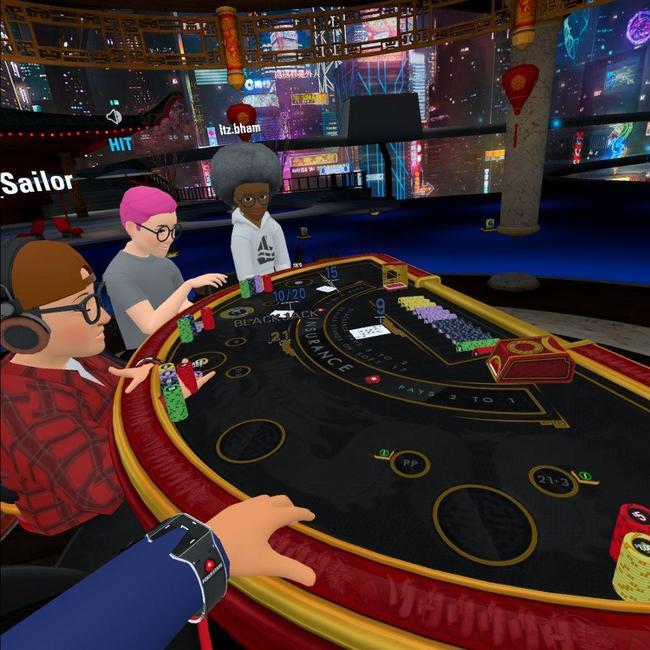 If you are looking for a more classic casino experience, then Blackjack is your game. You can play against other players in real-time, and the experience is similar to playing Blackjack in a real casino.
Roulette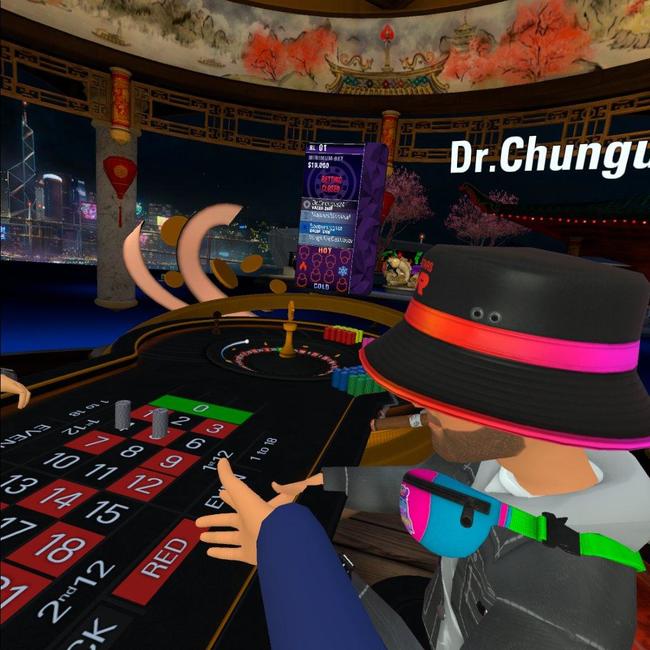 Roulette is another classic casino game that you can play in PokerStars VR, recently added in version 0.23.3.2_HF3. You can place your bets on the table and watch the ball spin around before it lands in a slot. It is the newest offering in PokerStars VR, and it is sure to be a hit with players around the world. The card on the table will teach you how to play roulette in Pokerstars VR.
So, if you're a fan of casino games, then PokerStars VR is the perfect experience for you. You can play poker, blackjack, roulette, and slots in a realistic environment with other players worldwide.

Is PokerStars VR the Future?
The PokerStars VR experience is a great way to learn how to play poker in virtual reality, and it's a fun way to get some practice before you compete in real life. I commend the developers for building such a great game that continues to offer additional updates and value. While competing in real money poker games will always be the ultimate form of competition for most players, PokerStars VR offers a fun and realistic alternative. We had fun playing PokerStars VR and believe it has a bright future as a Virtual casino gaming consideration. We hope you enjoyed how we reviewed Pokerstars VR, and let us know in the comments if you have had as much fun as we have.
Pokerstars VR – Casino One Update
On March 21st, 2022, Pokerstars released their Casino One update, which included a new environment that resembles the style of a Las Vegas room with a beautiful cityscape as a backdrop. There is a new "casino tab on your watch," where you can find a list of public and private floors. You can create your own floor or join up with friends and other players.
Be sure to look out for the limited-time Casino One Pack for $19.99, which includes:
300k in chips
Casino One Cardback
Casino One Entrance / Exit Animation
Casino One Halo
or the Casino One Collection which includes:
A Casino One Watch
Casino One Fanny Pack
Casino One Champagne
Casino One Cappuccino
Casino One Visor
If this game review has you excited to play, but you don't currently have a VR headset, check out our online casino reviews to find a reputable brand to play at. You can also visit the homepage Top 10 chart to check out our favorite online casinos.