Robbie Strazynski's: Top 10 Poker Tips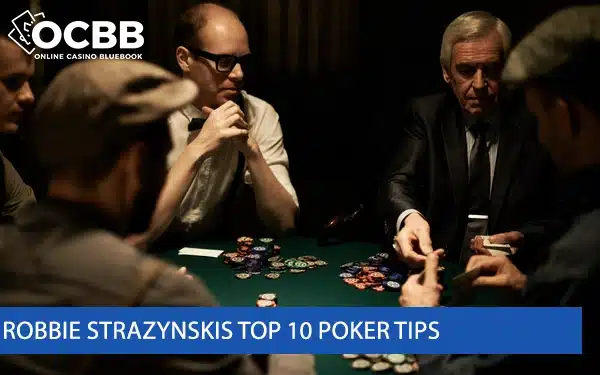 A favored pastime of card players the world over, poker remains as popular today as it's ever been. With that said, because so many people play the game nowadays, they've also gotten good at it. In other words, learning how to play poker is still just as simple as ever, but learning how to play the game well — that's another story altogether.
Famously said by Mike Sexton, "poker is a game the takes five minutes to learn but a lifetime to master." Well, frankly, more and more people are putting in the time to study hard and improve at poker. That's resulted in it being more challenging to win in 2021, even among highly experienced players. So, if your goal is not only to have a good time playing poker but also to win, we advise that you take heed of the following ten poker tips listed in this article.
1. Dedicate Time To Poker Study
It used to be enough just to play poker, pay attention, and improve your game over time with experience. While that's still an essential component of getting better at the game, the winningest poker players know that they have to put in time away from the tables to learn poker theory, master poker strategy, review their gameplay, and analyze loads of poker hands.
There are so many poker skills to master. And so many resources out there that you can take advantage of to gain better insight into the game. Sure, it's gambling — a game of chance, but those who perfect their skillset undoubtedly succeed in greater numbers over time. Some general topics you might wish to spend time investing your study time in are psychology and probability. More specifically, you might want to memorize preflop charts, learn how to maintain aggression and represent strength, recognizing betting patterns, and exploit a sucker who can't find the fold button.
You ought to be taking notes while playing, whether it's live in a brick and mortar poker room, or alternatively in an online poker room. Then, after your poker session, you've got to review your poker notes and learn from your mistakes to lose the minimum and win the maximum. Moreover, there's plenty of great free poker strategy material out there online that you can learn from, so your best bet is to scour the internet appropriately and take advantage of it.
2. Read Poker Strategy Books
Studying free poker strategy articles is important, but that will only get you so far. Not everything can be found on a website, after all. To take your learning to the next level and really be a threatening opponent, it pays to invest some money into purchasing poker strategy books. The top poker strategy publisher nowadays is D&B Poker, which has put out loads of well-regarded titles, such as:
Modern Poker Theory (by Michael Acevedo)
Winning Poker in 30 Minutes a Day (by Ashley Adams)
Exploitative Play in Live Poker (by Alex Fitzgerald), and
Secrets of Professional Tournament Poker (Volumes 1, 2, and 3 – by Jonathan Little)
That's just a sampling, and quite frankly poker theory is so vast that there's pretty much a book out there for almost every aspect of gameplay. If you're looking for strategic advice on what to do when your opponent checks, there's a book out there with a chapter on it. Need practice keeping your emotions in check if you make a mistake when calculating poker odds in a cash game? Surely there's reading material to be found on that subject as well.
So, buying yourself a few poker books is practically guaranteed to be an investment that'll pay high dividends at the felt. The information contained within will ensure you'll be more likely to profit in the long term.
3. Take Breaks
Poker is a great game. Sometimes you'll win, and sometimes you'll lose…but you're not a robot. If you never take time away from the table, your game will almost surely suffer since you won't consistently be able to play your best. Like all things in life, it's key to strike the right balance with poker and have discipline. Whether it's your hobby or your profession, it's critical to have other endeavors you're engaged in. Taking breaks from poker offers numerous benefits:
You'll be able to mentally reset in between sessions
You will be able to give your body the physical rest it needs
You'll never fall out of love with the game, as you'll always be excited to return to the felt after a break
4. Enroll in a Poker Training Course
Similar to our advice in point #2, you need to look at the money you spend on poker as an investment that'll eventually give you a solid return. There are numerous poker training sites out there offering courses to help you improve. Most commonly, these will include a number of video lessons, where important poker concepts are fleshed out in-depth. Taking the plunge to enroll in a poker course doesn't have to break the bank either. While some courses can cost hundreds or even thousands of dollars, others are available for as little as $5 a week!
Of course, like any other product you consume, it's best to make a comparison to know which one's the right one for you. Be sure to do your research and read reviews of these poker courses before you start spending money on them. They're all usually excellent, but you need to focus on the skills and games you intend to play, and — as such — take the courses that focus on exclusively those. The chances are that if somebody advises you to the contrary, they've never taken one themselves. Winners who consistently place high in tournaments and reap big profits, more often than not, have taken some sort of poker training course.
5. Carefully Select Games, Seats, and Tables
Not all games, seats, and tables are equal in poker. For starters, you shouldn't be playing in games that you can't afford. Too many poker players, even highly skilled ones, have stories of immense losses. Loses that they weren't prepared for due to bad luck. Bad luck will always strike you in poker, no matter what, but if you're playing for stakes that are too high, you may never fully recover from it.
You also need to be aware of who your opponents are. Being the ninth-best poker player in the world does you no good if the top eight players in the world are at your table. There are no medals to be won for playing against tougher players, and your biggest wins will come against inferior players.
To a lesser (but no less important) degree, how you fare at a particular poker table will depend on your position. If a large stack is seated immediately to your left, no matter your skill level, you'll find it difficult to maneuver and make the right moves and plays. In tournaments, you can't control where you're sitting. But, in cash games, you've always got to ensure you're sitting in the most advantageous seat possible.
All of this is to say that winning at poker isn't just a function of getting aces or kings. Or checking and knowing how to raise or semi-bluff, your positions, the players at your table, and what game you're playing will, in most cases, be the major factors in whether you'll be a winner or get beat.
6. Don't Just Play Texas Hold'em
Texas Hold'em has essentially become synonymous with poker, but there are SO many more varieties of the game. Pot Limit Omaha (PLO) continues to gain in popularity. Of course, there's also 7 Card Stud, 2-7 Triple Draw, fixed limit Omaha, Razz, 7 Card Stud Hi/Lo, and newer variants like Badugi, Badeucey, and Badacey, among others.
As tough as it has gotten to win at Texas Hold'em, the numerous other poker variants have far fewer great players playing them. If you're able to brush up on your skills in these non-Hold'em games, you'll likely ascend the learning curve pretty quickly versus the competition that's out there. Moreover, you'll broaden your overall poker skill.
Moreover, many of the best poker skills to master are applicable to multiple games. Some examples include:
The calculation of pot odds
The basics of cash games vs. tournament play
How to handle pressure, bluffs, big bets
Knowing the key to making decisions when in tough spots
Not to have results based thinking
Knowing the risks of chasing draws
How to accept bad beats and handle swings with grace
How to spot errors and overall weakness from your opponents
So, however strong your penchant for seeing a flop, turn, and river in Texas Holdem, just remember that there are other excellent forms of poker out there for you to enjoy as well.
7. Have a Bankroll, not a Budget
While the terms "bankroll" and "budget" are both money-related, the difference between the two represents an entirely different mindset to have in the mind of poker players. Those who approach poker thinking in terms of a budget are practically destined to be losing players. One has budgets when they're planning to spend (i.e., lose) money. Why would you approach a poker game thinking ahead of time that you'll be losing?
Conscientious poker players have bankrolls. That's money that's set aside from regular funds used for day-to-day expenses. The bankroll is utilized as a tool specifically for poker. You win, the money goes into the bankroll. You lose, the money comes out of the bankroll. Occasionally, you may have to replenish the bankroll if you've hit a dry spell over a large number of poker sessions. But, knowing how much you've got set aside for playing poker means that you'll make sure to select the poker games at the appropriate stakes. Thus, not risk losing too much at any one time.
Perhaps the most important of the poker tips on this list, then, is that you should have a bankroll rather than a budget.
8. Watch Great Players Play Poker
Especially over the last few years, more and more poker play has been live-streamed, broadcast, and beamed to screens all over the world. Whether it's at the World Series of Poker, on the World Poker Tour, high stakes cash games, or at any of the other high profile tournament series around the world, there's just TONS of poker content waiting to be consumed and learned from.
Twitch is where you'll find numerous online poker players, like Lex Veldhuis, live streaming, and simultaneously giving commentary on their play. Vlogs are where you'll see grinders like Andrew Neeme and Brad Owen running through breakdowns of hands they've played in live poker settings. PokerGO is where you'll find some legendary broadcasts of some of the toughest poker games and most memorable hands ever played.
Beyond being a source of great entertainment, each of these avenues allows you to watch great players ply their craft. While you should never copy what you see on TV, as there are always numerous factors that go into the decision-making process of each player in each specific situation, there are still many poker tips you can glean from watching the greats.
9. Keep Records of Your Wins and Losses
Hand in hand with taking notes and having a bankroll is the concept of record keeping. All of the game's great players, whether they play live or online poker, have records of their sessions dating back years. Perhaps even right back to when they first started playing. Keeping records of your wins and losses is the only way to accurately account for all funds that go in and out of your poker bankroll. If you tend to give lots of tips (e.g., to dealers, poker room staff, etc.) that ought to be accounted for, too.
One way to keep records is via a simple Excel sheet. Other players prefer to use dedicated programs or apps, specifically outfitted with rows, columns, and various other features allowing you to properly document how much you've won or lost in a particular session. In addition to where and when you played, for how long and for what stakes, and more.
Generally speaking, the more thorough your record-keeping, they more accountable you'll end up being to yourself about your poker play. As well as how profitable you are, and what skills you need to work on to improve your game. So while it might be tempting to round some corners here and there. We recommend that you make sure to account for every dollar you win or lose. Many players fail to do this and are sadly worse off for it.
10. Have Fun
At the end of the day, poker is a game. You can study your brains out, master poker strategies, become an expert, winning player, and perhaps even a legend of the game someday. But the game also has a dark side. Losing can sometimes induce something called "tilt," which means you'll lose your temper, and you're overall cool. You've got to remember that lady luck won't always smile on you. Once in a while, you'll be on the losing end of coin flips. Don't let that dampen your joy for the game and desire to keep on playing.
Many players started their poker journeys playing with friends, watching poker professionals on TV. Also following the goings-on in the poker world, rooting on their favorite poker pros…don't ever let that "magic feeling" dissipate.
Understanding and remembering that there are far more important things in the world than poker will ensure that you don't entrust your happiness to the fate of the next card. Don't forget to smile and have fun.
Conclusion
Lengthy though this list of poker tips might be, it is by no means a complete one. As mentioned earlier, poker is a game that takes a lifetime to learn. Also, poker strategy is continually evolving as players keep on improving. If you want to start playing poker, don't be discouraged by how much there is to learn. Remember that it's meant to be a fun game. With the right attitude, you'll have a blast playing, and gain plenty of excellent skills along the way.
Author: Robbie Strazynski
Translated Versions:
German – Top 10 Pokertipps
Polish – 10 Najlepszych Wskazówek w Pokerze