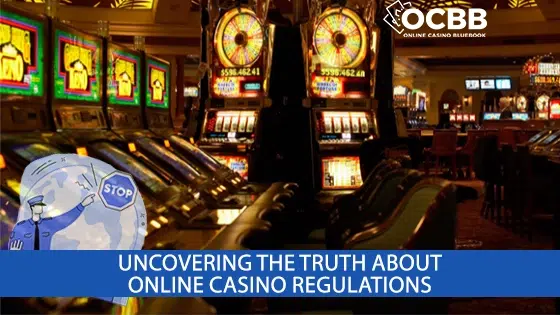 Uncovering the Truth about Online Gambling Regulations
Imagine hitting the jackpot on an online slot game, only to find out later that you cannot withdraw your winnings – all because you overlooked the online gambling regulations! Tricky situations like these can turn a thrilling gaming experience into a nightmare. Uncovering the Truth: A Guide to Online Gambling Regulations aims to demystify the often complex world of legally operating online casinos, providing you with useful insights that ensure your big win doesn't go down the drain due to legal loopholes. So, buckle up and get ready to delve into this essential guide on gambling laws, because understanding these rules and regulations is just as important as perfecting your poker face.
The truth about online gambling regulations is that they vary from country to country and state to state, making it important to be familiar with specific laws and regulations in your area. While some regions have strict regulations governing online gambling, others have looser rules and a more liberal approach. It is essential to do your research and only play on websites that are licensed and regulated by reputable authorities. Additionally, responsible gambling measures like deposit limits and self-exclusion options can help promote a safe and enjoyable experience.
Online Gambling Regulations: Global Overview
Online gambling has become a global phenomenon, with people from different parts of the world engaging in various forms of online betting. The regulations governing online gambling differ from one country to another, and it is essential to understand them as a player. These regulations try to ensure that players are protected from fraudulent activities and that they can enjoy fair gaming.
Some countries ban or restrict online gambling, while others have legalized it and created regulatory frameworks to govern the industry. In Europe, for example, online gambling is legal in most countries due to the liberalization of the market that started in 2012. The European Union allows member states to set their own laws regarding online gambling and other forms of betting.
In Africa, only a few countries have legalized online gambling, including South Africa and Kenya. However, some forms of online gambling are prohibited in most African countries. In Asia, countries such as China and Singapore have strict laws prohibiting online gambling, while others like Japan and the Philippines allow it under certain conditions.
South America is also home to numerous online casinos despite having varying regulations across different countries. Brazil has yet to legalize it but plans are made to provide a framework for legalization soon; however, Uruguay has legalized all forms of online gambling within its borders since back in 2008.
It is crucial to note that there are no globally accepted standards for regulating online gambling currently. Each country sets its standards based on its cultural values and beliefs towards morality and safety issues associated with various types of gaming activities like poker or slots games.
An example is China where gambling is not only illegal but culturally unacceptable despite being allowed in some regions like Macau. It is important to research thoroughly before engaging in any form of online betting even internationally.
Even with individual differences from one country to another, commonalities exist in most jurisdictions worldwide. For example, the protection of vulnerable players like underage gamers or addicted gamblers is a recurring theme across various regulations.
Similarly, jurisdictions require that entities running online casinos have licenses and other regulatory approvals before operating their platforms. They must also adhere to strict data privacy laws as online gambling captures personal information that sometimes includes sensitive data.
Understanding how global regulations apply to online gambling, it is similar to seeking guidance on staying healthy when traveling to different countries. Each region has its inherent risks based on the culture, environment, and traditions, and one must seek advice from both local customs and official guidelines.
Now that we've outlined the global overview of online gambling regulations let's dive deeper into who regulates them in specific regions.
Key Regulatory Authorities
Regulators oversee all aspects of online gambling in different regions around the world. These agencies act as watchdogs, ensuring that casinos operate fairly while protecting both industry players and consumers from fraudulent activities.
In Europe, the most extensive regulatory framework for online gambling is set by the European Commission under the Directorate-General for Internal Market, Industry, Entrepreneurship, and SMEs (DG GROW). Its main role is to provide member states with support in regulating remote gaming activities.
In Asia, each country has its own regulatory agency responsible for governing the industry within its borders. For example, Japan was among the early adopters of internet gambling, primarily through horse racing betting initiated by the government ; its regulatory authority is called the Japan Racing Association.
In America there is no unified approach because each state has jurisdiction over its own laws. However in some cases an alternative body may regulate federally like The National Indian Gaming Commission which tests fairness of games played in American Native Reservation Casinos.
Another example suggests Malta Gaming Authority (MGA) executes its functions by developing policies while issuing licenses for operators it deems fit to run online casinos within its boarders. MGA's licensing system is one of the strictest globally, ensuring that all operators comply with set criteria such as independent testing of games for their fairness and proper data protection measures in accordance with GDPR guidelines.
Beyond issuing licenses and regulating operations, these regulatory entities also ensure that players' rights are protected by providing various channels for addressing complaints or grievances. For instance, the UK Gambling Commission provides a platform where players can report suspicious activities in online casinos while officiating different issues including protection of underage players.
Imagine gambling regulators as referees in a soccer game overseeing all the rules are observed and both teams have an equal opportunity to score within the stipulated time frame. When a player feels aggrieved by an unfair call from the referee, he has a channel to appeal or report through the right authorities. Similarly, investors and consumers have a chance to launch official queries against unscrupulous operators governed by regulatory bodies.
Having discussed Key Regulatory Authorities let's understand how online gambling laws vary in different regions worldwide.
Legality of Online Gambling in Different Regions
The regulatory landscape governing online gambling varies both within and across different regions. While some countries, like the UK, have legalized and regulated online gambling, others, like the US, maintain a patchwork of regulations that can differ by state, county, and city. Understanding what countries have taken gambling from banned to regulated is important.
In Europe, online gambling is legal and regulated in many countries, including the UK, Malta, Spain, Italy, France, and Denmark. These countries have accreditation from various regulatory authorities such as the UK Gambling Commission (UKGC) and the Malta Gaming Authority (MGA). In general, European regulators aim to provide a fair and transparent environment for players while managing risks associated with problem gambling.
Asian countries like Macau and Singapore are known for their thriving land-based casino scene but have strict restrictions on online gambling. Meanwhile, the Philippines has emerged as a major hub for online gaming companies due to lax regulations.
In Australia, online gambling is prohibited for Australian companies under the Interactive Gambling Act of 2001. However, Australian residents can still legally gamble at offshore sites that accept their business.
Overall, navigating the legal framework surrounding online gambling can be tricky and requires research into the specific laws and regulations in your region.
Despite differing approaches to regulating online gambling globally, legitimate online casinos tend to share certain characteristics. They operate within the framework of licenses and regulations provided by reputable gambling authorities such as Malta, Gibraltar, the UKGC or Curacao. They also strive to provide a fair and enjoyable gambling environment whilst maintaining positive customer feedback and prompt payment processing.
Independent testing by auditing agencies such as eCOGRA indicates that legitimate casinos have been thoroughly tested and deemed fair. Responsible gambling measures such as deposit limits, self-exclusion options, and resources related to responsible gambling promote a safe and enjoyable gambling experience for players.
On the other hand, scammers operating illegitimate online casinos often lack the necessary licensing and regulatory oversight. They may offer unrealistically high bonuses and have poorly designed websites with limited customer support. As such, players should always do their research and verify an online casino's licensing before depositing any money.
Now that we've explored the general global landscape of online gambling regulations, let's dive deeper into state-based gambling laws in the US.
State-Based Gambling Laws in the US
As earlier mentioned, laws governing online gambling differ from jurisdiction to jurisdiction. In this section, we'll focus on the United States and Europe to give you some perspective on how regulations vary within regions.
State-Based Gambling Laws in the US
Online gambling is not illegal in America federally despite several legislations like The Federal Wire Act and The Unlawful Internet Gambling Enforcement Act of 2006. Most states have their own legislation when it comes to gaming activities including lottery systems which provide regulation at a state level while others authorize web-based casinos headquartered outside its border but accessible via offshore servers.
European Regulatory Landscape
The European Union has been one of the leading regions globally in terms of internet gambling regulation changes since 2012. These efforts came in the form of liberalizing the online gambling market, allowing individual member states to regulate services within their borders.
For example, some countries like Sweden are opening up their markets to more operators while others such as Italy have been strict with their licensing requirements so far.
To regulate online gambling in Europe, EU countries rely on various laws and policies set by the European Commission and national government bodies. Some laws enforce fair treatment of customers while others address issues of addiction and encourage responsible gaming.
Wrapping it up
The global regulatory landscape for online gambling varies widely from region to region. It is important to understand the peculiarities that apply to your country/state before engaging in any betting activities. Additionally, always ensure you choose legitimate entities that have a good reputation and operate under regulatory agencies that provide legal recourse when necessary.
According to a 2021 study by the University of Nevada, Las Vegas, the global online gambling market is projected to grow at a compound annual growth rate (CAGR) of 11.5% between 2020 and 2027, reaching nearly $127 billion in revenues.
A research report published by the American Gaming Association in 2019 found that regulated online gambling in the United States generated $306 million in revenues, representing a year-over-year increase of approximately 55%.
According to Statista, projections for the online gambling market in North America indicate revenues will reach $37.8 billion by 2025, driven largely by increasing adoption and legalization across various states in the US.
European Regulatory Landscape
The regulatory environment for online gambling in the US can be complex due to differing laws between states. While some states like Nevada allow online gaming, others have stricter regulations that prohibit it altogether. Additionally, some states may only allow certain types of online gambling, such as sports betting or lottery sales.
According to the federal government, online gambling is not illegal in the US. However, the 1961 Federal Wire Act bans any gambling activity – including online gambling – occurring across state lines. The 1992 Professional and Amateur Sports Protection Act served to limit sports betting extensively until it was overturned by the Supreme Court in May 2018.
Another important piece of legislation is the 2006 Unlawful Internet Gambling Enforcement Act (UIGEA), which makes it illegal to operate an online gambling platform on US soil, but making bets on such platforms is legal. Americans can make bets on some gambling websites that are registered overseas.
So what does this mean for players looking to gamble online? It means that whether you can legally gamble online depends on where you live specifically. For example, New Jersey allows betting on casino games, sports betting, and on-track and off-track horse racing. Meanwhile, Hawaii and Utah remain the only two states that ban every form of gambling.
To give further context, California currently has no specific laws legalizing or prohibiting online gambling. However, legislators have attempted to push for legalization in recent years without success. In the absence of statewide legislation, banks and other financial institutions in California have implemented their own restrictions around online gambling transactions.
The patchwork of state-level regulations governing online gambling is similar to the landscape for marijuana legalization in the US. While some states have legalized it for recreational use, others only allow medical use or prohibit it altogether.
Understanding the specific laws and regulations regarding online gambling in your state is crucial to ensuring that you remain safe and protected when playing at online casinos or placing bets on sports events. Now let's explore ways in which players can stay safe while navigating the complex legal framework surrounding online gambling.
Ensuring Safety and Security in Online Gambling
Europe has a patchwork of different laws, regulations, and licensing systems that vary from country to country. However, there are some overarching regulatory authorities that set standards and provide licenses for the entire European Union (EU). The most prominent of these is the Malta Gaming Authority (MGA) and the United Kingdom Gambling Commission (UKGC).
The MGA is a regulatory body that oversees all aspects of the gaming industry in Malta. It is responsible for granting licenses to online casinos and ensuring that they operate within a legal framework. The MGA regulates many online casinos situated across Europe. One of the reasons why the MGA is so popular among casinos is that its licenses are recognized by other countries within the EU, making it easier for casinos licensed by the MGA to operate in other EU countries.
The UKGC is another important regulatory authority that oversees the gambling industry in Great Britain. It was created under the Gambling Act 2005, with the purpose of regulating commercial gambling and ensuring it was conducted fairly and openly. Its role includes researching and developing policies relating to gambling, issuing licenses to operators, and enforcing relevant legislation.
Other regulatory authorities within Europe include Gibraltar Regulatory Authority in Gibraltar, Curacao eGaming Licensing Authority on Curaçao Island, and Isle of Man Gambling Supervision Commission on Isle of Man. These agencies have an equal reputation with regards to providing international casino websites with their seals of approval.
European regulators have become more interested in customer protection over recent years due to an increase in fraudulent acts uncovered at many online casinos across Europe. This concern has spurred recent regulation which has been implemented in various countries including Finland and Sweden.
In December 2020, The Swedish Gaming Authority had enforced new wagering limits ranging between $580 plus a 100% deposit bonus and $46 without it as part of an attempt to reduce spending on gambling services marketed to Swedish players. Besides, the Finnish government has proposed that a calculator should be attached to all slot machines to monitor player activity and significantly restrict gambling exposure possibilities.
Licensing bodies in Europe face various challenges as a result of differences between the regulatory framework of EU countries. For instance, obtaining a license in Denmark may not guarantee access to other markets within Europe, thus limiting the market scope for casino operators. Consequently, there have been recent United Kingdom Gambling Commission (UKGC) moves to tighten the rules on gambling sites licensed by overseas regulators.
The UKGC outlined its plans through an open consultation process that ran from July until October 2020 aimed at strengthening consumer protection measures and lowering potential risks brought about by black-market operations. Most online casinos have released statements of compliance with the new regulations either by obtaining fresh licenses or renewing their pre-existing ones.
One of the latest debates in European gaming circles is about a common approach towards online gambling regulations throughout the continent. A draft proposal seeks to develop European Union online gambling legislation and tackle illegal platforms while providing legal operators with a trusted route into the market. If established, it would give EU-wide requirements, allowing businesses operating in multiple EU member states to deal with a single supervisory body instead of working with different national bodies.
The regulatory landscape is critical for gamblers because legitimate casinos operate within such frameworks whilst scamming casinos typically do not. The next section will discuss how online casinos ensure safety and security for their customers.
Player Verification and Data Protection
One might think that playing casino games online is risky since you are not handing over cash personally like you would in brick-and-mortar casinos. However, it's essential to remember that reputable online casinos go through thorough examination processes before being granted licenses by respected authorities.
Independent testing by auditing agencies such as eCOGRA indicates that fair play is always upheld by legitimate websites. eCOGRA is an internationally recognized testing agency that specializes in auditing online casinos and ensuring fair play. They assess everything from the accuracy of random number generators to the honesty of payout percentages.
In addition, most casinos have put measures in place to promote responsible gambling and players' safety. These measures range from player deposit limits to cooling-off periods, which allow players to take a break when they need it. Others offer self-exclusion options, where account holders can request exclusion for a set period or permanently.
Data protection has become increasingly crucial for online casino customers. Most countries have implemented data protection laws, such as the General Data Protection Regulation (GDPR) in Europe. Reputable online casinos use Secure Sockets Layer (SSL) encryption technology, which encrypts all data sent between the player's device and the website.
It can be compared to mailing a letter using a secure post box instead of leaving it exposed for anyone passing by to glance at its contents. SSL encryption ensures that no third party can read or access personal details entered on the site. Secure payment methods also keep transactions safe, from information about your bank or card details, which are only used for processing payments and are not stored securely online.
However, players must still be cautious about disclosing their personal information when signing up with unknown poker rooms or slot sites. Scammers operating illegitimate casino establishments often offer unrealistically high bonuses. Therefore players must always scrutinize terms and conditions before embarking on anything, checking whether they comply with player preferences or not.
Some of the ways customers can check the legitimacy of the platform include searching for reviews from genuine users through review platforms like ours, Online Casino Blue Boook. Playtests from gambling experts could also provide useful information as he test-drives various games to give his honest opinion on how they function and the overall gaming experience.
While there are a range of options for ensuring safety and security when gambling online, it is crucial that players do their due diligence.
Navigating Terms and Conditions
One of the primary concerns for gamblers engaging in online gambling is the safety and security of their personal and financial information. With the prevalence of cyber attacks and data breaches, it's no wonder why players want to ensure that their data is protected at all times.
In order to address these concerns, licensed online casinos must follow strict regulations regarding player verification and data protection. This typically involves requiring players to provide proof of identity and address during the registration process, as well as implementing measures such as encryption technology and secure payment gateways.
For example, one popular method of player verification is through the use of Know Your Customer (KYC) procedures. This involves verifying a player's identity by requesting documentation such as a driver's license or passport, as well as proof of address through utility bills or bank statements. While some players may find this process tedious, it ultimately helps to protect both the player and the casino from fraud and identity theft.
In terms of data protection, reputable online casinos will typically use SSL encryption technology to protect sensitive information like credit card numbers and personal details. Additionally, many casinos will have dedicated security teams responsible for monitoring for any attempted hacks or breaches in real-time.
While some may argue that these measures can be inconvenient for players, they are necessary in order to ensure that the gambling experience remains safe and enjoyable for everyone involved. Without proper safeguards in place, players may be hesitant about using online casinos altogether, which could result in lost revenue for legitimate operators.
Think of it like locking your front door – you might forget your keys sometimes or feel inconvenienced by having to unlock it every time you enter or leave your home, but ultimately it provides peace of mind knowing that your belongings are secure.
Understanding Your Rights and Responsibilities
Another important aspect of ensuring a safe and enjoyable gambling experience is understanding the terms and conditions set forth by online casinos. While it may be tempting to skim through them quickly in order to start playing, taking the time to read and fully understand the terms can help prevent any unwanted surprises down the road.
For example, some online casinos may have strict wagering requirements for bonuses or promotions, which could impact a player's ability to withdraw winnings. By understanding these requirements up front, players can make informed decisions about which offers to participate in and avoid any potential frustrations later on.
Additionally, taking the time to read through the terms and conditions can also provide insight into other important aspects of an online casino such as withdrawal limits, accepted payment methods, and responsible gambling policies.
While it may seem like a hassle to navigate through pages of legal jargon when all you want to do is play your favorite games, it's important to recognize that these terms are in place for a reason. Failing to abide by them could result in account suspension or forfeiture of funds.
It's like driving a car – while you don't necessarily need to know every detail about how the engine works in order to operate it, taking the time to learn the rules of the road and adhere to them can prevent accidents and keep you safe.
Responses to Common Questions
What steps can individuals take to ensure they are playing on a legitimate and regulated online gambling platform?
To ensure you are playing on a legitimate and regulated online gambling platform, there are several steps you can take. First, check if the platform is licensed and regulated by a reputable authority such as the United Kingdom Gambling Commission or the Malta Gaming Authority. According to a survey conducted by the UK Gambling Commission in 2021, 94% of online gamblers stated that it is important to them that the platform they use is licensed and regulated.
Secondly, look for independent third-party auditors that test the fairness and randomness of the games offered. Reputable auditors include eCOGRA and TST. Third, read reviews and do your research about the platform before depositing any money. Look for any red flags or negative comments from other players.
Lastly, make sure you set deposit limits and monitor your gambling habits responsibly. Utilize self-exclusion tools if necessary to avoid problem gambling. By taking these steps, you can ensure that you are playing on a legitimate and regulated online gambling platform.
How do these regulations differ between different types of online gambling (e.g. poker vs. sports betting)?
The regulations for online gambling are often grouped into two categories: games of chance and games of skill. Generally, games of chance, like slots or roulette, are subject to strict regulations designed to limit a player's losses and ensure the game is fair. On the other hand, games of skill, such as poker or sports betting, typically have more relaxed regulations as they rely heavily on a player's abilities rather than random luck.
For instance, let's take a look at the United States, where online gambling is subject to state-level regulation. In Nevada, for example, online poker is legal but sports betting is only allowed in person at licensed establishments.
Furthermore, the level of regulation also varies depending on the country where the online gambling operates. In countries like Sweden and Denmark, online operators must comply with strict regulations set forth by national gaming authorities that monitor all activity closely to protect gamblers against fraud. Whereas in other countries like Costa Rica or Curacao, which are popular offshore licensing destinations due to their low taxes and minimal regulatory requirements, operators may not face much scrutiny at all.
In summary, regulations for online gambling can vary widely depending on the specific type of game being played as well as the country or state where it takes place. It is important for players to be aware of these differences and choose reputable operators who prioritize fair play and transparency in order to ensure a positive experience.
What specific laws and regulations govern online gambling?
Online gambling is governed by a patchwork of laws and regulations worldwide. In many countries, online gambling is restricted or illegal while in others it is fully legal and regulated. However, to ensure fair play and consumer protection, several regulatory authorities have been established.
Some of the most influential regulatory authorities include the United Kingdom Gambling Commission, Malta Gaming Authority, and the Alderney Gambling Control Commission. These organizations oversee the operation of online casinos and sportsbooks to prevent money laundering and fraud. They also address issues such as problem gambling, underage gambling, and responsible gambling.
However, despite strict regulations in place in some regions across the world concerning problem gambling awareness programs and self-exclusion strategies (Australia for example). The revenue produced by the online gaming industry continues to grow significantly year on year: gross win from sports betting alone was $11.4bn worldwide during 2020 according to figures from H2 Gambling Capital.
Overall it's important for players interested in participating in online gaming activities that they do so at licensed operators that abide by strict rules set by regulators such as those aforementioned above encouraging governments to prioritize customer safety over tax revenue for country economic growth but still allowing operators to compete with one another unhindered by unfair regulation driving innovation in this vibrant industry sector.
How have recent court cases or legislative changes impacted online gambling regulations?
In recent years, court cases and legislative changes have significantly impacted online gambling regulations. The most notable development in this area was the US Supreme Court's decision to overturn a federal ban on sports betting in May 2018. The ruling essentially allowed individual states to legalize and regulate sports betting, leading to a flurry of legislative activity across the country. As of 2023, over 30 states have legalized sports betting, generating billions of dollars in revenue for both state governments and the gambling industry.
However, the legalization of sports betting has also exposed gaps in existing regulations regarding online gambling. One major issue is ensuring that online sportsbooks are operating legally and understand their responsibilities under state law. In response, some state legislatures have implemented stricter rules and requirements for online operators, such as mandatory partnerships with brick-and-mortar casinos.
Additionally, recent court cases have raised questions about the legality of certain types of online gambling. For example, in November 2021, New York's highest court ruled that daily fantasy sports (DFS) constitutes illegal gambling under state law. This decision could potentially affect DFS operators in other states, as well as other forms of online gaming with similar mechanics.
Overall, these developments emphasize the need for clear and comprehensive regulations governing online gambling at both the state and federal levels. While progress has been made in recent years, it is likely that further legal battles and legislative efforts will shape the future of online gambling in the United States for years to come.