Playing poker isn't often seen as a "real" profession by those on the outside. Some people have a moral issue with the idea of taking other people's money for a living. Some find it difficult to associate the term professional with someone who plays a game.
However, professional is exactly the right word for a successful poker player. How else would you describe someone who is highly intelligent, able to make spur-of-the-moment decisions with significant amounts of money, works long and hours and has embarked on a life-long mission to turn craft into career?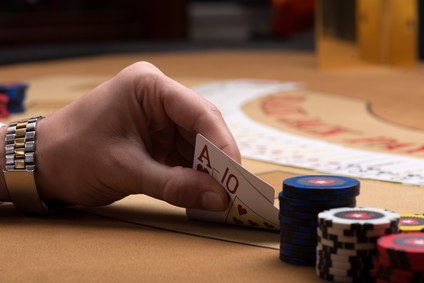 An Outside View of a Professional Poker Player's Life
Most people first see the life of a professional poker player via televised poker tour (i.e. fancy production that offers a seven-figure payday and celebrity treatment in exotic locations). But make no mistake: playing poker for a living is anything but a game. With big money on the line, the most successful poker pros treat it as a business. This means the biggest consideration is their bankroll.
The Reality
The reality is much different than what you see on heavily-edited television programs. While there are some elite players who collect those big paychecks, the average poker player grinds away at much lower limits under less-than "celebrity" circumstances.
While tournaments provide the big paychecks, it's the cash games that pay the bills. With several variants of poker now being spread, evaluating which game type suits your abilities and will also provide the greatest return on your investment. This is one of the biggest decisions a player can make.
The poker landscape changes constantly. Also the player pool improves both professional and recreational, which makes those once profitable games practically unbeatable. Playing one game really well is not enough to remain a competitive (or successful) pro player. If you want to make a living as a professional poker player, you need to be willing to put in the time it takes to learn and master all of the games. However, be prepared to lose before you win; the feeling of putting in countless hours of work only to lose a significant amount of money is impossible to describe to someone who has never experienced it.
For many professional players, self-worth is tied to success at the tables. No matter how good you are, there will be times when you make all of the right moves and still lose. Extended periods of significant losses have a negative effect on your state of mind. And effect future play, as well as your overall well-being.
The lure of poker is strong and when you first start playing. It is easy to sleep, eat and play poker all day, every day. When you are chasing a certain amount of money to maintain your lifestyle, it's common to play more and get caught up in an unhealthy way of life that takes a toll.
Become a Successful Professional Poker Player
The most successful players maintain a life outside of  the poker-sphere; they have good friends to spend time with, hobbies to pursue and are healthy and fit. The reward for their dedication, hard work and balanced lifestyle is a job with unlimited freedom and opportunities.
If you love the game and have the right work ethic to make it big, take a look to see what it's all about. No one can stop you from pursuing a life as professional poker player. But a word of advice from Chris Moneymaker, credited with the modern day poker boom: "I want people to understand that poker's not all glamorous, it's not all being on TV and making tons of money. It's a hard life. With a lot of travel and a lot of weird hours. For the most part, I get to do what I want to do. If I want to play poker, I can. If I don't want to play poker, I don't have to."