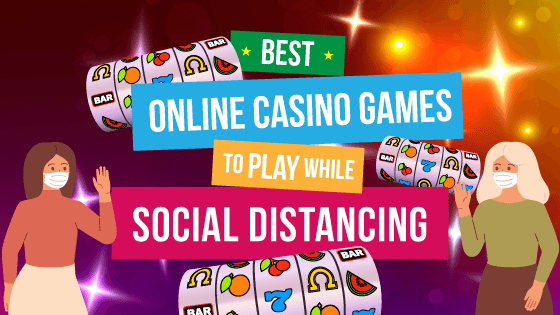 COVID-19 has brought most of the world to a standstill, and if you're like the rest of us, you're doing your best to practice social distancing.
Already binge-watched all there is to see or feel like you've literally reached the end of the internet? The boredom is real, but never fear; online casino games are an excellent (and safe) way to pass the time during the quarantine.
Our online casino guide is a great place to start if you have never gambled online. You don't need to be an expert player to enjoy the best online casino games available right now.
Slots
No casino is complete without the spinning of the slot machine reels and the sounds of a big win. While brick and mortar casinos across the country are closed due to the pandemic, there are plenty of top-rated online casinos that offer a superb slot experience year-round and 24/7.
Looking for a 3, 5, or even 7 reel slot machine or a casino that offers progressive slots? Some of our slot favorites include:
Funky Chicks
Caribbean Gold
A Night With Cleo
777 Deluxe
Poker
Poker is one of the most "social" casino games out there. If you and your friends get together regularly for poker night, you're probably already missing your favorite game. While social distancing makes poker night impossible, there are still plenty of online options to get your fix.
Not an expert poker player, but have always wanted to learn? Now is the perfect time to give it a try. As a beginner, video poker is an ideal option while you become familiar with the game.
If you already know how to play poker and are looking for a more strategic and social setting, online casino poker rooms are worth checking out whether you prefer Texas Hold 'Em, Omaha Hi-Lo, Tri Card Poker, or Stud 8 Poker.
Bingo
A crowded Bingo hall is the last place you should be spending your downtime right now. Fortunately, there are plenty of online bingo games that not only offer big wins but also allow you to increase your earnings by placing bets. Some of our favorites include Roaring Twenties Bingo and Bonus Bingo. Bingo is known to have a few health benefits as well.
Specialty Table Games
Always wanted to try blackjack or craps but didn't know how to play or didn't want to risk it all with your minimal knowledge of the game? There's no better time than right now to try some of these online casino specialty table games:
American and European Roulette
21 Blackjack
Keno
Red Dog BSG
Blackjack Perfect Pairs
Live Dealer Games
Even though many top-rated online casino games have high-quality graphics and other features, you might be looking for a game that mimics a real-life, in-house gaming experience. Even with land-based casinos facing shutdowns, you can play a variety of your favorite games, from Hold 'Em Poker to Blackjack, with a live dealer and place bets in real-time.
Live dealer games and hundreds of online casino games can provide you with the interaction that you might be missing while you're social distancing while in quarantine but will keep you safe, healthy, and entertained during these difficult times.