How To Play Video Poker Tutorial
History – How To Play – Rules – Odds – Strategy – Pro's Perspective
Video Poker is a single-player game that takes the edge off poker, mainly the competition with the other seated players at the poker table. In this game, there is only one player against a computer. Players will be paid according to the paytable of each game and according to the minimum paying hand.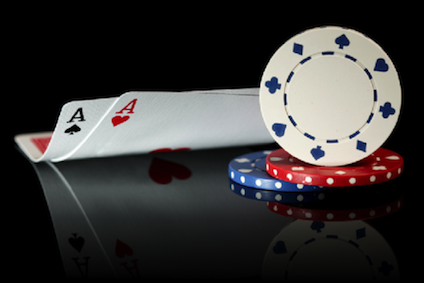 These games can be enjoyed at land-based casinos on video poker machines that look a lot like slot machines. Online casinos also offer video poker as all the major software developers have their own variants. Players can enjoy online through their computers in the comfort of their own home. Most of the video poker versions adopt the 5-card poker game rules as players will get 5 cards and they will choose to discard cards and get replacement cards in order to form the final poker hand. The only difference is that there are no wagering rounds in between the dealt cards as players will only place a wager at the very beginning.
Although video poker is mainly a single player poker game, some video poker variants involve the dealer. In these games, players will have to beat the poker hand of the dealer in order to win the pot.

Video Poker History
Because video poker is basically the integration of poker and slot machines, its history can be traced back to the invention of slot machines itself. Charles Fey is the father of the slot machine. His slot machines had numbers on it and not poker hands. These coin-operated machines were developed in the U.S. in the 1800s and were very popular in saloons and cigar stores, especially in San Francisco.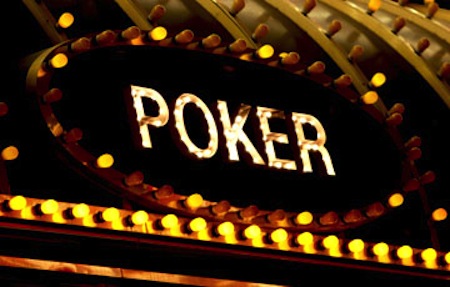 Video poker started to appear in 1989 when the Card Bell was developed. This game was a poker machine that paid players instantly by using combinations such as a straight, a flush, and so on. In the improved design of the machine, the Skill Draw, a major feature was added — the Hold. The Hold feature has become an integral part of the video poker game of today.
Video poker machines started to become commercially viable following the integration of a monitor that looks like a TV screen. This allowed players to enjoy a 100 percent computerized game. The first-ever computerized video poker game was developed in the mid-1970s. It was very primitive compared to modern-day video poker games but it was the first-ever computerized video poker machine that paved the way for other video poker games. The popularity of these machines started to skyrocket when a company called SIRCOMA (Si Redd's Coin Machines) introduced a video poker game, namely Draw Poker, in 1979. SIRCOMA is now one of the biggest gaming developers for land-based and online casinos, going by the name IGT (International Game Technology).
The popularity of these machines increased until they were an absolute must in every land-based casino. Now, almost every single casino on the Vegas Strip offers its players a number of video slot machines. In the 1990s, with the huge breakthrough in technology, video poker games started to offer better gaming quality and more variations of the game were introduced.
Video poker also made one of its greatest development steps with the emergence of online gambling, and video poker became one of the most popular games in the online world. This transition enabled millions of players to enjoy the game, especially those who did not have a nearby land-based casino or a gambling venue they could visit in order to enjoy a game of video poker. The Internet industry provided players with countless versions of video poker. Some of the leading names in the business are Microgaming, Playtech, Cryptologic, IGT, and Betsoft Gaming. These different software versions started to include bonus rounds, gamble features, special features, wild cards, and many more.

Top 3 Casinos for Video Poker
★

9.7 Rating

---

$5,000 Bonus

★

9.4 Rating

---

$7,777 Bonus
How to Play Video Poker
There are two popular types of video poker games. The most popular video poker games offer a single-player poker experience, including 5-card draw poker games, and can be found in most online or land-based casinos. This type includes Jacks or Better, Tens or Better, Joker Poker, Deuces Wild, Joked and Deuces Wild, as well as Bonus Poker among others. The second type is a casino poker game that involves the player and the dealer, such as Caribbean Stud poker, which can only be found online. Each game has its own gaming procedure and rules.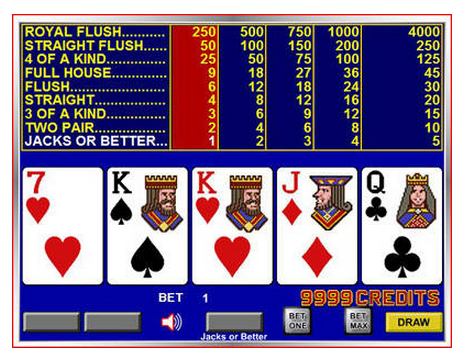 Despite the fact that there are numerous variants, they all follow the same gaming procedure. The game starts as players place their desired stakes. They can place that stake by depositing a coin if it is a land-based video poker game. If it is an online video poker game, they will choose a coin or cash by clicking on the screen of the game.
After they place the wager, they will click on a button that says "Deal." They will then get a poker hand that consists of 5 cards. Players will look at these cards and then decide which cards they want to hold and which cards they want to discard/fold. They can choose the cards they want to hold by clicking on the cards themselves or the button that says "Hold" under each card. When they are done choosing the cards, they will click on "Draw." They will then get replacement cards for the cards they did not hold which will form the final 5-card poker hand. Players will then be paid according to the paytable of the game and the bet that they have placed at the start.
Caribbean Stud poker is also a 5-card poker game but players must beat a dealer. In this game, players will also place an Ante bet before they are dealt the cards. They will then get 5 cards facing up, while the dealer will get 4 cards facing down and 1 card facing up. Players will then decide if they want to fold or if they wish to call. If they call, they will place another bet that is equal to twice the original bet. If they call, the dealer's final poker card will be revealed and the showdown will take place. In order for the dealer's hand to qualify, it has to at least have an Ace and a King. If the hand does not qualify, the player will win regardless of his hand. Some games might also offer a progressive jackpot that is triggered when players achieve a royal flush.

Video Poker Rules
The rules of a video poker game might differ from one game to another, so we are going to discuss different poker rules that could change based on where the game is played.
The Minimum Paying Hand:
The minimum paying hand is the poker hand that players will have to achieve to be eligible to claim a payout. It differs from one game to another depending on the rules of the game as well as the other features. For example, if a game has a wild card or cards, it will have a higher minimum paying hand, which could be as high as 3 of a kind. This means that if players do not get a three of a kind, they will not qualify for a win. For a Jacks or Better, the minimum hand is a pair of Jacks. For Tens or Better, it is a pair of Jacks, but most games that do not have extra features will have a minimum hand pair of Jacks.
The Wild Card:
The wild card is a feature that is offered at some, but not all, of the video poker variants. The wild card is always the Joker or the Deuce. This wild card can be substituted for any other card from the deck in order to help players achieve a winning poker hand. In Deuces Wild, for example, the wild card is the 2, which is where the name of the game comes from. Another game is Joker Wild, where the Joker is the wild card. Some games might have more than one wild card, such as Joker and Deuces Wild. In this game, the 2 and the Joker are wild cards.
Hand Ranking:
Video poker follows the same hand ranking rules as regular poker with the Royal Flush being the highest hand. It is also important to note that in video poker, it is the hand that matters regardless of the value of the cards forming it. For example, a pair of Aces will pay the same as a pair of Jacks, and a Straight from 9 to K will pay the same as a straight from 2 to 6. Here is the poker hand ranking in descending order: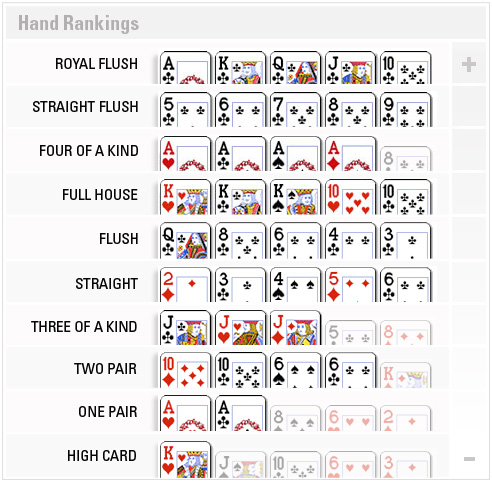 Royal Flush:
A straight flush that begins at 10 and ends with an Ace. At some games, this hand will trigger the progressive jackpot, if there is any.
Straight Flush:
Five consecutive cards in value of the same suit.
Four of a Kind:
Four identical cards.
Full House:
Three identical cards accompanied by a pair.
Flush:
Five cards of the same suit.
Straight:
Five consecutive cards in value.
3 of a kind:
Three identical cards.
Two Pair:
Two pairs in the final 5-card poker hand.
Pair of Tens:
The minimum paying hand possible at video poker.

Top 3 Casinos for Video Poker
★

9.7 Rating

---

$5,000 Bonus

★

9.4 Rating

---

$7,777 Bonus
Video Poker Odds
The odds and the payout of Video Poker will differ from one version to another, so we will only discuss the hand odds of the most popular game, Jacks or Better. We will discuss the pay seclude of a 9/6 Jacks or Better video poker while placing the maximum wager of 5 unit bet.
You should always place the maximum bet because it makes you eligible to win the grand jackpot prize of 4,000 if you get a royal flush. If you bet with 1 or 2 coins and get a royal flush, the payout will not be proportionally equal. If betting 5 coins is too expensive for your gambling budget, you can find a lot of .25 machines as online casinos usually offer their bets in denominations that include different sizes such as .25, 0.50, 1, 2, 5 and even 10 and 20.
Here is the payment schedule for each hand for a 9/6 Jacks or Better video poker game.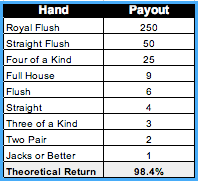 Here are good benchmarks on possible payouts based on an overall average. The outcomes vary depending on which version of video poker you are playing.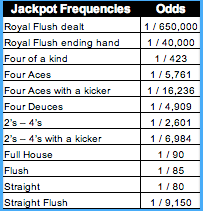 These numbers, on average, represent your odds for pulling a certain hand.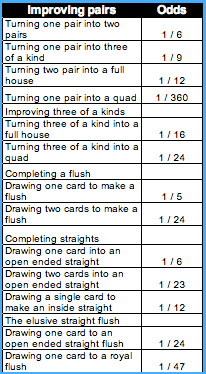 After studying this payout and odds table, it is notable that there is an inequality between the odds and the payouts of some hands despite the fact that a Full House is more likely to happen than a straight or a flush but pays more than these two hands. It is clear from the paytable that hands that are less likely to happen pay more than hands that are more likely to happen to. Despite this, the game is in the favor of the player, which is why it can be only found online or at big land-based casinos. You are surely not going to find them in bars or other smaller gambling venues.
Players will be able to view the paytable (it will not include the odds) at the top of the screen right above the cards. It will give players an idea of the payouts they can earn according to their bet and their poker hand.

Video Poker Strategy
Although video poker is a straightforward and simple game, players will find themselves wondering what cards they should hold, and when to discard. This simple strategy guide will be quite helpful in different situations throughout the game.
Video Poker Strategy Chart: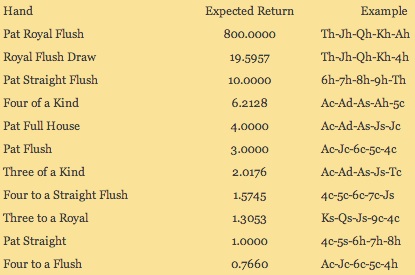 The first situation is when you get a low pair and one high card in your hand. You will immediately think whether to keep the low pair and go for a three of a kind, keep the high card and discard the rest to get a high and a qualifying pair or to keep the three cards and try getting two pairs.
Before making the decision, you will have to know your odds for each decision. The odds of getting the third card for a three of a kind are about 1 out of 6-8 times. The odds of getting the matching high card to form a pair are 1 out of 2-3. As for the odds of getting a two pair is slightly bigger than getting three of a kind. Therefore, it is obvious that the best course of action is to go for a qualifying pair.
For example, if you get two high cards like a Queen and a Jack, the question is whether to keep both or discard them. The best course of action is to keep the two cards and discard the rest as there is a big chance you would get another Jack or Queen, which will qualify you for a win.
If you get 3 different high cards, the best course of action is to keep two of the high cards. It does not matter which two as long as they qualify for a winning hand. A pair of jacks pays the same as a pair of aces, or just pick two and hold them.
If you get a pair of aces and a flush draw, you will wonder whether to keep the pair or discard it in the hopes of getting a flush. The safest course of action is to keep the pair but the best action is to go for the flush. A pair will only pay you even money while a flush will pay you 6 times your original bet, so it is worth the risk. Since there are a lot of games that offer different paying hands, gamble features, and wild cards, it is essential to check the rules and the paytable of the video poker game before you start playing. Knowing the minimum paying hand is quite important. The names of some video poker games might give you a clue, such as Tens or Better (a pair of tens is the minimum hand) and Jacks or Better (a pair of jacks is the minimum hand). For other games, it is essential to check the paytable and know the minimum paying hand because it will affect your decisions during the game.

#1 Casino for Video Poker
Pro's Perspective: Video Poker Strategies and Tips
With John Grochowski
When you play poker, a few simple little tricks can make a big difference in regards to your return. Here are three tips to help keep you in action while you wait for the big-paying hands to come/
Investigate Pay Tables Before You Play
Not all video poker games are created equal, and it pays to do a little looking around. If you have several online casinos you would like to play at, take the time to check pay tables before you start wagering. Those who play in brick-and-mortar casinos should do the same – I've often found higher and lower pay tables on the same game in different areas of one casino.
The differences can be quite large. If one site has 9-6 Double Double Bonus Poker (98.98 percent return with expert play), another has 9-5 DDB (97.97 percent) and a third has 8-5 DDB (96.79 percent), think about what that means: In casino No. 1, the house expects to keep $1.02 per $100 in wagers, casino No. 2 expects to keep $2.03 and casino No. 3 expects to keep $3.21.
You can dramatically cut the house take by looking for the highest-paying version.
Learn Jacks or Better Strategy
When you learn the Jacks or Better strategy, you take a giant step toward learning strategies for other games. The basic format, with a pair of Jacks being the lowest paying hand, is a starting point for most non-wild card games, including Bonus Poker, Double Double Bonus Poker, Super Aces, and more.
To get the most out of any of those games, you need to learn specially adapted strategies that take advantage of what their paytables have to offer. But the adaptations bring small gains, with the Jacks or Better strategy taking us most of the way there.
Take 9-6 Double Double Bonus Poker, which returns 98.98 percent with its own special strategy. If you use the 9-6 Jacks or Better strategy, the average return is 98.44 percent. For the 9-6 Bonus Poker Deluxe, specialized strategy brings 99.64 percent, and JB strategy brings 99.61, while the 8-5 Bonus Poker has the same strategy as 9-6 JB and returns 99.16 percent.
If you want the most out of any game, the fine points are important, but the gains compared to Jacks or Better strategy is in the tenths of a percent.
Bet Enough to be Eligible for Max Payback
One common feature among video poker games is the disproportionate jump in the top jackpot if you wager five credits. With one credit wagered, a royal brings a 250-credit return, then pays 500 for 2, 750 for 3, and 1,000 for 4. But on the fifth coin, that jackpot leaps to the top 4,000 credits.
Thus, betting the five-credit max brings a higher payback percentage than betting less. The 98.98 percent return for 9-6 Double Double Bonus Poker assumes five-credit wagers. If you bet less, the return is only 97.83 percent.
There's a similar percentage difference in virtually every video poker game. Part of the expert strategy is betting enough to get the jackpot jump.