Starting an Online Casino
There is a lot of money that can be made from online gambling. Gambling at most online casinos can often be very rewarding. Still, if you are seeking guaranteed profit, it is better to own your online casino rather than betting at one. Because the house carries the edge, you would have the casino advantage on your side.
Owning an online casino has become a very lucrative business. It is quite attainable and it does not require major capital, unlike land-based casinos that are out of reach for most businessmen and entrepreneurs. Owning an online gambling business is easy and safe if you cover all the bases. Below we provide you with some important steps to follow to help you with the process of starting your online casino.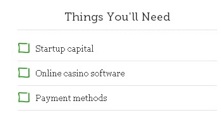 Writing Down the Business Plan:
This is the first step in any business. You have to plan every aspect and write down your thoughts on how you will grow and manage the business. Being detailed is important and will only help you in the long run. This plan should also include your strategies on how to overcome possible challenges that might occur in such a business. Staying positive is important, but being unrealistic about things such as costs, the time and the commitment of setting up a new business can start you off on the wrong path. Build a strong business plan you feel you can follow in any circumstance.
Selecting a Business Location:
After laying out the business plan, you should select the location of the business. You do not want to face any legal problems and this is why you should select a country that has legalized online gambling. Once this happens, you can legally acquire a license to operate in a specific country. Remember to give yourself an appropriate amount of time to obtain all of the necessary legal documents. Don't rush this process; it is key to ensuring your online casino is secure, trustworthy, and licensed. Do your research and make sure you know exactly what your host country will allow your online casino to control in terms of games, payment methods, international players, etc.
Select a Software Developer:
You will find plenty of software developers to provide you with a software package that is essential for your business. This includes the casino's interface, the download version, the flash version, and the gaming selection. Microgaming, Cryptologic, and Playtech are three of the biggest names in the online gambling software development industry to narrow down the options for you. You can choose many, but picking one that players trust is most important.
Determining Payment Options:
Since you are running an online casino, players must make deposits and cash out their winnings. You will have to determine the banking methods your casino will support. Consider supporting some of the common methods, such as Bank Transfer and Credit Card billing, as well as other alternative payment options, such as Skrill, Click2Pay, and Neteller, to name a few. Having a lot of options will help you attract more customers. The more payment methods the casino supports, the more players you will have playing at your casino.
Developing a Strategy for Advertising:
Once you open your online casino, advertising is a must for brand awareness. You will need to make sure your casino name is out there. Also, be realistic when creating an advertising budget. Advertising can be very expensive so, estimate your expenses to be higher than you expect to help you stay on budget. Seek advertising mediums that can work within this given budget, including online advertising, TV, radio, or print.
Be sure to check out our other guides when starting an online casino:
Considerations for Hosting an Online Casino
Building an Online Casino Website