Building an Online Casino Website
If you like games, casinos, and gambling, you might be interested in what it takes to start an online casino business. The first steps include developing a business plan and obtaining the appropriate gambling license, but an often undervalued area to consider is the process of building a website for your online casino. We'll go over the general process online casinos go through when designing an attractive gambling website.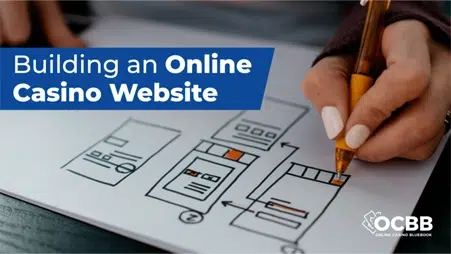 How To Build a Website for an Online Casino:
For those looking to build an online casino website, the whole process of opening and launching an online gambling platform can be summarized in the main steps below:
Formulate a business plan
Obtain a gambling license
Create a top-notch website UI/UX design
Choose a reputable casino game software provider
Build a solid marketing strategy
Integrate secure payment methods
Creating your casino online from scratch?
With every new business venture, a strategic and detailed business plan is most certainly a prerequisite. This essentially means the allocation of budget, resources, and all that is necessary for the implementation and subsequent launch of your plan. That aside, you also need to be able to analyze your estimated income and then provide the documents along with further information to the local authorities for approval in order to gain licensing.
Licensing for Gambling Sites:
The documents mentioned above would include the identification documents of all your partners and investors, bank certificates, and also any other paperwork required by the local gaming commission. It is especially important to review all gaming jurisdictions because not all countries allow for the legal registration of gambling platforms. That being said, we have listed our top 5 gambling-friendly countries for your convenience below:
Curacao
Malta
Costa Rica
The Isle of Man
Gibraltar
Once your location has been chosen, you will be required to pay the mandatory application fees to ensure swift approval.
Site creation:
Next, we have the websites creation. This is one of the most important steps and is highly dependent on the budget and features needed. If you have your own in-house team, then you are at an advantage, but most people outsource programmers and web designers to speed up the web design process. We highly recommend hiring the most skilled talent for your project to create a website that circumvents any malfunctions down the line. Please bear in mind that more experienced professionals will charge higher rates.
You may also consider the option of using a website builder like MotoCMS or Wix in the site build process. While the templates and lack of coding knowledge are alluring, unless you have a great grasp on all the processes of website builders, it can end up costing you money and time. These sites are usually fine for business card sites that require a few pages, but the needs of an online casino can be more in-depth than a simple site. Some SEOs believe that some of these software packages are bloated and come with coding available for any development needs, rather than the code that is needed to run your site. This can impact your rankings on search engines like Google.
Honestly, excuse my pun, but my advice is not to gamble with your website. You get what you pay for and a little more upfront cost for quality site architects can save you a lot of grief, time, and money. Hire the right talent and your site can win big with players who value the effort.
Software purchase:
It goes without saying that your software provider is key and should come with top betting and jackpot solutions, and include game offerings like slots, poker, roulette, blackjack, baccarat, and bingo. Some software options also include lottery and sports betting. With the influx of software developers in the market over the last decade, it won't be hard to find a trusted industry veteran these days. When considering which software to stand behind, make sure it provides A+ customer service, has an extensive variety of products, has a stellar reputation, and is proven to be safe and reliable. This can easily be determined by reviewing the online casino software section of our online casino guide or our top 5 trusted software providers' articles.
Payment systems:
It's a fact that player data needs to be kept safe and secure. The security and trust in payment system services are imperative for players to have an enjoyable and seamless gaming experience. Choosing the best payment system and having the best variety of deposit and withdrawal options not only encourages player acquisition but also retention. There are several measures that iGaming operators implement to ensure the safety of payment transactions. Regardless of the payment method that you use, the players' personal and financial data will remain completely safe due to the implementation of the cutting-edge 128-bit encryption technology. This encryption will help protect all your data and keep money safe from scammers.
How can I ensure that my website is secure?
There is no one-size-fits-all answer to this question, as the level of security required for a website will vary depending on the nature of the site and the sensitivity of the information it contains. However, there are a number of measures that can be taken to help secure a website, including the usage of a secure hosting service. This will help to protect your website from attacks and ensure that your data is stored securely.
Marketing your gambling websites:
On the topic of acquisition, there are a variety of methods by which you can now attract your target audience to your gambling web site. We have taken the liberty of listing a few of the top advertising mediums below:
Affiliate Marketing
Paid Media
TV
Social Media
SEO
Blog Content
Email Databases
Gambling Site Building Facts
The first online casino website was built in 1994 and was called "The Gaming Club"
The Gaming Club only offered 2 games: Blackjack and Slots
There were no bonuses, promotions, or even payment options at The Gaming Club
The Gaming Club offered no security and customer support.
There were no rules and regulations for the games at The Gaming Club
Statistics for building website's for casinos
The average cost of building an online casino website is $5,000.
The average time it takes to build an online casino website is 4 weeks.
The average number of games on a casino website online is 100.
The average number of payment methods on an online casino website is 10
The average response time for customer support on an online casino website is 24 hours.
Frequently Asked Questions for Gambling Web Development
What are the most important features of a casino website?
There should be clear and concise instructions on how to use the site and play the games. The games should be fair and honest, with a good variety to choose from. The site should also offer good customer support in case you have any problems.
How can I ensure that my website is user-friendly and appealing to potential customers?
There are a few key things you can do to ensure that your website is user-friendly and appealing to potential customers. First, make sure that your website is easy to navigate. Customers should be able to find what they're looking for quickly and easily. Use clear and concise text, and organize your content in a logical way. Second, use visuals to your advantage. People are more likely to remember information that is presented to them in a visual way.
What are the risks associated with operating a website for gaming and gambling?
There are a number of risks associated with operating an online casino website. The first is the risk of legal action. There are a number of countries where online gambling is illegal, and if an online casino is caught operating in one of these countries, it could face severe penalties. Additionally, online casinos are also at risk of being shut down by the government if they are found to be operating illegally. Another risk associated with operating an online casino is the risk of fraud.
What should I include in the terms and conditions of my website?
When creating the terms and conditions for your website, you should include a disclaimer that states that your website and its content are for informational purposes only and that you are not responsible for any damages that may occur from using your website.
What are the costs associated with setting up and maintaining a website?
The costs associated with setting up and maintaining an online casino website can vary greatly depending on the size and scale of the operation. For a small, personal website, the costs might be minimal, while for a large, multi-national website, the costs could be significant. The main cost associated with setting up and maintaining an online casino website is the cost of the software.
In Conclusion
The process of creating online casino sites involves many steps. It's best to allocate a team to assist in the various areas including graphic design, content, back-end, and front-end devs. You will also need marketing for the website and the more media channels and brand awareness you can leverage, your chances of growing new depositing players increase. Good Luck!