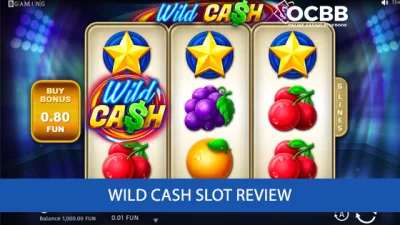 Get ready to dive into the exhilarating world of Wild Cash, a online slot game that combines the nostalgia of classic fruit symbols with the thrill of big cash rewards. This high volatility game promises hours of fun and excitement as you spin your way towards winning up to 999x your total bet. With its straightforward layout and attractive features, Wild Cash has everything you need for a fantastic gaming experience.
You don't have to be an experienced player to enjoy this simple yet captivating game, as it's designed with both beginners and seasoned players in mind. Grab your device and give it a spin at Slots.lv, one of our recommended safe online casinos, where you can make use of no deposit bonuses, welcome offers, and more. Don't miss out on this unique opportunity to experience the allure of cash prizes right at your fingertips! Read our full Slots.lv Review here.

Key Takeaways
Wild Cash is a free online game that requires age verification to prevent underage gambling and personal details are only used for age verification.
The game has a bonus round with a possibility of winning 999x total bet, classic fruit symbols, and three horizontal and two diagonal paylines.
Wild Cash has a theoretical return to players percentage of 96%, high volatility, and no free spins, stacked wilds, or expanding reels.
How to Play
Ready to try your luck at Wild Cash? You'll find it easy to play with its simple layout, classic fruit symbols, and a thrilling bonus round that could win you up to 999x your total bet! To start playing, simply choose your bet amount from the range of 0.01 to 50.00 and spin the reels. Keep an eye out for those three horizontal and two diagonal paylines that could land you some big wins.
As you play Wild Cash, remember that there are no free spins, stacked wilds, or expanding reels in this game – it's all about the bonus round. Triggering the cash award bonus game is where the real excitement lies; just be patient and keep spinning those classic fruit symbols until you hit it big!  There are five paylines:
Symbols
Feeling lucky? You'll find classic fruit symbols in this exciting online slot, creating a nostalgic gaming experience just for you! The Wild Cash game features cherries, lemons, oranges, plums, watermelons, grapes, and the iconic red sevens. Although there's no wild symbol to boost your winnings further, these well-known symbols are designed to bring back memories of old-school slot machines and keep you entertained while spinning the reels.
In addition to the fruit symbols mentioned above, Wild Cash also includes a special Gold Star symbol that triggers the bonus round when three or more appear on any payline. This bonus round offers you the chance to win up to 999x your total bet – an impressive prize worth pursuing! So get ready for some enjoyable gameplay with these familiar symbols as you spin your way towards potential big cash rewards in this thrilling slot game.

Bonus Game
Eager for some extra excitement? You'll love the bonus round in this thrilling online experience, where you can potentially win up to 999x your total bet just by landing three or more Gold Star symbols on any payline! This special feature adds a touch of unpredictability and anticipation that keeps players coming back for more. The simplicity of Wild Cash's bonus game is perfect for those who enjoy traditional fruit machine games but still crave a little something extra to enhance their playing experience. During the bonus game, 3 reels will spin yielding a random number multiplier. That number will be applied to your bet!
Mobile Version
Craving some on-the-go excitement? You'll be thrilled to know that this classic fruit machine experience is available on your mobile device, so you can enjoy those tantalizing bonus rounds and big potential payouts anytime, anywhere! The Wild Cash slot game has been optimized for seamless gameplay on smartphones and tablets, ensuring you won't miss out on any of the fun just because you're not sitting at a desktop computer.
To access the mobile version, simply visit Slots.lv or one of the recommended online casinos using your mobile browser. There's no need to download an app or worry about compatibility issues – just sign in or register for an account and start playing right away. With its simple layout and straightforward features, Wild Cash is perfect for gaming on the go. So grab your phone or tablet now and see if luck is on your side today!
Frequently Asked Questions
How can I ensure that my personal information is secure while playing?
To ensure your personal information is secure while playing any online game, choose a reputable site with strong privacy policies. Verify their data protection measures and avoid sharing sensitive information unnecessarily.
Are there any strategies or tips to increase my chances of winning?
While there's no foolproof strategy for winning slots, you can increase your chances by managing your bankroll wisely, betting within your limits, and focusing on games with higher return-to-player percentages. Enjoy and good luck!
Can I play with friends or participate in online tournaments?
Unfortunately, you cannot play with friends or participate in online tournaments for this particular game. Wild Cash Slot is a single-player experience designed for individual enjoyment and winning potential.
Are there any country restrictions for playing?
Yes, some country restrictions may apply when playing at recommended online casinos. It's important to check each casino's terms and conditions to determine if your location allows access to Wild Cash slot game.
Where can I play?
You can play Wild Cash at Slots.lv.  Slots.lv is currently offering up to a $5,000 welcome bonus for new players. Play Wild Cash at Slots.lv and get your bonus now!