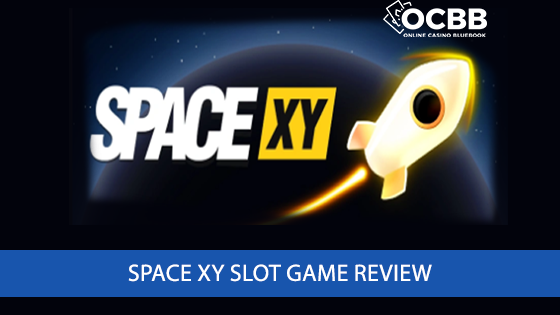 Ready to blast off into a universe of fun with Space XY? Released on January 13, 2022, this casual game delivers an intriguing mix of thrill and strategy. With a return to player rate of 97.00% and medium volatility, it's all about betting smartly and watching your potential winnings soar like a rocket. But be careful! You've got to exit before the rocket explodes or else you lose everything. And if you're not ready to bet real money yet, there's a demo version available at most online casinos for practice runs. In this review, we'll guide you through the ins-and-outs of Space XY from how to play and its exciting features, down to mobile optimization. Whether you're completely new or just looking for some extra tips – we've got you covered. So strap in as we navigate this exhilarating cosmic journey together.
Key Takeaways
Space XY Slot Game offers a mix of thrill and strategy, providing an intriguing gaming experience.
With a return to player rate of 97.00% and medium volatility gameplay, players have the potential for impressive winnings.
The game features a variety of betting options and strategies, allowing players to explore different approaches and balance risk versus reward.
The mobile version of Space XY Slot Game is optimized for convenience and offers a seamless gaming experience on both Android and iOS devices.

How to Play
Ready to blast off in Space XY? Here's how you play: place your bets, watch the rocket's flight on a graph and make sure to jump off before it explodes – but remember, the longer you stay on, the higher your potential winnings! The gameplay mechanics are simple yet engaging. You'll quickly find yourself balancing risk vs reward as you decide when to hop off the rocket for maximum wins. Strategies for maximizing wins include exploring different betting options and practicing timing for when to leave the rocket. Remember that multiple bets can be placed in a single game, offering more chances of winning big. But caution is key – don't get greedy or else you might end up with nothing if the rocket explodes prematurely!
Features
Diving into the features, you'll find this casual game offers a medium volatility level and boasts an impressive Return to Player (RTP) rate of 97.00%, ensuring plenty of excitement with each spin. The unique game mechanics are engaging, letting you bet on the rocket's flight duration on a graph where X is time and Y is potential win multiplier.
The exciting bonus features include autoplay options, allowing your bets to run automatically or cash out at a set multiplier. Winning strategies revolve around hopping off before the rocket explodes for maximum gains. Despite not being a high volatility gameplay, it has its pros like high RTP and thrilling gameplay dynamics.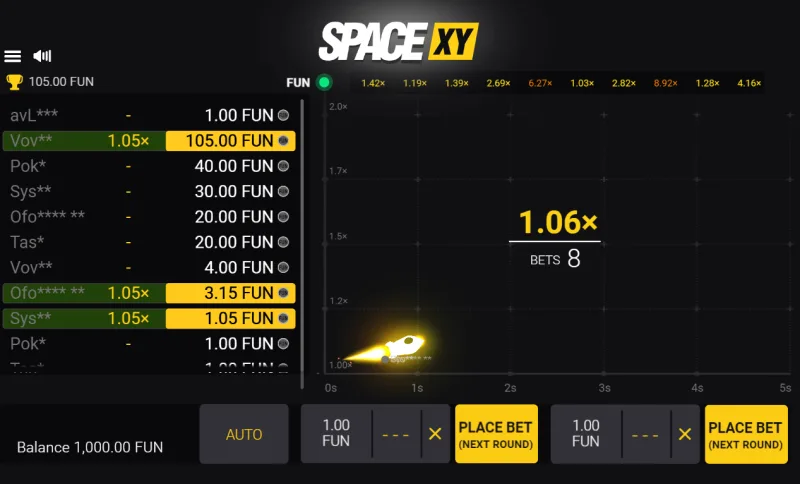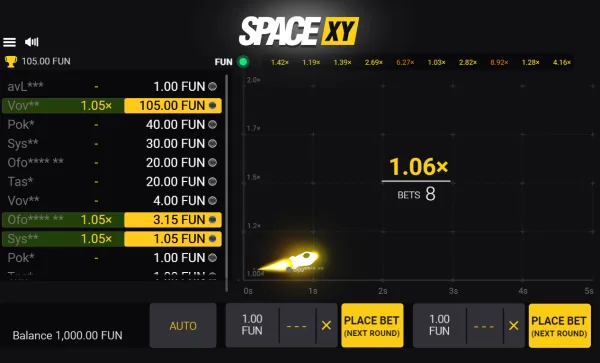 Betting
When it comes to betting, this celestial journey offers multiple opportunities for players to place their stakes. The Space XY Slot game provides a wide variety of popular betting markets that cater to different risk management styles. From cautious small bet sizing strategies to daring high-stake bets, there's something for everyone.
The live betting experience adds an extra layer of excitement as you watch the rocket soar higher and higher on the graph. It's all about timing – knowing when to hop off before the inevitable explosion can make or break your game.
You might want to explore various betting strategies in the demo play before diving into real money mode. Remember, with its medium volatility and 97% hit rate, this game balances risk and reward beautifully.
What is Crash Gambling
Crash gambling games, if you're not yet familiar, is a thrilling rollercoaster ride in the online betting world where fortunes can skyrocket or plummet in the blink of an eye. It's all about risk and reward – you bet on a rocket that can crash at any time. Your job is to bail out before it does, thus multiplying your initial bet.
Strategies for maximizing winnings vary, from conservative approaches to bold leaps of faith. Exploring different crash gambling platforms like Space XY slot offers diverse experiences and potential payouts.
The psychology behind crash gambling is fascinating; it combines elements of chance, skill, and adrenaline-fueled excitement. However, do check the legality in your country before delving into this enticing form of online gaming.
Mobile Version
You'll love the convenience of playing this adrenaline-fueled betting challenge on your mobile device, offering the same thrilling experience with the added benefit of portability. The Space XY slot game's user interface is optimized for mobile screens, making sure you can engage fully without compromise.
The compatibility with different devices is impressive – whether you're on an Android or iOS system, you'll enjoy a seamless mobile gaming experience. Player feedback and ratings for this version further testify to its quality execution; users applaud its responsive touch controls and clean graphics. Overall, Space XY offers a compelling reason to take your gambling adventures on-the-go!
Where to Play
A few online casinos offer Space XY Slot Game. Here are some of our top recommendations.
Slots.lv – Currently offers new players a Welcome Bonus of up to $5,000. Claim your bonus now. Read our full review of Slots.lv Online Casino.
Bovada – Currently offers new players a Welcome Bonus of up to $3,750. Claim your bonus now. Read our full review of Bovada Online Casino.
Ignition Casino – Currently offers new players a Welcome Bonus of up to $3,000. Claim your bonus now. Read our full review of Ignition Online Casino.
Conclusion
In conclusion, Space XY is an engaging betting game. Its medium volatility and high RTP offers players a fair chance of winning. The thrill lies in exiting the game before the rocket explodes, adding a unique twist to traditional slot games. With its impressive maximum win potential and autoplay options, it's worth trying out. Remember, you can always test your skills on the demo version first!

Frequently Asked Questions
What strategies can players utilize to maximize their winnings in this slot game?
To maximize winnings in Space XY, understand paylines, use betting techniques and risk management strategies. Recognize bonus symbols for increased multipliers. There's no progressive jackpot, but the potential 10,000x multiplier offers significant wins.
Can I play from any location or are there geographical restrictions?
Game accessibility for Space XY slot varies. Mobile compatibility allows play anywhere, but regional legality may limit some locations.Always check local laws.
Are there any special promotions or bonuses available for first-time players?
Promotion eligibility for first-time players may vary depending on your online casino of choice. Check bonus terms for potential first-time advantages like free spins or deposit matches. Many online casinos offer enticing welcome bonuses for new players. Remember, wagering requirements apply and must be met before bonus withdrawal is possible.
Can the it be accessed on different platforms, such as Windows or Mac?
Absolutely! Space XY slot game offers excellent platform compatibility, giving a seamless cross-platform experience. Its mobile accessibility is top-notch, and it performs exceptionally well on both Windows and Mac for an engaging gameplay experience.