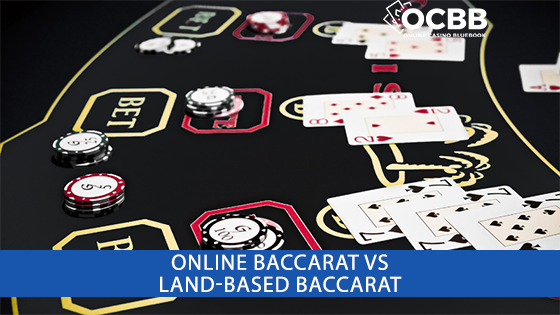 You're a fan of baccarat – it's thrilling, engaging and potentially lucrative. But have you considered where you're having the most fun? Is it at your local casino or online from the comfort of your own home? In this article, we'll dive into the differences between online baccarat and land-based baccarat. We'll compare accessibility and convenience, game variety, social interaction, atmosphere, live dealer experiences, betting limits and flexibility in wagering. We'll also look at the pace of play and time efficiency. Lastly but importantly, we'll delve into security measures and fairness in both setups. By the end of this piece, you'll have a better understanding of what each platform offers so that you can make an educated decision on where to place your bets next time. So let's jump right in!
Key Takeaways
Online baccarat offers greater accessibility and convenience with 24/7 access and no travel time or costs.
Online platforms provide a wider variety of game options and versions compared to land-based casinos.
Online baccarat allows for private gameplay without distractions or pressure from other players.
Online baccarat platforms offer chat features for social interaction with other players and dealers.
Accessibility and Convenience
You'll find that the accessibility and convenience of online baccarat beats land-based any day, letting you enjoy a game whenever and wherever suits you best. When comparing gaming formats, it's hard to deny the appeal of playing from home or on-the-go with just a few clicks. Not only does online baccarat save on travel time and costs, but it also allows for greater flexibility in your gaming schedule.
By contrast, land-based baccarat requires you to physically visit a casino. This can be a daunting task if casinos aren't readily accessible to you or if you simply don't have the time. The convenience factor is hugely diminished when compared to its online counterpart.
Moreover, because casino games like baccarat are available 24/7 online, there's no need to worry about casino operating hours or crowded tables either. You can play at your own pace without feeling rushed by others around you.
So when it comes down to the accessibility and convenience comparison between land-based and online baccarat, there's really no contest. Online platforms offer unparalleled freedom that traditional casinos simply can't match. It's clear that in this digital age, online baccarat has taken center stage for most players due to its sheer ease of access and user-friendly nature.
Game Variety and Availability
While land-based baccarat offers a certain charm, it can't compete with the game variety available on the internet. You're not limited to just one or two types of baccarat games when you play online – there's a plethora of versions from Punto Banco to Chemin de Fer and everything in between.
The availability in casinos is another factor where online outshines its land-based counterpart. Traditional casinos operate during specific hours, and even then, there might be long waits for open seats at baccarat tables. However, with online baccarat, you have 24/7 access to any game you fancy.
Moreover, if you prefer a private experience without distractions or pressure from other players, playing online provides that luxury. You can take all the time you need to strategize and place bets at your own pace without feeling rushed.
So whether it's three in the afternoon or three in the morning, rest assured that your favorite variations of baccarat are always ready for action when playing online.
Social Interaction and Atmosphere
While the convenience and variety of internet gaming are undeniable, there's an allure to the social interaction and atmosphere that comes with stepping foot in a traditional casino. Land-based baccarat offers you a tangible gaming ambiance that is hard to replicate online. The buzz of spectators, the clinking of chips, and the suspenseful pause as cards are turned over create an immersive experience.
Online baccarat, on the other hand, has its unique charm. It may not provide physical human interaction but it doesn't fall short on social aspects in online and landbased baccarat. Most online platforms offer chat features where players can interact with each other or with the dealer during gameplay. This interactive gaming feature allows for a sense of community even when playing from home.
However, many would argue that nothing quite compares to the excitement generated by a live crowd and the palpable tension in a brick-and-mortar casino atmosphere. While both versions have their own appeal depending on individual preferences, land-based casinos still hold an edge when it comes to offering a socially vibrant environment – one element which sets them apart from their digital counterparts.
Live Dealer Baccarat Experience
Diving into the world of live dealer games can offer you a thrilling middle ground, combining the best elements of both virtual and traditional casino experiences. This is particularly true for online baccarat, where the live dealer experience brings together the convenience of playing from home with the engaging interaction found in land-based baccarat.
During an online baccarat game, you'll be able to see and interact with a real human dealer through a video feed. The dealer shuffles and deals cards just like they would in a physical casino, which adds an authentic touch to your baccarat experience. You won't miss out on any of the action as cameras capture every movement and display it in real-time on your screen.
Moreover, many platforms allow chatting with the dealer or other players during gameplay. This feature helps foster social interaction similar to what you'd find at a land-based baccarat table.
While nothing can fully replicate being physically present at a casino table, live dealer games come exceptionally close by providing an interactive experience that makes online gaming more immersive. So, next time you feel like playing baccarat but don't want to leave your couch's comfort, consider giving this unique hybrid format a try.
Betting Limits and Wagering Flexibility
You'll appreciate the flexibility that comes with setting your own betting limits, a feature that most virtual platforms offer. Online baccarat opens up a world of wagering flexibility, allowing you to bet as little or as much as you're comfortable with. This is in stark contrast to land-based baccarat where the betting limits are typically set higher and there's less room for adjustment.
Online platforms generally cater to all types of players, regardless of their bankroll size. Whether you're an experienced high roller or a beginner testing the waters, online baccarat has got you covered. You can start by placing small bets until you gain more confidence and understanding of the game.
In traditional casinos, however, minimum bet requirements might deter beginners from even trying their luck at land-based baccarat tables. The pressure to risk larger sums of money can be considerably more intense in brick-and-mortar establishments.
Given these factors, it's clear how online baccarat offers greater freedom when it comes to how much money you want to wager per round. It certainly caters better to different player profiles and budgets than its land-based counterpart does.
Game Pace and Time Efficiency
Now that we've discussed betting limits and wagering flexibility, let's shift our focus to another crucial difference between online baccarat and its land-based counterpart – game pace and time efficiency.
In the world of baccarat, timing is everything. Playing land-based baccarat often means tolerating a slower game pace as you wait for other players to place their bets or for the dealer to shuffle and deal cards. This can test your patience, especially if you prefer quick rounds.
Online baccarat offers a faster-paced gaming experience. With just a few clicks or taps, you can easily control the speed of your game without worrying about waiting for others. It's all up to you; whether you want to take your time strategizing or play rapid-fire rounds for those adrenaline-pumping moments.
Moreover, playing online allows better time management as it eliminates travel time spent getting to and from a physical casino. You have total control over when and where you play – be it during lunch breaks at work or late nights at home.
So in terms of game pace and time efficiency, online baccarat has an edge over land-based games.
Security and Fairness
While enjoying your quick-paced games, it's also crucial to consider the security and fairness of your chosen platform. Whether gambling in a land-based casino or playing online baccarat, the trustworthiness factor significantly affects your gaming experience.
In terms of security and fairness in online and land-based baccarat, both platforms have their pros and cons. For instance, traditional casinos are often regulated by government agencies ensuring fair play. However, they may not always provide the anonymity that you might desire. On the other hand, online casinos offer privacy protection but are sometimes met with skepticism about their random number generation systems for game outcomes.
When it comes to fairness, transparency is key. Reputable online casinos use Random Number Generators (RNGs) ensuring that each game outcome is genuinely random. They also employ advanced encryption technologies to protect players' data from potential cyber threats.
So while considering where to play your next baccarat game, don't just think about pace and efficiency – remember to weigh up the security and fairness aspects too. Your ultimate choice should guarantee a safe, fair gaming environment on top of an exciting gambling experience.
Advantages of Online Baccarat vs Land Based Baccarat
So, ready to dive into the advantages of playing your favorite card game digitally versus at a brick-and-mortar establishment? Let's start by introducing online vs land-based baccarat. One major advantage is the convenience factor. You don't have to dress up or travel anywhere; you can play from the comfort of your home or on-the-go using a mobile device.
When comparing game variety in online and land-based baccarat, the digital platform takes the lead. There are numerous versions available online that you simply won't find in traditional casinos. You can also enjoy free games to sharpen your skills without risking any money.
Let's move on to comparing betting limits in online and land-based baccarat. The flexibility offered by ondline platforms is impressive. Whether you're a high-roller or working with a smaller budget, there are suitable options for everyone.
Analyzing game pace in online and landbased baccarat reveals another advantage of the digital medium – speed control. You decide how fast or slow you want to go without pressure from other players or dealers. Some feel that baccarat card counting as a viable strategies, reality is even it if is done perfectly, your odds only increase a little bit, card counting would be done at land based casinos.
All these points highlight significant advantages of online baccarat vs land based baccarat, making it clear why many people now prefer going digital with this popular card game.
Conclusion
In conclusion, both online and land-based baccarat have their perks. While you'll enjoy the ambiance of a real casino, the convenience, game variety, flexibility in betting limits, and time efficiency make online baccarat an appealing option. Plus, with live dealer experiences available online, you're not missing out on much! Remember always to pick a secure platform to ensure fair play. Ultimately, it's about choosing what suits your preferences best. Enjoy the game of baccarat, with its rich history and simply yet elegant game play, anyone can enjoy it.
Frequently Asked Questions
How can one learn the rules and strategies if they are new to the game?
You can start learning baccarat by reading rule books or online guides. Practice strategies with free online games. Consider watching tutorial videos or joining forums to discuss tactics with experienced players.
What are some tips for managing my bankroll while playing, either online or in a land-based casino?
Set a budget before playing and stick to it. Don't chase losses; knowing when to stop is crucial. Bet wisely, avoid betting on a tie as it has the highest house edge. Always play responsibly.
Are there any mobile apps available for playing baccarat online?
Yes, there are several mobile apps available for playing baccarat online and most online casinos offer Baccarat.
How does the house edge compare to other casino games?
In baccarat, the house edge is relatively low compared to other casino games. For example, it's typically 1.06% on the banker bet and 1.24% on the player bet, making it a favorable game for you.
Can I play online for free to practice before wagering real money?
Absolutely! Most online casinos offer free versions of baccarat for you to practice and understand the game better. This way, you can hone your skills before wagering real money. Always play responsibly!