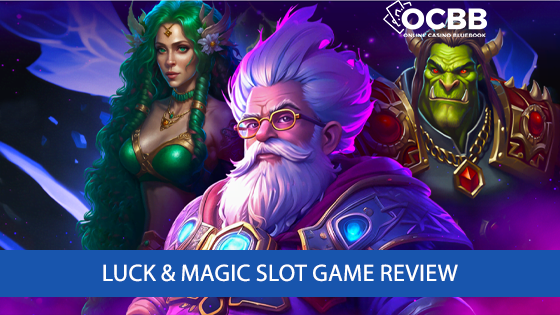 You're about to dive into the thrilling world of 'Luck & Magic', a unique slot game that'll keep you on edge. Released on August 3, 2023, it's not your typical slot game. With face-down cards replacing reels and hidden multipliers in bonus games, there's plenty of suspense. It's got high volatility and an RTP of 96.00%. Intrigued? Get ready as we guide you through its spellbinding features in this review!
How to Play
You'll find the gameplay intriguing in this Luck & Magic Slot Game; instead of traditional reels, you've got face-down cards that flip over after each spin. This unique twist adds a layer of suspense and surprise to each play. But don't worry, even if you're just starting out, there are plenty of tips and tricks for beginners playing Luck & Magic Slot Game.
First, be sure to understand the game mechanics thoroughly. Knowing when and how those magical bonus symbols appear can drastically influence your strategy. Speaking of strategies for maximizing wins in Luck & Magic Slot Game, it's all about managing your bets wisely and making the most out of the Bonus game.
In the enchanting world of Luck & Magic, charm lies not only in potential winnings but also in its theme and visuals. The mystical ambiance created by magical power elements draws players into an immersive experience unlike any other slot games.
Remember to stay patient and enjoy the journey. After all, luck is unpredictable as magic itself! With time and practice, you'll get better at gauging when lady luck chooses to bestow her favor upon you.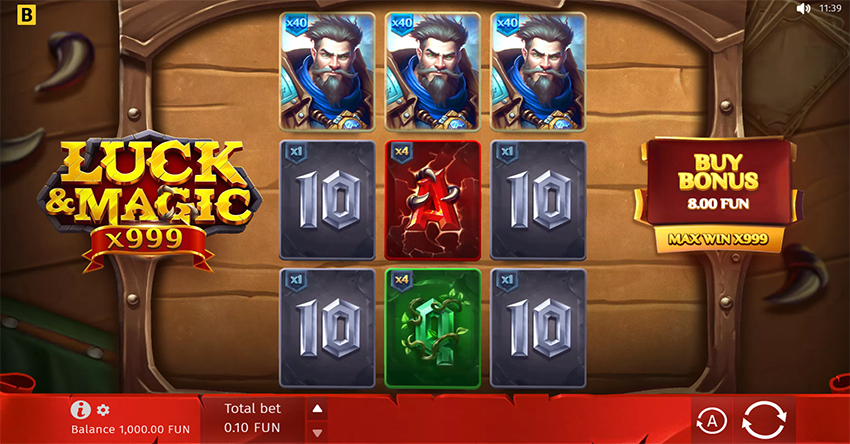 Symbols
In this unique slots experience, there's a variety of symbols to discover, including a mystical bonus symbol that can trigger an exciting bonus game. You'll find different types of symbols in the game, each with its own value and meaning. Common icons include 10, J, Q, K and A. The rarer ones – magician, warrior, and princess.
Understanding symbol combinations and their payouts is crucial for maximizing your wins. For instance, lining up three identical symbols will score you a win according to the paytable. You'll notice that some combinations yield higher payouts than others. Keep an eye out for special combos like five-of-a-kind which can give huge rewards!
Bonus
In this discussion, you'll explore the significance of symbols in the game and how they trigger the exciting Bonus Game. You'll discover how the Bonus Game not only adds an extra layer of thrill but also offers hidden multipliers that can significantly boost your winnings. We'll also delve into the 'Buy Bonus' feature, explaining how it gives you a chance to instantly access the Bonus Game at a price that adjusts with your bet.

Symbol
There's a Bonus symbol in the game that triggers a special round when it appears on reels 1-2-3. This symbol plays a crucial role in enhancing your gaming experience and boosting your winning chances. The crazy wizard icon is your ticket to the bonus round where big wins lurk!
In terms of winning combinations, three Bonus symbols will unlock this magical door for you. The more symbols you land, the bigger your rewards! So keep an eye out for these coveted icons as they spin around.
Bonus Game
You'll find yourself totally engrossed once the Bonus round kicks off, with face-down cards promising hidden multipliers to boost your winnings. You're in control here, and making the best card choices is key in this game of luck and magic. Don't be afraid to take risks; after all, fortune favors the bold.
Pick a card, any card! But remember, not all that glitters is gold. A high multiplier might tempt you but don't let greed cloud your judgement. The right choice could multiply your bet by an impressive amount!
Buy Bonus
Don't feel like waiting for the Bonus round? You can always opt to purchase it directly at a price shown on the button. The pros of using the Buy Bonus feature include immediate access to potential high multipliers and bypassing regular play. However, the cons are its higher cost compared to typical spins and the risk of not winning enough back.
To maximize your Buy Bonus potential, ensure you've budgeted for it in your gameplay strategy. Don't rely solely on this feature; use it as a strategic move when regular rounds aren't yielding results.
Comparatively, other bonus activation methods may require patience but they keep costs low. Yet, unlike these methods, with the Buy Bonus feature you control when you play that thrilling multiplier round!
Where to Play
Looking for a place to play this high volatility, magic-themed slot game? You're in luck! The best online casinos currently offer it as part of their gaming portfolio. Cafe Casino offers Luck and Magic and also currently offers a Welcome Bonus of up to $2,500. Claim your Bonus at Cafe Casino now or Read our full review of Cafe Casino.
Why not try out the free demo play availability first? It's an excellent way to get a feel for the game and understand its mechanics before you dive into real-money betting. You'll be able to see firsthand just how fun and exciting this game is without risking any of your own money.
Frequently Asked Questions
What Is the Significance of the Face-Down Cards?
In Luck & Magic, the face-down cards add mysterious elements to gameplay. They're significant as they offer strategic advantages – you choose a card to reveal bonus multipliers, enhancing unpredictability and excitement.
How Does the Game Create a Sense of Being at the Mercy of Magical Power?
You're immersed in a world of magical symbols, each spin creating unpredictable power dynamics. The face-down cards add suspense, making you feel at the mercy of unseen magic that controls your luck and outcomes.
Can I Play the Game Without Betting Real Money?
Absolutely, you can play the Luck & Magic slot game without betting real money. It offers a demo play for practice. You'll enjoy free play advantages and use virtual currency, experiencing all its magical features.
How Does the Buy Bonus Feature in the Game Work?
You can optimize your game strategy by understanding the Buy Bonus feature. Just pay the displayed price to activate it. It'll adjust automatically with bet changes, giving you an exciting chance to multiply winnings.
Are There Any Special Promotions or Bonuses Available?
Promotion mechanics and bonus eligibility often vary. Keep an eye out for limited-time offers to enhance your Luck & Magic slot game experience.