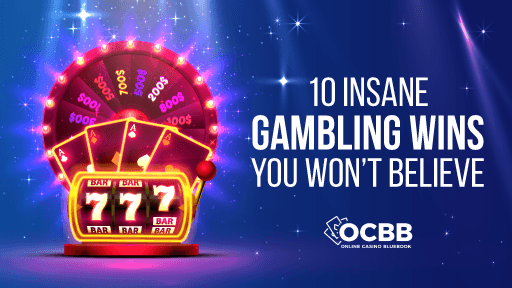 What is the definition of luck?
Luck is the phenomenon and belief that defines the experience of notably positive, negative, or improbable events. Improbable events in gambling are what we will discuss today. The top 10 gambling winners that beat the odds in an almost unbelievable way. Some people believe luck is brought with some kind of charm.
Number 10: One in a Trillion with Patricia Damorro
This particular lucky winner stood at the craps table and rolled the dice 154 times without getting a single 7. The stats on getting a 7 is usually 1 in 8 dice rolls. Therefore, the likelihood of this happening is closer to winning the lottery 1 million times. If that isn't an improbable event, I'm not sure what is.
Number 9: Arabian nights on Autoplay with Peter Hollan
Imagine playing online and walking away from your slot game only to come back and find that you won the equivalent of $15 million? Well, ask Peter! It happened to him.
Number 8: Winning Mega Bucks on MegaBucks with Anonymous
On her way to her room at the Aria in Las Vegas, an anonymous lady deposits $5 in the famous Megabucks Progressive Slot machine. She goes on to win an astounding $12.7 million jackpot. BELIEVE IT OR NOT?
Number 7: Professional Cheater with Mike Aponte
Well known as one of the 4 notorious members of the Massachusetts Institute of Technology ( informally known as MIT Blackjack Team ), that emptied the coffers of so many casinos during their time by using specific Blackjack strategies…ever read the book – "Bringing down the house" or the movie "21"? Those are practically autobiographies of how this all went down.
Number 6: How to be a winner with Don Johnson
He was infamous for figuring out the mathematical odds in Blackjack and played the money system to rake in as much as he could as soon as possible. $15 million in just 6 months, to be exact. Since then, Don has had no choice but to resign from all Blackjack activities indefinitely.
Number 5: Playing the Palace with Anonymous
A retired flight attendant put $300 into a random slot machine at the Palace Station Hotel and Casino in Las Vegas and hit a $27.5 million jackpot. What's even more impressive is that she won $700k just a few months before – talk about lightning striking in the same place twice?
Number 4: $10 to $21.3 Million in a single spin with Jack Brown
So this guy Jack, on one of his last nights in Vegas at the Caesars Palace Hotel and Casino, decides to invest $10 into a slot machine for fun. BOOM! A single spin gets him $20 million. Best vacation Evvvvvverrrrrrrrr!
★

9.9 Rating

---

$3,000 Bonus

★

9.7 Rating

---

$5,000 Bonus

★

9.4 Rating

---

$7,777 Bonus
Number 3: Mega 30 with Cynthia Jay Brennan
Cynthia Jay Brennan, a cocktail waitress, hit the big time when she won the jackpot of $34,959,458.56 on a MegaBucks slot machine in Las Vegas. Sadly, 9 weeks later, driving her new Camaro with her sister, she was hit by a drunk driver. Her sister was killed, and Cynthia was left paralyzed from the waist down. The last comment from her was that she'd give the cashback to have the use of her lower extremities again. But, unfortunately, not all Luck is Good.
Number 2: Slots in the Stone With Anonymous
A 25-year-old engineer walked into the Excalibur in Las Vegas. Deposited $100 into the first slot he saw and won the amazing jackpot of $39,713 982.25. He opted to split his winnings into $1.5 million per year. Now that's what I call a smart winner!
Number 1: Sometimes your luck runs out with Archie Karas
Archie Karas, a Greek immigrant, was a very gifted Poker Player. With $50 in his banking account, he headed off to Vegas and won some pretty prestigious poker tournaments. All in all, Archie set a record with a streak of good luck that was nicknamed 'the run' in Las Vegas. He won a cumulative fortune of $40 million at poker tables in 30 months. It took only three weeks for him to lose it all. Some people are only lucky in knowing when to fold!