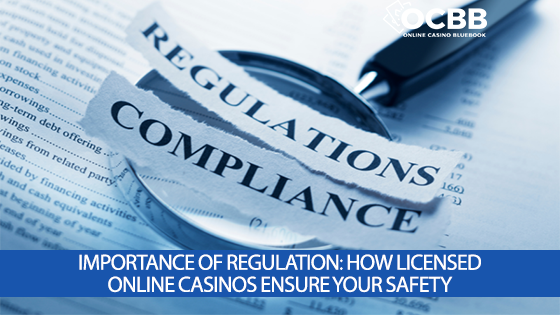 Online gambling is a thrilling world, but it's essential to keep safety in mind. You may wonder how you can ensure your security while enjoying the excitement of online casinos. The answer lies in online gambling regulation and licensing. Understanding the role of regulations in online casinos helps you make informed decisions about where to place your bets. It ensures game integrity, protects your personal data, and promotes responsible gambling practices. Different licensing authorities oversee these measures, each with their own set of standards and requirements for online casinos to meet. Playing at licensed online casinos not only offers an enjoyable gaming experience but also peace of mind knowing that you're protected by law. So let's dive deeper into the importance of regulation and how licensed online casinos ensure your safety.
Key Takeaways
Licensed online casinos ensure game integrity and guarantee fair play and random outcomes.
They protect player data through encryption and secure storage.
Licensed online casinos promote responsible gambling through tools and partnerships.
They provide a secure and fair gaming environment, meeting strict standards and regulations for player protection.
Understanding Online Casino Regulation
You've got to understand that online casino regulation isn't simply a bureaucratic hurdle; it's a crucial safeguard designed to ensure your safety and fair play. It's about understanding licensing authorities, understanding regulatory bodies, and how they impact the gaming environment.
Online casino regulation is overseen by various international regulatory bodies. These organizations implement strict standards for licensed online casinos, such as operating transparently, ensuring secure transactions, and providing fair games. They regularly monitor these platforms to ensure compliance.
Understanding licensing authorities is also key. These are the entities that issue licenses to online casinos once they meet certain criteria – including demonstrating fairness and security measures. A casino without a license from a reputable authority should be a red flag for you.
The benefits of licensed online casinos are immense: you can rest assured knowing that your personal information is safe and the games are not rigged. So when choosing regulated gaming platforms, you're not just opting for fun but also peace of mind.
Ensuring Game Integrity
Beneath the glitz and glamour of your favorite digital games, meticulous checks are tirelessly working to make sure every spin, shuffle, or roll of the dice is completely fair. This is where the importance of regulation in online casinos shines bright. It's not just about keeping you safe from scams or ensuring responsible gambling in licensed casinos; it's also about preserving game integrity.
The rules governing online gaming aren't merely for show; they're there to ensure that all games offered by a casino are completely random and that outcomes can't be manipulated. These checks are conducted regularly by online casino licensing authorities to guarantee fairness and uphold game integrity in licensed casinos.
These rigorous protocols might seem excessive, but they're vital for ensuring fair play. Without them, unscrupulous operators could rig their games, leading to bettors losing money unfairly. So next time you're enjoying a round of blackjack or spinning the roulette wheel online, remember that there are strict regulations behind each game safeguarding your interests.
Remember this: when playing at a licensed casino, you're not only protected but also guaranteed an honest game – thanks largely to diligent regulation efforts.
Protecting Player Data
In this rapidly advancing digital age, it's crucial to acknowledge that protecting player data is just as paramount as guaranteeing fair play. As you dive deeper into the world of licensed gaming, understanding how these platforms safeguard your information becomes vital.
Licensed online casinos take data privacy seriously. They adhere to stringent rules and regulations set by governing bodies to ensure the security of your personal and financial information. These regulations provide a structured approach towards protecting player data, making sure all sensitive details are encrypted and stored securely.
Furthermore, licensed casinos promote safe gaming habits not only through fair play but also by taking extensive measures in maintaining data privacy in licensed gaming. They invest heavily in advanced security systems and employ experts who continuously monitor for any signs of breaches or fraudulent activities.
So when you're choosing an online casino to trust with your hard-earned money, remember that a licensed one will prioritize your safety above everything else. The importance of playing only at regulated platforms can't be overstated enough – they give you peace of mind knowing that while you're enjoying your favorite games, your data remains protected at all times.
Responsible Gambling Measures
Licensed online casinos are more than just about fun and games. They take your safety seriously, especially when it comes to the prevention of problem gambling behaviors.
Regulated sites have measures in place to identify risky behavior early on. You're likely to find tools that allow you to set deposit limits or self-exclude for a period of time if you feel the need. These options help keep your spending under control and ensure that online gambling remains a fun pastime rather than becoming a harmful habit.
Furthermore, most licensed casinos are partnered with organizations specialized in tackling problem gambling. The support ranges from providing helpful resources to offering professional counseling services. It's reassuring to know there's somewhere to turn should things get out of hand.
Different Licensing Authorities
You might be curious about the licensing authorities governing these gaming platforms and what exactly they do. Well, you're in luck because we're about to dive into that. Licensing authorities are bodies that oversee and regulate online casinos to ensure a secure and fair gaming environment.
The United Kingdom Gambling Commission (UKGC) is one of the most respected regulators globally. They set stringent standards for online casino operations in terms of fairness, security, and responsible gambling. Another reputable authority is the Malta Gaming Authority (MGA). The MGA has a strong reputation for maintaining high standards in player protection, ensuring that all games are fair and transparent.
Moving across to Gibraltar, we find another significant licensing authority – the Gibraltar Betting and Gaming Association (GBGA). This body ensures that all its licensed casinos adhere strictly to rules regarding data protection and fairness.
You should also know about the Alderney Gambling Control Commission (AGCC), which focuses on maintaining integrity within its jurisdiction's online gambling industry. These various licensing bodies work tirelessly to make sure your gaming experience remains safe, secure, and enjoyable. So remember, always play at licensed online casinos!
The Benefits of Playing at Licensed Online Casinos
So, why should you bother playing at casinos overseen by these authorities? The answer is simple: safety. Licensed online casinos provide a secure and fair gaming environment that you can trust. They have to meet strict standards and regulations set by the licensing authority, which ensures your personal information is protected, and games are not rigged.
Playing at a licensed casino gives you peace of mind. You don't need to worry about getting scammed or cheated out of your money. These casinos use encrypted technologies to keep your financial transactions safe. Plus, if there's ever an issue, they offer customer support to help resolve it quickly.
Licensed online casinos are regularly audited for fairness. This means the outcomes of their games are truly random and not manipulated in any way. It increases your chances of winning since everything is based purely on luck.
Choosing licensed online casinos also benefits from quality game selections provided by reputable software developers. So besides enjoying top-notch security measures, you still get a vibrant mix of fun-filled games.
Therefore, for a secure gaming experience coupled with enjoyment and potential winnings, opting for regulated online platforms makes perfect sense!
Conclusion
You've seen how important regulation is for your online casino experience. It's not just about fair play, but also about your data protection and responsible gambling. Always go for licensed casinos; they're monitored by authorities, ensuring your safety. Remember, it's not just about winning or losing – it's about enjoying the game in a secure environment. So always choose wisely!
Frequently Asked Questions
How long has the concept of online casino regulation existed?
Online casino regulation's been around since the mid-1990s. It came into play when online gambling started to gain popularity, ensuring you're protected from fraud and your games are fair and unbiased.
What are some examples of risks unlicensed casinos pose?
Unlicensed casinos present risks like unfair games, unprotected personal data and withheld winnings. You're also vulnerable to scams, fraud or identity theft when using these unregulated platforms.
Can online casinos operate without a license in certain jurisdictions?
Yes, some online casinos can operate without a license in certain jurisdictions. However, you're taking a big risk by using them. They aren't regulated, meaning your money and personal information could be at stake.
How frequently are licensed online casinos audited for compliance?
Licensed online casinos are audited regularly to ensure compliance. The frequency varies, but it's typically once a year. These audits check for fairness and security, protecting you as the player from any potential fraud.