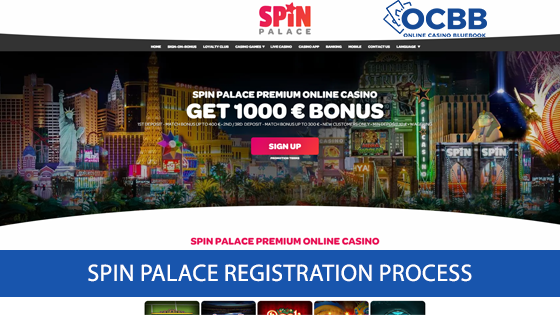 Spin Palace Registration Process
You're eager to dive into the world of online gaming, but you're unsure about how to register at Spin Palace. Don't worry! This article will guide you through the process, detailing everything from the documents you'll need to what happens after registration. So, let's get started and have you playing in no time! If you are not familiar with them, read our full review of Spin Palace Casino.

Key Takeaways
The Spin Palace registration process involves clicking the 'Sign Up' button on the homepage and filling out an online form with accurate personal details.
Proof of identity (passport or driver's license) and proof of address (utility bill or bank statement) are required documents for registration.
Data security and identity verification are prioritized, and personal information is used only for verification and communication purposes.
After registration, users can explore different deposit methods and all the available banking options Spin Palace offers, familiarize themselves with the platform's features, and claim the welcome bonus for a head start on their gaming journey.
How to Register
You'll find that registering for Spin Palace is a quick and simple process. Account creation begins with clicking the "Sign Up" button on the homepage, which redirects you to an online form. This form must be filled out accurately with your personal details.
The first stage involves creating an username, password and entering your email address. It's crucial to choose a strong password, combining upper and lower case letters, numbers, and symbols if possible. This ensures your account remains secure from potential breaches. After providing a valid email address during registration, you'll receive a confirmation link via email. Clicking this link verifies your account and completes the registration process. If you do not see the email verification in your inbox, check your spam folder.

The second stage of registration or signing up at Spin Palace is entering your personal information, name address etc. Make sure information match what is on your identification forms and discrepancies can cause delays in withdrawals.

The last and final state is billing address. This too much match your proof of address documentation you submit.

Spin palace also offers an exciting bonus claiming feature as part of their sign-up process. Once registered successfully and logged in, you can navigate to the promotions section to claim your welcome bonus.
Documents Needed for Registration
To get started, you'll need to provide some essential documents. This is a crucial step in the Spin Palace registration process and helps ensure your identity protection. Typically, you'll be asked for proof of identity (like your passport or driver's license) and proof of address (like a utility bill or bank statement). These are necessary for document verification.
If you have trouble with registration troubleshooting, it could stem from various issues. Maybe your documents aren't clear enough, or there's been an error in uploading them. If that happens, double-check everything on your end first before reaching out for support.
Remember that this process is designed with your security in mind – it might seem tedious now, but ultimately it protects both parties involved. So take a deep breath and tackle it systematically; once done correctly, you'll be ready to enjoy all the excitement Spin Palace has to offer!
Required Personal Information
In addition to the necessary documents, you're also required to share personal information such as your full name, date of birth, and contact details during sign-up. The purpose isn't just bureaucratic rigor but primarily Data Security and Identity Verification. A reliable gaming platform like Spin Palace takes these aspects seriously.
Your provided information undergoes stringent checks in line with their Privacy Policies. It's used for nothing beyond ensuring that you are who you claim to be (Identity Verification) and for communicating essential updates or promotional offers (Information Usage). You can rest assured your data won't be shared with unauthorized third parties.
However, keep in mind that it's your responsibility to ensure that these details are accurate at all times. If there's a change in any of these details post-registration, immediate Updating Information on the platform is obligatory. Remember, keeping the Spin Palace updated about changes in your personal data ensures seamless service and strengthens Data Security measures – ultimately enhancing your online gaming experience.
What to do after you register
Once you've signed up, it's essential to familiarize yourself with the platform's features and functionalities for an optimized gaming experience. Start by completing your account verification process; this step often involves providing additional identification documents to validate your account details. It's a simple procedure that secures your profile against fraud.
Next, explore different deposit methods available on Spin Palace. Whether you prefer debit cards, credit cards, or e-wallets such as PayPal or Skrill, find the one that suits you best for effortless transactions.
Last but certainly not least – don't forget about claiming your welcome bonus! This extra boost usually comes in the form of match deposits or free spins and gives you a head start on your gaming journey. Make sure to claim it right after registration and enhance your initial playtime.

Frequently Asked Questions
What Payment Methods Are Accepted?
At Spin Palace, you'll find a variety of payment methods. They've prioritized payment security, offer clear deposit limitations and withdrawal guidelines, swift transaction speeds, and convenient currency conversions to ensure your gaming experience is seamless.
Can I Register if I Am Outside of Canada?
Yes, you can register with Spin Palace even if you're outside Canada. Geographical restrictions are subject to local gambling laws.
Is There a Registration Fee to Join?
No, there isn't a registration fee to join. They maintain fee transparency.
Do They Offer a Welcome Bonus or Incentives for Registration?
Yes, Spin Palace offers a welcome bonus upon registration. You'll need to understand the bonus terms, eligibility and wagering requirements before withdrawal.
What Are the Safety Measures Taken to Protect Personal Information?
Spin Palace uses data encryption methods, user identity verification, protective firewalls, anti-fraud mechanisms and secure server certificates to ensure your personal information's safety. They're committed to safeguarding your privacy and maintaining a secure environment.