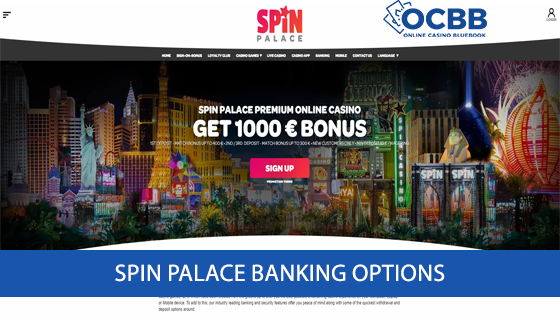 Spin Palace Bonuses And Promotions
Dive into the thrilling world of Spin Palace and discover a wealth of bonuses and promotions! As a new player, you're in for up to 1000€ bonus on your first three deposits. But that's just the beginning. From weekly offers to exclusive email deals, there's always something exciting happening. However, it's crucial you grasp their terms and conditions. So, let's explore what these enticing offers truly entail and how they can amplify your online gaming experience at Spin Palace.

New Player Bonus
As a new player at Spin Palace, you'll have an exclusive bonus waiting for you to boost your bankroll from the start and increase your chances of winning. This welcome offer is an excellent way to begin your gaming journey, giving you more opportunities to hit the jackpot right from the get-go!
The New Player Bonus, one of many exciting bonuses and promotions offered at Spin Palace, is designed specifically with newcomers in mind. Upon successful registration and depositing funds at Spin Palace, this bonus will be instantly activated. It's a 100% match up to €400 on your first deposit! But it doesn't stop there. You can earn big rewards for your second and third deposits as well, totaling up to €1000 in bonuses.
Remember though, these offers come with specific play-through requirements, including a minimum wagering requirement of 50 times the bonus amount before any withdrawal can be made. Also note that certain games are excluded from contributing towards meeting these requirements. Terms and conditions do change often, and the terms above were accurate at the time this page was published. Always double check the terms and conditions before accepting any bonus or promotion.
How to Get your New Player Bonus
To get your new player bonus, log into the Spin Palace Casino software, visit Spin Palace Banking, complete a deposit, and you will immediately activate a match bonus on your first deposit. This is an exclusive offer for new players eager to start their gaming journey with a boosted bankroll. By leveraging this welcome offer, you're not just doubling your initial deposit but also increasing your chances of winning big.
However, remember that this is just the beginning of what Spin Palace has in store for you. The casino offers bonuses on your second and third deposits too! On making a second deposit, you can receive up to 300 € as a bonus. Deposit for the third time and voila – more cash gets added to your account balance! In total, you stand to earn up to 1000 € in bonuses.
These promotions are designed with one goal in mind: To give players the best possible start at the casino.
Common Bonus & Promotion Terms
It's crucial you're aware of common terms and conditions tied to casino bonuses and promotions. Understanding these terms can maximize your enjoyment of Spin Palace bonuses and other special offers.
First, currency units are important. The bonus is credited upon a successful purchase of 10 units or more in the currency nominated by you at registration. However, if your primary currency isn't offered, don't worry! You're still eligible to play and receive bonuses in any available currency.
Next up is the Play Through Requirement – this implies that a minimum wagering requirement of the number of times the bonus amount must be met before you can withdraw your winnings. Remember, not all casino games count towards meeting these requirements; some game types may even void your winnings if played.
Withdrawal restrictions also apply. The maximum withdrawal value for Sign-Up Bonuses is typically 6 times your first deposit amount. Also note that the bonus offer, typically expires upon cash out.
Lastly, beware of betting restrictions during active bonus play; failing to follow them could lead to forfeiting winnings. So always read promotion-specific rules which prevail over general Casino Rules when it comes to Spin Palace promotions or any other casino games' promotions.
Other Bonuses and their Definitions
You're probably wondering about other types of bonuses and what they mean, aren't you? Well, let's dive into the world of Spin Palace bonuses and promotions. There are a variety of offers designed to boost your gaming experience.
First, we have the Welcome/New Player Bonuses which are given to new customers and detailed above. The one at the time of writing this article, was: The 1st deposit bonus is an instant 100% match up to €400, doubling your bankroll immediately. Your 2nd and 3rd deposits also get rewarded with up to €300 each, giving you more cash to play with.
Another common bonus is a deposit bonus. This is for current/returning customers. It is to get them to continued playing. Free Spin Bonuses are used to allow people to test out games without wagering any of their own money.
Finally, there are Regular Promotions that don't stop at welcome bonuses. These include weekly promotions sent via email, offering additional opportunities for rewards. It's all part of maximizing profits while increasing your chances of winning.
Remember these definitions as they can come handy when deciding on the best promotion strategy for you at Spin Palace. Also know that Spin Palace, as well as all other occasions, constantly change up their promotions and offerings as well as the terms and conditions. So it is imperative to always check the promotions page & read the terms and conditions carefully.
Conclusion
In conclusion, Spin Palace's bonuses and promotions significantly boost your bankroll. Be sure to understand the terms and conditions tied to these offers – they're vital for protecting your interests. Remember, regular promotions are also available so always check your emails! With an array of currencies supported, and a large game selection at Spin Palace, you're set for a thrilling gaming experience. Always gamble responsibly and enjoy the rewards this casino has to offer.