2018 will start off with a big bang at Vera&John Casino. Players will have a fantastic opportunity to take advantage of incredible bonuses with these great promotions from Vera&John. Danish players are eligible for a massive Welcome Bonus, and existing players can rock the new year with the Vera&John Bonus Blast Off promotion. Head on over to the casino and get ready to win big in the New Year!
Danish Welcome Bonus
Vera&John is offering a fantastic Welcome Bonus for Danish players starting on January 1st, 2018. The Danish Welcome package will feature the following:
1st Deposit: A 200% bonus up to 1000 kr and 100 Free Spins
2nd Deposit: A 100% bonus up to 1000 kr and 100 Free Spins
3rd Deposit: A 100% bonus up to 1000 kr
Be sure to sign up to take advantage of these generous offers. If a player has signed up already, they can still take advantage of other deposit bonuses as well. All Danish players should visit VeraJohn.dk to sign up for their excellent welcome package.
New Bonus Blast Off Promotion
Blast off into 2018 with a brand new bonus from Vera&John! The casino offers a large scale bonus promotion to celebrate the coming of a brand new year. Vera&John is offering a bonus of up to €200 during January. But, there is so much more! In addition to this bonus, Vera&John are also giving players 100 additional prizes and bonus in their exciting Free Spin Tournament. The Free Spin Tournament will happen at the end of January.
Blast Off Bonus Details
All Vera&John players will get a weekly bonus during January. To receive this bonus, players must deposit at least €10. In week 1, players will receive a 10% bonus. In week 2, players get a 20% bonus, as well as a 30% bonus in week three! Week 4 will be huge because players are eligible for a huge 40% for participating. The max payout for these weekly bonuses is €50, and this equals up to a possible €200 for a single player in January. If a player takes part in all four weeks of this bonus promotion, they can qualify for the Free Spin Tournament. The Free Spin Tournament has up to €1000 in bonus prizes. Don't miss the Bonus Blast Off excitement at Vera&John Casino. The promotion will run from January 2nd through January 29th. The Bonus Blast Off promotion has the final Free Spin Tournament, and this will take place on January 30th.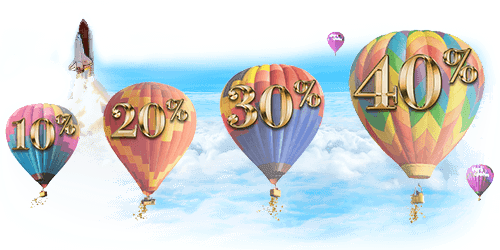 How to Participate and Eligibility
The Blast Off Bonus offer is for all players who have already made deposits on VeraJohn.com, VeraJohn.co.uk, and VeraJohn.dk. New players who still have the eligibility to use their Welcome Deposits are not eligible for this bonus. However, if new players make additional deposits in the casino, they will be eligible for this offer.