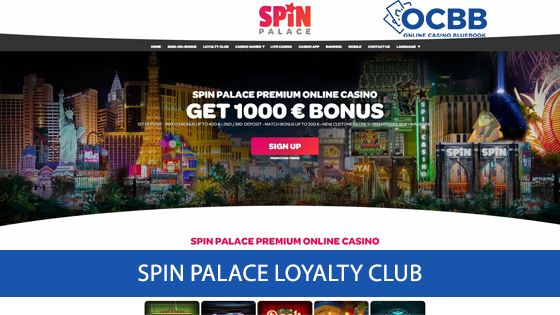 Spin Palace Loyalty Club
You're a fan of Spin Palace, and enjoy playing their games, so why not reap more benefits? Join the Loyalty Club. It's no ordinary rewards program; it's your ticket to exclusive perks, tailor-made offers, and your own support team. Start with a handy 2500 points boost on sign up, earn more with every wager you make, and watch as those points transform into Bonus Credits. Remember – the bigger your game, the better your gains.

Key Takeaways
Registering a new account and make a deposit and instantly earns 2500 Loyalty Points.
Joining the club provides access to VIP treatment based on the player's status level.
Members can earn points through gameplay and redeem them for bonus credits.
Being part of the loyalty club unlocks exclusive perks, special competitions, and a dedicated support team.
How to Join
It's simple to join the Spin Palace Loyalty Club – just register a new account at Spin Palace Casino and you'll instantly earn a Loyalty boost of 2500 Loyalty Points. This system is designed to give you, the player, rewards that are as unique as your gaming preferences. The more points you earn through gameplay, the higher your status climbs, unlocking even more tailored rewards for your enjoyment.
You might be wondering how this point system works? Well, every cash wager earns loyalty points. That's right! You're earning while playing your favorite games. These points can be redeemed for bonus credits which can boost your winning potential.
But it doesn't stop there! Your status also grants access to special competitions and a dedicated support team ready to assist with any inquiries or help needed.
Benefits of Joining
Joining the rewards programme, you'll unlock exclusive perks, compete in special competitions, and have access to a dedicated support team. This isn't just some ordinary program; it's an invitation to experience the benefits of being a part of something extraordinary.
The Spin Palace Loyalty Club is your ticket to higher levels of gaming excitement. As a member, you'll earn points every time you play your favourite games. These points can then be exchanged for bonus credits that let you keep playing and winning. The more points you collect, the higher up the ladder you climb, unlocking even more exclusive benefits along the way.
Your entries into draws and competitions increase as your status rises within the club.
Earning Points
You'll rack up points every time you place a cash wager, making earning both easy and rewarding. This is because Spin Palace's Loyalty Club appreciates its members by providing numerous offers and promotions that enhance your experience. The more you play, the more bonuses you'll receive.
Every wager counts towards your progress in the Loyalty Programme. As you climb through various levels, you unlock exclusive rewards tailored specifically to your gaming preferences. That's not all! You also get access to free spins on popular games as part of appreciation for your loyalty. Once accumulated, these points can be redeemed for bonus credits instantly credited to your account. These bonus credits can then be used to continue playing and winning on Spin Palace.
Redeeming Points
After you've racked up enough points, they're redeemable in predetermined increments for bonus credits that instantly boost your balance. he more points you earn and redeem, the higher your status climbs in the loyalty club levels. Each level offers its own unique benefits, from personalized bonuses to exclusive entries into special competitions. As you ascend these levels, your rewards become increasingly valuable.

Frequently Asked Questions
What Are the Specific Rewards Offered at Each Loyalty Level in the Loyalty Club?
Each loyalty level offers unique, personalized rewards. As you climb higher, you'll enjoy tailored bonus offers, faster point-earning potential, and your dedicated support team. Moreover, redeeming points can earn bonus credits for more playtime.
How Are the Tailored Bonus Offers Personalized for Each Player in the Loyalty Club?
As a player, your tailored bonus offers are personalized based on your gaming habits and preferences. They're designed to enhance your gaming experience by providing rewards that align with the games you frequently play.
How Can Bonus Credits Be Used at the Casino?
Your bonus balance is where redeemed loyalty points are converted into bonus credits. You can use these credits to play Spin Palace games at the casino, potentially winning without dipping into your own funds.
What Are Some of the Exclusive Competitions Offered as Part of the Loyalty Programme?
As part of a loyalty programme, you're offered exclusive competitions. These may range from slots tournaments to poker showdowns, depending on your gaming preferences. It's an exciting way to earn extra rewards and bonuses.