888 Casino Registration Process
Ready to join the exciting world of 888casino? You're in good hands! This article will guide you through every step of the registration process. We'll cover everything from entering your personal information to confirming your account via email. Whether you're a seasoned bettor or new to online gaming, we've got all the details you need to start playing swiftly and safely at 888casino. Let's get started!

How to Register
Here's how you'll register: first, head over to their website and click the "Sign Up" bottom in the top right-hand corner. You'll need share your name, country, email address, date of birth and accept the terms and conditions. This is the initial information that the 888casino registration process requires. It's essential to provide accurate data to ensure a smooth sign-up experience.

Next up in the account creation phase, you as a player must choose a unique username and set a password. Don't forget to verify your password for safety reasons! You'll also be asked to select your gender and provide security question-answer pairs for added protection.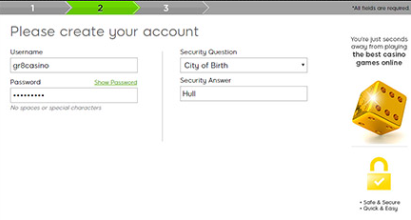 The contact information section entails providing specifics like your postal code, house number, residential address along with city or town details. Sharing an active phone number is also required in this stage of registration at 888 casino.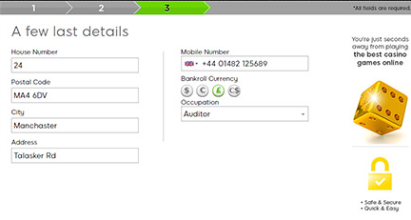 Following these steps will lead you to click on 'Create my Account'. Soon after this step, expect a confirmation pop-up box and check your email inbox for further confirmation mail from 888casino. Remember to retrieve any missed emails from junk or spam folders.
Now comes the final part of the registration process – completion! Once all previous steps are accomplished successfully, your account gets activated instantly. That's it! You're now ready to deposit funds or start enjoying what 888 casino has to offer immediately.
Required Documents
To sign up, you'll need to provide some important documents such as proof of your identity and address. The casino registration process is designed to ensure that all players are who they say they are and live where they claim. This is in line with the gambling regulations to prevent any fraudulent activities.
For 888 casino, this means you will need to submit specific required documents during the sign-up process. These include a copy of your passport or driver's license for identification, and a utility bill or bank statement showing your full name and residential address for proof of residence.
Required Personal Information
When you're setting up your account, you'll need to provide some personal information including your name, country of residence, email address and date of birth. This is a standard procedure in the online gambling industry as it helps in verifying your identity and ensuring that you meet all the gaming regulations. By providing accurate information, you make sure that both player protection measures and legal requirements are met.
For instance, regarding age verification, it's crucial to note that most online platforms like 888 casino require players to be at least 18 years old. Your date of birth is used to confirm this compliance with age restrictions in your respective country. The importance of supplying truthful details cannot be overstated as any discrepancies can lead to difficulties later on when withdrawing winnings or even result in account closure.
What to do after you register
After you've signed up, it's crucial to verify your account through the confirmation email sent to your inbox. This is a critical step in ensuring that your 888casino registration process has been successful. If you don't see the email, check in your spam or junk folder; sometimes these emails get filtered out.
Now that you're all set up, take a moment to familiarize yourself with the platform's range of casino games offered at 888 Casino and available bonuses. Remember, each bonus may come with its own wagering requirements – these are conditions that must be met before you can withdraw any winnings earned from using bonus funds.
Don't feel rushed to deposit funds at 888 casino immediately if you're not ready. You can explore 888casino games for free at first to get a feel for the site. However, when ready, making a deposit will unlock access to real money games and additional perks.
Conclusion
In conclusion, registering at 888casino is a straightforward process. Be prepared with all necessary personal details and documents. Ensure you verify your account via the confirmation email – don't forget to check your junk/spam folder! Once registered, you're free to deposit funds or start playing right away. Always gamble responsibly and enjoy the vast range of games on offer at 888casino

.
Frequently Asked Questions
What should I do if I forget my account password?
If you've forgotten your 888casino password, don't worry. Simply click on 'forgot password', follow the reset instructions sent to your email, create a new one and you'll be back in the game in no time.
How can I change my username after the registration process?
Unfortunately, you can't change your username after the registration process at 888casino. It's set during sign up for security and identification purposes. Be sure to choose wisely when creating your account.
Is my personal information secure?
Absolutely, your personal information is secure with 888 casino. They utilize advanced encryption technologies to ensure data privacy and are fully compliant with strict gambling regulations for online platforms. Rest assured, they prioritize player security.
Can I register more than one account with the same email address?
No, you can't register more than one account with the same email address. It's a standard practice in online gambling platforms to prevent fraud and ensure fair play. Always use unique information for each account.
What should I do if I don't receive a confirmation email after registering?
If you don't receive a confirmation email after registering, first check your spam or junk folder. If it's not there, contact the casino's customer support for help in resolving the issue promptly.